Night mode is a feature on the iPhone 6 Plus that can help reduce eye strain and improve your device's visibility in low-light environments. When enabled, night mode adjusts the color temperature of your phone's display to a warmer, less blue hue that's easier on the eyes. Whether you're reading in bed or using your device in a dimly lit room, night mode can be a helpful addition to your device's settings.
In this article, we'll guide you through the steps to enable night mode on your iPhone 6 Plus. We'll also provide some tips and tricks to help you get the most out of this feature and customize it to your liking
Enabling Night Shift Mode on iPhone 6 Plus
To enable Night Shift mode on your iPhone 6 Plus, follow these steps:
Open the "Settings" app on your device.
Tap on "Display & Brightness."
Select "Night Shift."
Toggle the "Scheduled" option to ON.
Tap on "From/To" and select "Sunset to Sunrise." If you prefer to set a custom schedule, choose "Custom Schedule" instead.
Tap on "Turn On At" and select the time when you want Night Shift mode to turn on.
Tap on "Turn Off At" and select the time when you want Night Shift mode to turn off.
There is no confirmation step, but your device will consider the last times you selected. Simply exit the screen when you're done.
With Night Shift mode enabled, your iPhone 6 Plus's display will automatically adjust its color temperature based on the time of day, providing a warmer and more comfortable viewing experience in low light environments. By following these steps, you can easily set up and customize Night Shift mode to fit your preferences.
See also - Best Free Movie Streaming Sites With No Sign Up
How to Operate Night Shift Mode from the Control Center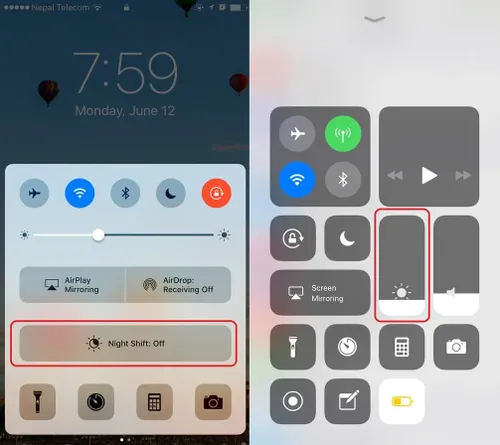 Follow the steps below:
Swipe up from the bottom of your iPhone 6 Plus screen
Hold and press the Brightness slider to reveal a hidden Night Shift Mode setting
Toggle the Night Shift Button ON or OFF
There is an Until time mentioned in the Night Shift toggle of the Control Center. The time can be adjusted under the Display and Brightness as mentioned above.
Adjusting Colour Temperature of Night Shift
The Night Shift Mode is all about the color temperature and what best suits your eyes. Follow the steps below and adjust according to the comfort of your eyes.
Go to Settings
Tap on Display and Brightness
Tap on Night Shift
You will see a slider which says Colour Temperature ranging from Less Warm to More Warm.
To see the changes, keep the Night Shift mode off and then adjust the slider. You will see your screen changing the color so you will know where to keep the pointer on the slider. Less Warm will have bluer shade and as you move to More Warm the hues get yellow.