Apple Worldwide Developers Conference (WWDC) 2015 which was held on June 8 ago is the-26th WWDC to introduce their latest technology on OS X, iOS and WatchOS for developers. We have reviewed what's new on new OS X El Capitan, and now, we want to know about iOS 9, what's new on iOS 9 for iOS device. As usual, Craig Federighi is in charge to show the latest update for this newest generation of iOS to developers and public, lively. We find some interesting stuffs from iOS 9. Let's get  started.
Apps
On iOS 9, Apple introduced a new apps built-in which can help you in better productivity. Apple has introduced a new News app that includes a curated selection of articles based on your interests. News on iOS 9 is to substitute Newstand app as a place for publisher to share or sale any reading category, such as magazine, newspaper, article, etc. Apple provides a News Format which can maximize the content that will be read in News app. With the support similar to iBook, News app support a video, picture gallery and interactive content that give a comfortable and pleasure feels in reading something.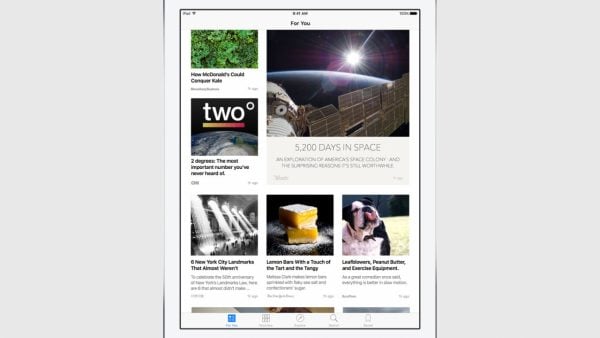 Notes application experiences a significant overhaul to be able to compete with OneNote or EverNote, and i think it will work. With additional features like editing tool, drawing, check list, the capability to save link, make it become a candidate of Note application on iPhone. I cannot hardly wait to try it.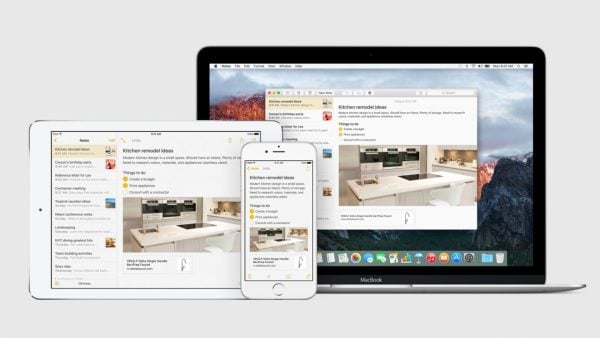 maps gets a better capability. It has public transit feature to inform accurately the routes, directions, pinpoint and public transportation's schedule. Those feature are still limited for several cities in US, UK and China.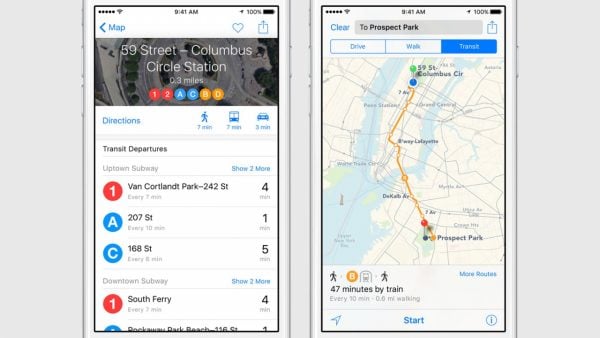 Apple also introduced a substitute application for Passbook, that is Wallet. You can add reward cards to your Wallet app , receive and redeem rewards using Apple Pay. And now you can just double-click the Home button when your iPhone is locked to access Wallet and quickly pay with Apple Pay.
Enhancement on Carplay is a bigger support display and the more interesting is the ability to connect iPhone to Carplay wirelessly. If your car supports wireless connection to iPhone, you can use CarPlay without plugging in.
For iPad
iOS 9 tries to maximize iPad become better and i think it works. iPad has a bigger screen than iPhone and its design application should be different with iPhone. Apple has started to revise iPad's capability to become better in iOS 9 by focusing on multitasking and enhancement keyboard.
Slide Over. This feature allows you to open a second app without leaving the application that you are running on. Just swipe from left edge display. So you can quickly browse the web, respond to a text message, or jot something down in a note, then slide that app away and get back to the one you were

using before.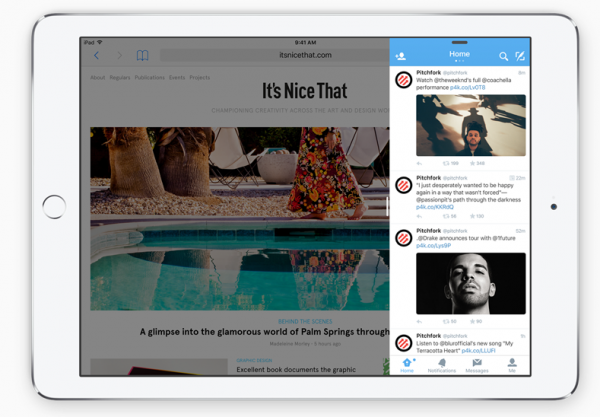 If you use iPad Air 2, you can do a Split View. With various ratio one app to another app, you can run 2 applications interaction at the same time or we call it, true multitasking. It the thing that we have dreamed about for long time and it can only be done in iPad Air 2. it is just for the new hardware guys…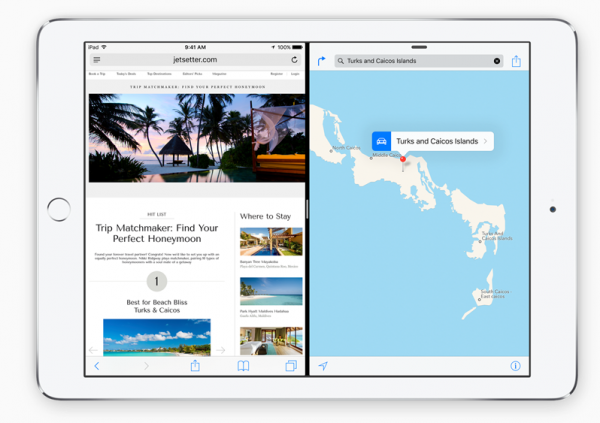 Picture in Picture. This feature allows you to keep watching video or doing Facetime even though you are accessing other application. The video screen size will become smaller and you can drag to move the video or re-size it as you want. It very useful feature. Imagine when you are doing a video call on Skype, then you need to check your incoming email. You don't have to close your Skype. Isn't that great!?
On keyboard, Apple maximize iPad users by adding some tools on keyboard as a shortcut bar: copy and paste, Bold, italicize or underline.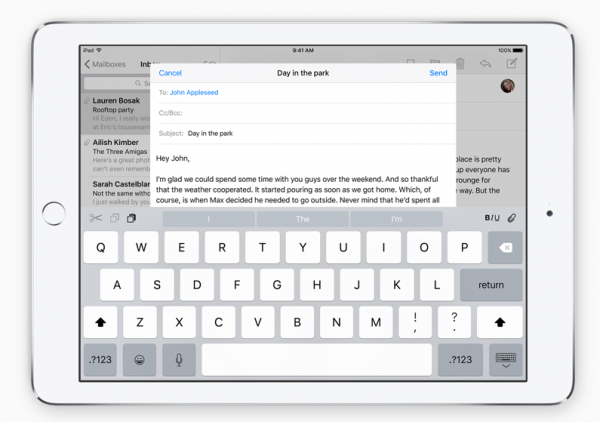 Control cursor on text to select by simply moving two fingers anywhere on the screen, including over the keyboard, to select, edit, and move text.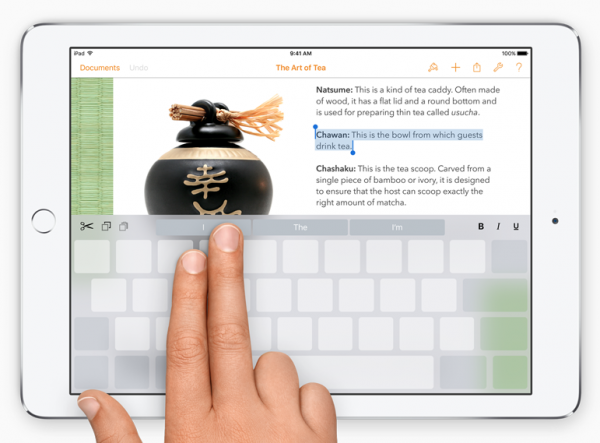 If we use a third party keyboard, iOS 9 on iPad can accept some shortcut as well as OS desktop for app switching, copy, paste, etc. We can see that iPad is getting mature in this thing.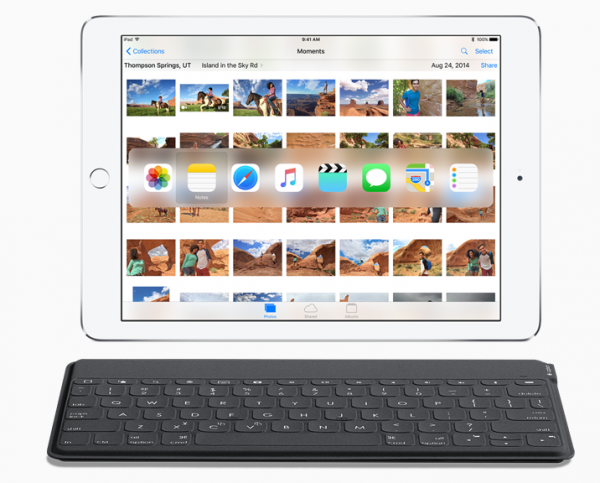 Siri
As it should be, Siri keep developing and on iOS 9, it's up to 40% faster and 40% more accurate. Now there are even more topics you can ask Siri about, with more naturally language, such as: "Show me photos from Utah las August." Siri can find it for you.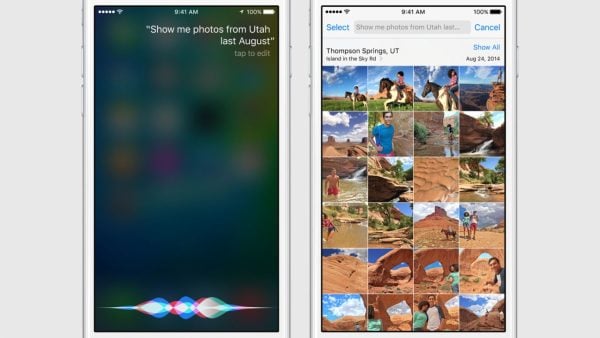 Intelligent Search. Search on iOS 9 is also powered by Siri technology so that you can get even more answers when you type in the Search field. you can search for more — including sports schedules, Netflix movies, and information inside apps. Search screen is now prepopulated with contacts, apps, places nearby, and more. And it's proactive in other places, too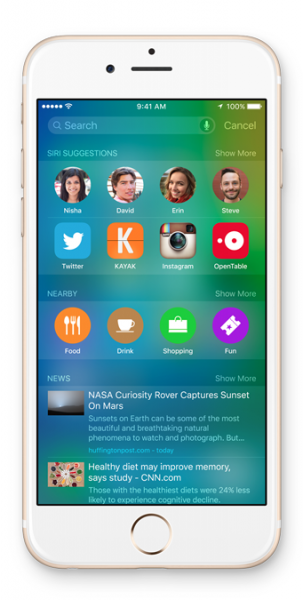 Proactive feature. our device can now anticipate what you want to do next based on your location, the time, what app you have open, or what you're connected to. For example, plug in your headphones or connect to your car, and iPhone can suggest a recent playlist or audiobook. When you grab your iPhone in the morning, it can suggest apps to open based on your daily routines. If you want to be reminded of something you saw in Safari, your device can remind you to read that page.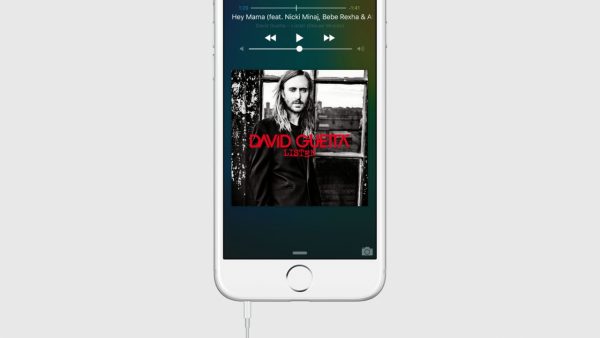 Core Improvement
All the built-in apps in iOS 9 now take advantage of Metal, delivering faster scrolling, smoother animation, and better overall performance.
Battery life increase. With average use, the iPhone battery will last an additional hour with iOS 9.
iOS 9 takes less free space than iOS 8 to install. So it's easier than ever for you to update. iOS 9 only needs 1.3GB
New APIs including: GameplayKit, Model I/O, and ReplayKit
Health app can now also track reproductive health, how often you're seated, and UV exposure.
HomeKit supports new accessories like home security systems and mechanical blinds and with iCloud Remote Access, you can control them no matter where you are.
Another good news for developer around the world is Swift will be open source later this year, available for iOS, OS X, and Linux.
The iOS 9 developer beta is available now, and the public beta will be available in July. iOS 9 will be available to iOS device user this fall for this all iOS device yang support iOS 8.It's a good news for iPhone 4s iPad 2 and iPod Touch users.
Read also: How to Record a Screen or video on Mac with Quicktime