Today, we can start to download iOS 8.4 after several weeks in beta version which can only be installed by developers
Today, we can start to download iOS 8.4 after several weeks in beta version which can only be installed by developers who has membership in Apple $99/year. This for you who own these iOS devices:
iPhone 4s or later
iPad 2 or later
iPad mini or later
iPod touch 5th Gen
You can update iOS via OTA (Over The Air) directly from your device or by using iTunes application on Mac/PC. Actually, the update process is a very easy process, but not everyone knows how to update iPhone or iPad to iOS 8.4 safely.
we want to discuss with you about how to update iPhone or iPad to iOS 8.4 safely. We want to make the update process runs smoothly and avoid the problem which cannot be predictable even by Apple itself.
How to Update iPhone or iPad to iOS 8.4 safely
Apple suggests to always update our device because it can give us the advantages like bug fixes, feature improvements and so on. But we want to be a smart user and not only following what Apple instructed. The information that you can get as a user is "release note". It's an official note and complete related to anything about update which is launched by the party who launch update.
Release Note can you read when the update process is about to be done to give the complete information. From this information, you will know whether the update is fit with your need or not, or the possibility of certain capability issue which can make your productivity is disturbed. I will re-write Release Note about iOS 8.4 for you to be read and learnt.
Read also: How to Update iOS 9 Developer Beta Without a Developer Membership
Complete release notes of the iOS 8.4 software update
Apple Music
Become an Apple Music member to play from millions of songs in the Apple Music catalog, or keep them offline for playback later
For You: Members can see playlist and album recommendations, handpicked by music experts
New: Members can find the latest, greatest new music available – direct from our editors
Radio: Tune in to music, interviews, and exclusive radio shows on Beats 1, play radio stations created by our editors or create your own from any artist or song
Connect: See shared thoughts, photos, music, and videos from artists you follow, then join the conversation
My Music: Play from all of your iTunes purchases, songs from Apple Music, and playlists in one place
Completely redesigned music player that includes new features such as Recently Added, MiniPlayer, Up Next, and more
iTunes Store: Still the best place to buy your favorite music—one song or album at a time.
Availability and features may vary by country
iBooks improvements and fixes
Browse, listen and download audiobooks from inside iBooks
Enjoy the all-new Now Playing feature, designed specifically for audiobooks
Books that are Made for iBooks now work on iPhone in addition to iPad
Find and pre-order books in a series right from your library
Improves accessibility of widgets, glossary and navigation in books made with iBooks Author
New default Chinese font
New setting to turn off Auto-Night theme in your library
Resolves an issue that may have prevented Hide Purchases from working
Resolves an issue that may have prevented downloading books from iCloud
Other improvements and bug fixes
Fixes an issue where receiving a specific series of Unicode characters causes device to reboot
Fixes an issue that prevented GPS accessories from providing location data
Fixes an issue where deleted Apple Watch apps could re-install
Read also: How to Fix Proximity Sensor is Not Working on iPhone 4s
Great Preparation for update safely
The preparation for update safely is rare to discuss because it seems a simple tips but it really useful for you.
Update all applications on your iOS Device in App Store before you update iOS. Go to App Store and tap Update tab. Update all applications you have. Well, it's not a must, you can pick some applications of course.
Prepare free storage of your iOS Device, minimum 2 GB. If you have to reduce data on iPhone like Photo, you can remove it first to your Mac/PC.
Power off iOS device. Hold down power button until "Slide to power off" appears, then slide it. After that, turn it back ON.
Charge iOS device during the update process. Wait until minimum 40% if your battery is critical.
Connect iOS device with fast connection WiFi. This is important to update OTA on iOS Device.
Steps for OTA update
Go to Settings >> General >> Software Update
There will be Checking for Update, next we can see the latest iOS version with its short explanation and the update size. Tap Learn More if you want to see the complete release note of that iOS version.
Tap Download and Install. Let the download process done and tap Install Now.
iOS device will restart and install the newest iOS update. If it succeed, you will be welcomed with "Update Complete" screen.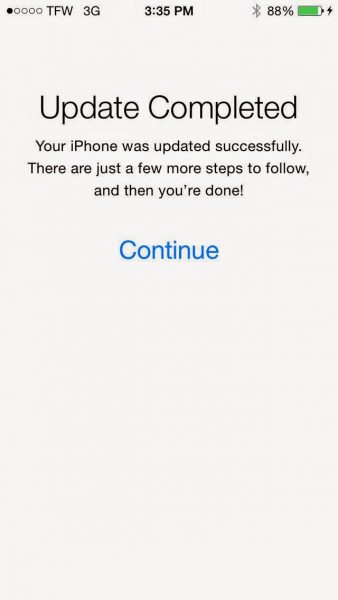 Steps Update via iTunes on Mac/PC
Update iTunes to the latest version or download the latest iTunes version here
Launch iTunes
Plug iOS device to your Mac/PC.
iOS device will be detected by iTunes. If you connect your iOS device for the first time to Mac/PC, there will be a popup message appears on iPhone "Trust This Computer?". You can tap Trust.
Choose your iOS device's name. On , click Check for Update or Update button. Actually, if your iTunes has detected the update for your iOS device, a popup message will appear and tell you that there's an update for your iOS device.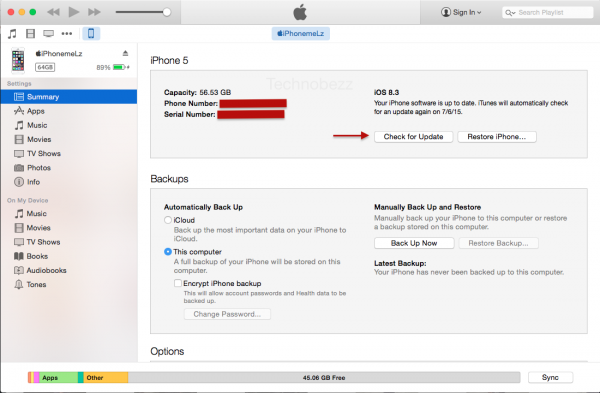 Tap Download and Update. Tap next on release note from iOS update
iTunes will download iOS update for your iOS device's version. The size of file that will be downloaded by iTunes is much bigger than the file's update size when you download via OTA.
After the download process done, iOS device will automatically restart and the update process is running.
If it's succeed, you will be welcomed with "Update Complete" screen.
If you have any questions related to this update process, just leave a comment to us. have a try!
Read also: How to Fix iPhone 5 Invalid Sim Card After Update iOS 8.3 Issue
---