If you want to transfer contacts from Android to iPhone then it can be done in few ways, and these are discussed below.
If you face any problems with your android or iPhone, visit Technobezz, almost all solutions are given here.
See also- How to unlock an iPhone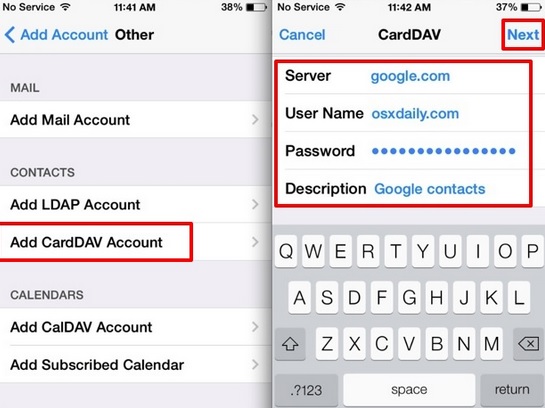 Transfer

contacts

from

Android

to

iPhone

through

Google

account
If you have used an Android phone you would have definitely used Google accounts in your phone. The transfer process is very easy and requires you to go to the Settings in the Android phone and choose Account & Sync. Enter the Google account details and enable synchronization, which then synchronizes the phone and Google contacts.
Next go to the iPhone settings to add your Google accounts and enable the contacts for the account. This will show you all the Google contacts in your iPhone.
Second method to Transfer contacts from Android to iPhone
If the above procedure fails, then go for this method after synchronizing the Google contacts in android. Head to Settings of your iPhone > Mails, contacts, calendars > Add account > other >Add cardDAV account and fill up the information required as shown below.
Server: type Google.com
Username: type the full Google account or the Google apps email address.
Password: Google Account or Google apps password.
Description: Enter description from the list such as Personal accounts.
And when you have successfully filled up the information, click next at the top. Keep the Contacts option ON. Once the process is completed, head to the contacts app in your iPhone and syncing will be started in your iPhone and Google.
Method 3
This process requires you to take all the contacts in the SIM card of the android phone first. But this method will be successful only when the Android phone SIM card will be fit to your iPhone. Once the contacts have been saved to the SIM card insert the same in the iPhone. Next go to settings > mail, contacts, calenders > Import SIM contacts. This will transfer all the contacts to iPhone.