On September 16th, Apple has officially released iOS 9. You can find the upgrade invitation from the badge on the Settings app icon. If you enter into the Settings app further, General >> Software Update, you will find the iOS 9 upgrade file ready to be downloaded with the file size around 800MB (depending on your device). If you have time, you can read its release notes first, to find out the new features of iOS 9. You can also read what's new in iOS 9 on their official website.
For some user, upgrade is a must. Some applications have been upgraded by developers to be compatible and maximized with iOS 9. This latest iOS provides the new features beside a better stability and performance, battery life, and security. Here, some of the new features that are interesting to discuss.
New Note App
Yes, Note app gets more intention in iOS 9. Previously, Apple was not really concern about this app and make the users choose the other note taking apps, such as Evernote, OneNote, and so on. Actually, this app can make the iCloud more useful for those who like to write on their iOS device. Note app is one of the applications, which can automatically sync between devices through iCloud and many people need this feature. In iOS 8, it seems that you don't get what you need from a note app, but in iOS 9 they make it much better with the new additional features. These 3 new important features are, Checklist Bullet, Sketch, and taking a photo within note app. Simple and that's all you need. I love it!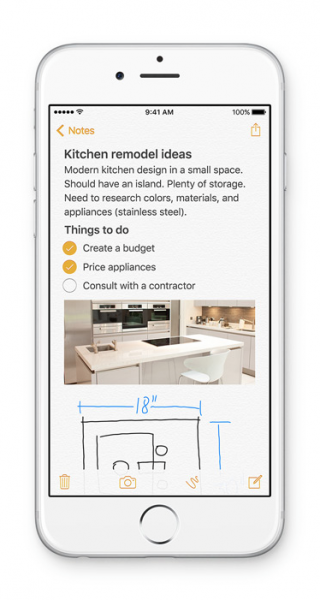 You can use the Checklist bullet as a "reminder" note or your to do list, and the Sketch feature can give you a freedom to express anything you cannot tell by words. You really can count on the new Note app in iOS 9. Try it for a couple days, you will love it too.
Better Multitasking for iPad
The new multitasking for iPad is a solution that we have been waiting for long time. iPad is an iOS device with a big screen, but unfortunately it's not used properly for multitasking. Apple has fixed it in iOS 9 with the Slide Over feature. This feature allows you to open a second app without leaving the one you are in. It's good to respond to the text message, check the weather, and anything else you want to see fast, and once it's done, you can slide that app away and get back to the one you were using before.
This feature is different with the Split View, where the 2 applications are opened side by side and active. On the Slide Over feature, when you slide the application you want to see, such as the weather app, the main app is not activated for a while until you slide it back. Unfortunately, the Split View feature is limited for iPad Air 2, iPad mini 4, and iPad Pro.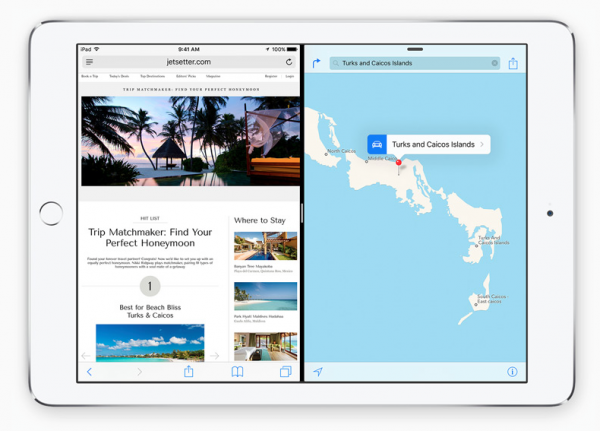 One of the most requested features for multitasking is Picture in Picture. This feature allows the video to keep playing in a smaller and resizable dimension while we are using the other app. So you'll be able to keep chatting on Skype for example, while browsing or typing. This is great!
Better Siri and Proactive Feature
In iOS 9, Siri becomes smarter. She can handle the question with more than 2 parameters, like: "Show me the photos from Alexandria, Egypt last year." Moreover, she can remind you to continue what you were doing on the iPhone. For instance, you were writing an email, then your friend came to pick you up to the office, so you had to stop writing. You can ask Siri to remind you by saying: "Siri, remind about this when I arrive in the office!"
The other feature is a smart suggestion of the things you usually do on the iPhone. Apple calls it the Proactive. This feature helps you with your habits, for example, when you plug-in your headphone, the proactive feature will recognize that you might want to finish the podcast you started earlier or else. When you are creating an email and start to write the email address, Proactive will suggest you some email addresses you usually include with them, and more. Proactive feature on iOS 9 can open the new opportunity for the future iOS to have the amazing intelligent as a digital assistant as you can find in fiction movies.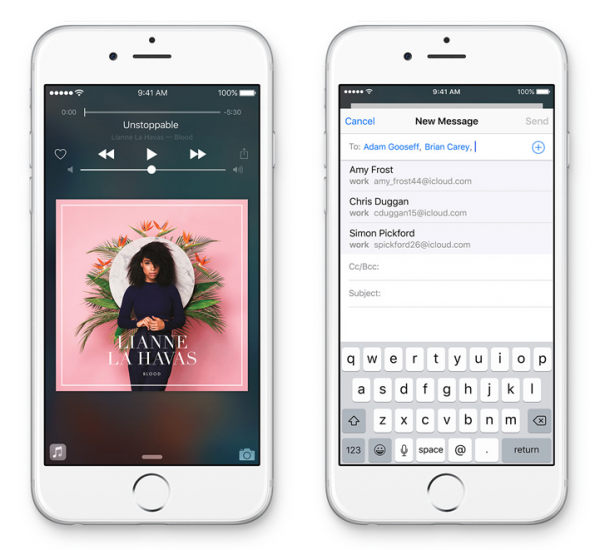 The other features you can find on iOS 9, such as Improved Maps, iCloud Drive app, the new News app, and more. But, to upgrade iOS 9 now, is it a right decision?
Besides the consideration of new features, stability, a better battery life, and more, what else should I consider? First, you have to notice that to downgrade it to iOS 8 is not possible. Second, I believe there's no perfect in the computer world, that's why they keep updating and fixing it. Even though iOS 9 has passed the beta version, and has been tested by the public a few months ago, you still need to alert about the early build of a software. I prefer to wait the minor update or iOS 9.1.x. Why? Because, the bug on early build often happened. So, relax, no need to hurry in upgrading your iOS to iOS 9.
Read also: iPad Pro review and critics: it should be more than just a bigger and faster iPad Air