Tips for using 3D Touch Turn your keyboard into a track pad by deep pressing on the keyboard. It will help you
Tips for using 3D Touch
Turn your keyboard into a track pad by deep pressing on the keyboard. It will help you select text on your phone easily.
Peek into other apps with the help of 3D touch. If you want to access a link sent in a message, firmly press on the link to take a peek and then you can either choose to open the link or you can add it to your reading list.
Switch between apps by deep pressing the left side of the home screen to pull up the app switcher window. Easily move from one app to another through this.
Get options to call, message or mail a contact by deep pressing on the contact from anywhere – contacts, messages or mails.
Bring up your camera roll in your camera app by firmly pressing on the camera roll thumbnail inside the camera app.
Peek at Playlists in Apple Music by hard pressing a singer to show track lists and the option to play, shuffle, or add the track to your music list.
Close all tabs on Safari at once by long pressing on Done at the lower right corner of the screen. If you have 5 tabs open, it will have an option that says, Close 5 tabs. Tap on it to close all open tabs at once.
Use Low Power Mode to Reduce Battery Usage
Low Power Mode is helpful for users who plan to stay away from a charger for a long time. It will reduce the functionality of the phone by turning off Hey Siri, and it may also reduce background syncing options but it can be helpful if you have a long day at work, with no access to a charger.
Go to the Settings menu of your device
Tap on Battery
Toggle on Low Power Mode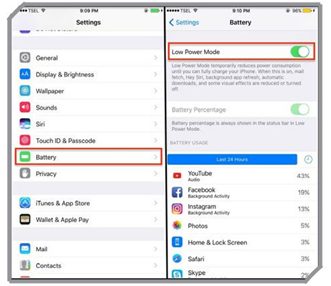 Activating Siri just by your voice no matter whether it is locked or unlocked is a cool new feature in the iPhone 6s. People are loving Siri's ability to quickly recognize your voice and answer you accordingly. But for this, you will first have to activate Hey Siri.
Go to Settings
Tap on General
Look up Siri and tap on it
Now tap on Enable Hey Siri to activate the voice option.
Siri will only recognize your voice and you can use it for finding your phone if you forgot where you kept it. All you need to say is, "Hey Siri, where are a you?" It makes things a lot easier for Apple users and more accessible too. Sir has been fun for a long time, and now it is getting more exciting.
If you use iMessages very often then this app has the option to allow hand-written messages now. If you do not want to key in the letters from the traditional iOS keyboard then tap the iMessage area where you usually type in the message and then turn your phone to landscape mode. You will find a blank screen on which you can type in the message. A keyboard icon at the bottom of the screen will allow you to return to the usual keyboard. If you want to switch to hand-written screen then tap on the swiggly line icon at the bottom of the keyboard.
You will find this works best of iOS keyboards. If you have downloaded a third party keyboard then it may not function properly because of compatibility issues.
Switching Between Different Video Qualities When Recording Videos
Since 4K video recording is a new feature with the iPhone 6s and 6s Plus, many users want to try this new feature. But storage is a problem with 4K videos since they take up a lot of space. You may end up deleting photos and videos very frequently when you use 4K videos. To switch between different video options follow these steps:
Go to Settings
Tap on Photos and Camera
Tap on Record Video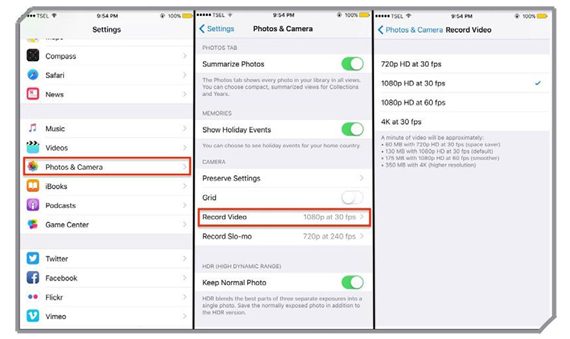 It will show a number of recording options that include recording 4K videos at 30 frames per second. You can select any of the option available depending on the quality of the video that you are planning to record.
Customize Spotlight Search
It is easy when you are searching for a file or information using spotlight when the search is customized to include certain areas of the phone and exclude the rest. To customize your search results on Spotlight do the following:
Go to Settings
Tap on General
Tap on Spotlight Search
You will see a list of results which show the areas of the phone that are currently included in the search. Toggle off any of the areas that you do not want to include in the Search.
Spotlight Search can be accessed by swiping from left to right on the home screen. By customizing your search, you can avoid personal information or items show up in your search results.
Switching Wi-Fi Assist On or Off
Wi-Fi Assist is a feature that allows you to enjoy smooth connectivity to the internet even when you have a patchy Wi-Fi connection. It does this by borrowing from your mobile data connection. With the mobile data assisting the Wi-Fi you will be able to get a good connection but the problem lies in the use of data which can lead to data charges for you. 
This feature is switched on by default on your iPhone 6s and 6s Plus. You can toggle it on or off by following these steps:
From the Settings menu of your phone go to Cellular
Scroll down to the bottom till you find Wi-Fi Assist. Toggle it on or off according to your requirement.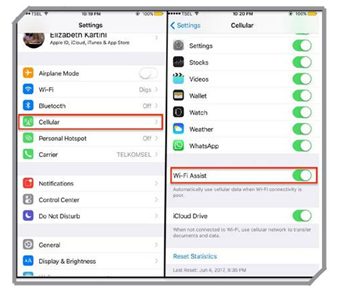 The iPhone 6s and 6s Plus had brought in new technologies and introduced some very great features and functionalities in the smartphone industry. 3D Touch was its best accomplishment in these two phones. Users of both phones found 3D Touch to be a great feature although many users took time to get accustomed to it. Apple continues to create new benchmarks for smartphones but with an already saturated smartphone market, the company reported its first every quarterly year-over-year decline in the sale of iPhones.
It meant that Apple had to bring in a notable change that can attract its people and continue to strengthen its market with the launch of the next generation of iPhone. They had to introduce changes which will be accepted and appreciated by the users. At the same time, Apple had been very conservative about the overall design and look of the iPhones right from the beginning. While changes were made, there wasn't much that was being perceived by the average user.
These reasons in conjunction with the list of problems found in iPhones right out of the box was leading to a gradual decline in the market. Nevertheless, sales research still shows that iPhone is the best-selling phone in the world in the first quarter of 2017.
---