Tip 1: Shake the Phone to Undo or Redo Words on Messages While typing a message, if you would like to erase
Tip 1: Shake the Phone to Undo or Redo Words on Messages
While typing a message, if you would like to erase the typing, or retype the message you erased then you can do that with the simple shake of a phone. Shake your phone to quickly and easily undo what you have typed on your messaging draft. It is easier this way, and it can allow you to quickly delete more words on a message than you would ideally do with the help of the delete button.
Shake your phone while you are writing a message
From the popup box tap on Undo Typing to delete the message in the draft.
If you want to retrieve what you just deleted then shake the phone again and you will see a box that asks if you would like to Redo Typing.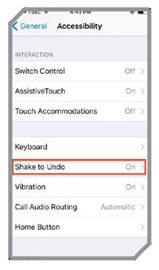 Tip 2: Use Do Not Disturb to Filter The People Who Can Call You
Do Not Disturb can be used in the iPhone 5c to avoid getting calls from anyone at all or to filter the calls you get. It will allow you get notifications from the selected list of people only. It is handy to have this feature when you are in a meeting and you want to avoid constant distractions by getting notifications and alerts from everyone.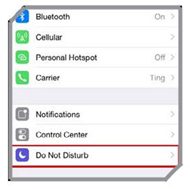 Tip 3: Create Web Clips for Smoother Browsing
If you end up visiting the same website very frequently, then a Web Clip can be very helpful. The next time when you visit the website, tap on the Share button and click on Add to Home Screen. This will create a clip of the website on your Home screen. Click on this web clip in the future to easily access the website without having to type the address.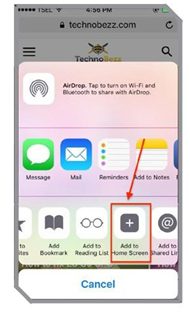 Tip 4: Use Wireless Printing Through AirPrint
Wireless printing is becoming common by the day. Use your iPhone to enjoy printing the contents on the phone wirelessly by using the reply button on the email or the Share button for other files. You must be connected to a wireless printer that is compatible with the phone and you will be able to take a print out without having to connect your phone to the printer using wires. It also saves you the hassle of powering on your computer that is connected to the printer to print anything when you can do it with your phone.
The iPhone 5c introduced Apple to a new set of Apple fans. It took away the pricey factor from Apple's brand and put it into the reach of more people, increasing Apple's audience. Needless to say, it was never meant to be cheap, all it did was ensured that people who were looking for mid-tier pricing could pick an Apple phone too.
Among other competitors, the smartphone landscape was moving towards larger screens and more powerful features. A new phone definitely had to ensure that it incorporated a new form of brilliance to keep the iPhone line of phones as desirable as they had been so far. The iPhone 6 didn't disappoint.
---