Tip 1: Use a case to avoid scratches on the body of the phone The iPhone 5 came in black and slate, and white
Tip 1: Use a case to avoid scratches on the body of the phone
The iPhone 5 came in black and slate, and white and silver. While the silver iPhone was clear coated aluminum, the darker phone colors weren't as easy to anodize. This caused a flurry of problems for Apple who began getting complaints of scratches that showed too easily on the phone. If you are using the iPhone5 in a darker color, then invest in a phone case to ensure that your phone doesn't end up with unwanted scratches.
Tips 2: Using the phone to avoid a purple glare in images
Some iPhone 5 users have noticed a purple glare in the photos they capture with the phone's rear camera. Apple released a support document to address the problem. It suggests that you should slightly change the position of the phone so that the light entering the lens doesn't create the purple glare. Shielding the lens with your hand can also fix this problem.
Tip 3: Set a Timer for Your Music
Sometimes you would really wish for some way to fix a time period through which the music plays before it automatically stops. It could be great especially when you are listening to music to doze off to sleep.
Tap on Clock on the Home screen and then go to Timer
Tap on When Timer Ends
Tap on Stop playing and select the time period for which you want the music to play.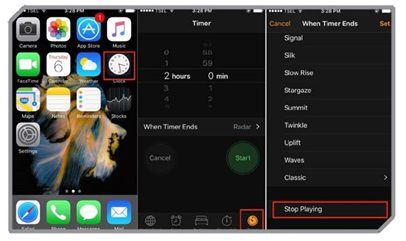 Tip 4: Use your Headphone Cord to Click Photos
The headphone cord can do more work than you thought. Listening to music and taking calls is one thing, but clicking pictures with it is a whole new level. With your headphones attached to the iPhone, open the camera app and use the volume up and down button to click pictures. It works really well especially if you are planning to take selfies.
The iPhone 5 introduced some very new features and had some significant aesthetic changes even though it looked the same to the average user. People who understood materials and processors saw a notable difference in the quality of the design and the swift response of the phone. The battery life is decent and it had a great display. Despite some of the problems faced by users; most iPhone users around the globe commended on the phone's performance and looks. But since change is the only constant in the history of iPhones, a more forward-thinking phone was being developed by the company preparing for the launch of the iPhone 5s.
---