Apple Watch adopts some new hardware components in order to improve user experience on such a small display
Apple Watch adopts some new hardware components in order to improve user experience on such a small display device. Apple combines some elements like force touch display, which can recognize the pressure level to interact with UI menu more effectively, digital crown to scroll and zoom with more precision. Another element is a taptic engine which gives a vibration sensation and feedback to your wrist and finger when the notification comes or some other interaction. Apple wrote about their taptic engine technology: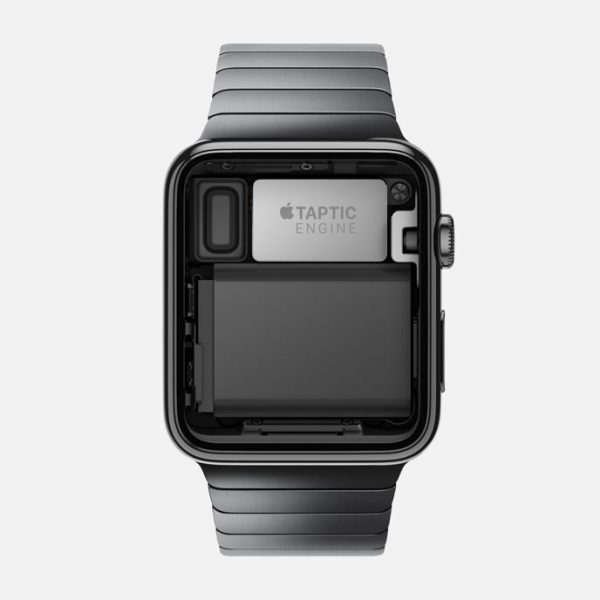 "We found a way to give technology a more human touch. Literally. It's called the Taptic Engine, a linear actuator inside Apple Watch that produces haptic feedback. In less technical terms, it taps you on the wrist whenever you receive an alert or notification, or press down on the display. Combined with subtle audio cues from the specially engineered speaker driver, the Taptic Engine creates a discreet, sophisticated, and nuanced experience by engaging more of your senses. It also enables some entirely new, intimate ways for you to communicate with other Apple Watch wearers. You can get someone's attention with a gentle tap. Or even send something as personal as your heartbeat."
As the first Gen product, some issues are possible, but until now we didn't hear any complaints about Apple Watch, except the tattoo's effect toward sensor readings. Yesterday, there was an interesting report from WSI about one of Apple Watch hardware components, which faced a failure in producing process so it caused the lack of shipment of the Apple Watch. Many thought the reason for the lack of shipment was not the failure, but the demands that were higher than Apple expected them to be.
"The part involved is the so-called taptic engine, designed by Apple to produce the sensation of being tapped on the wrist. After mass production began in February, reliability testing revealed that some taptic engines supplied by AAC Technologies Holdings Inc., of Shenzhen, China, started to break down over time, the people familiar with the matter said. One of those people said Apple scrapped some completed watches as a result."
Not even one Apple Watch that has been sent didn't have this issue.
We hope the first gen Apple product will not face failures like in the other previous Apple devices.
See also: How Much The Estimated Cost For Creating Apple Watch Sport 38mm?
---