If you have recently owned a new iPad or iPhone and you are not aware of the set up process, then follow our
If you have recently owned a new iPad or iPhone and you are not aware of the set up process, then follow our step by step guide and Set Up Your new iPhone or iPad.
See Also-HOW TO TROUBLESHOOT WIFI CONNECTIVITY ISSUE ON IPHONE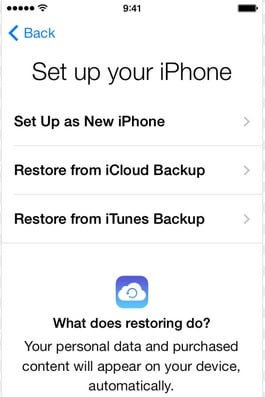 See also- How to use Parental control or Restriction feature on iPad or iPhone
Steps

to

set

up

your

new

iPhone

or

iPad
> First hold the power button for few seconds until the Apple logo appears on the screen and then leave it to see the Hello message. Swipe right to start and select the language.
> Next an option to choose the country or region will be visible on the screen. Choose the country where you live as it has an effect on the date, time and many other things.
> Connect to a wireless network now. This will search for the nearby network. Select the strongest one from the list by checking from the manual. Put the Wi-fi password now and your phone will be connected to Apple's server.
> Next, the Location services you need to select from the two options given, enable or disable location service. Enable it as it may be useful later.
>'Set up as new iPad' is the next step. Select 'set up as new iPad' if it is your new phone, or if you want to upgrade the device from older one choose 'restore from iCloud or iTunes' from the list.
> Now sign up with your Apple ID or else create a one if you are new.
> Agree to the terms and conditions and a message will be shown 'your device is ready'. Insert the SIM now.
> Next option is iCloud. Select iCloud from the option as it would help to locate your phone in case it is lost.
> iMessages and Facetime ask you to put the mail id and contact number where people can send you messages.
> iCloud drive will be reflected next. This is used to store documents online. You can enable it if you have a Windows computer.
> Create a Passcode then that is required to lock your phone so that people can't use it without your permission.
> Now select 'use Siri' from the option as it is useful to set alarm, launch app, etc.
> A message will be coming to the screen saying Welcome to iPad. Click 'Get started' to begin. And add your mail account.
The set up is complete. So the process is very simple, and you can set up your new iPhone or iPad following this in your own.
---