Have you just bought a brand new iPad and you are about to unbox it? Well, then you need to be well aware of
Have you just bought a brand new iPad and you are about to unbox it? Well, then you need to be well aware of the setting up process of the device for the first time. In case you have used other iPad or iPhone in the past and this is just a replacement then things might be easier to you. But all those who are not aware of it, and wondering how to set up a new iPad for the first time, we are here to show you how to do it.
See Also: How to charge your iPad faster
How To Set Up An iPad
The very first thing what you are required to do is as the device reaches your hand, take it out of the box, insert the SIM card in the SIM tray by opening the iPad. Most of the time the iPad or anything you buy is almost fully charged. However, if you notice the iPad's battery is low, let the device charge first. Now turn on the device by pressing the sleep/wake button located at the top right side. Now follow the step-by-step process explained here.
How to set up a new iPad: Set language
As you see 'Hello' on the screen, slide the screen to get started. The first thing you should do is to choose your language and region when asked. This step is important to set as this information will be used to show the date, time and other information in your device accurately.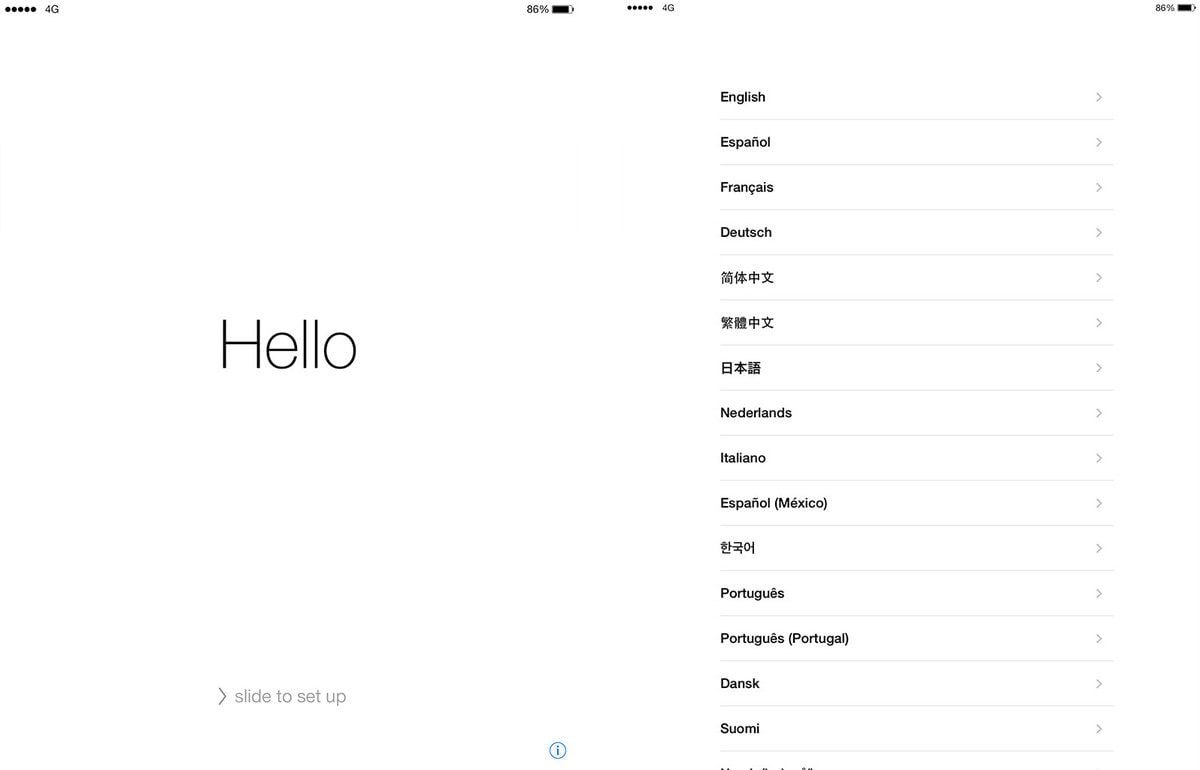 How to set up a new iPad: Set up Wi-Fi Network
This is the second step to set up new iPad. After choosing the language and region you need to select the available Wi-Fi network from the list and then enter a password to sign in. You can also use the cellular data if there is no Wi-Fi network. However, it is always suggested to use Wi-fi network in the beginning to makes things faster.
How to set up a new iPad: Location service
Tap on the option 'Enable location services' next. This is one important step and you should not skip it as location services is vital. This will be used by numerous apps like Find My Friends and Google Maps to offer the accurate location information.
How to set up a new iPad: Set up passcode and Touch ID
The next step of setting up new iPad is to set up a passcode that offers some basic protection to your iPad. Even though this option is not compulsory, it is always recommended. Normally you will be first asked to create a 6- digit passcode but there are options always such as 4 digit passcode, alphanumeric code etc. So, you can choose the one by going to Passcode option. In case you have bought an iPad mini or iPad Pro or something latest one then the option for Touch ID will be available to you if the device is equipped with a scanner. This will allow you to unlock the iPad with a simple touch of your fingertip. So, set up the Touch ID following the instruction and then head towards the next method.
How to set up a new iPad: Restore or Transfer data
Once you have completed the above-explained steps next comes this option. You will be offered four options and these are: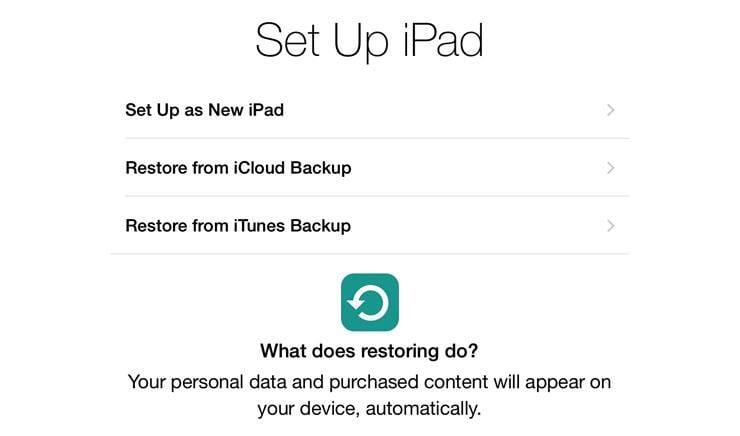 Set up as new iPad
Restore from iCloud backup
Restore from iTunes backup
Move from Android
YIf you are replacing your old iPad with a new one then restoring it from iTunes or iCloud will do the job. But in case it is about a new iPad set up then choose the option set up new iPad. You will be then redirected to the Apple ID screen. Provide the Apple ID and password to go ahead. But if you do not have an ID then it is the time to create one.
How to set up a new iPad: Create Apple ID
Apple ID is mainly required to log into iCloud, iTunes and for purchasing something from the App store. It is good if you have one, if not then create an Apple ID here. Agree to the terms and conditions to complete the process.
How to set up a new iPad: Set up Siri
Siri, the voice assistant is a must, as it will come to great help to accomplish many of your tasks. This option is not turned on by default in the iPad. So, tap turn on 'Siri' to get started with it. Some devices might ask you to say something to know your voice. However, this can be set later on as well.
How to set up a new iPad: iCloud
Do you have important data to be saved on the new iPad? Well, then this step of how to set up iPad for the first time is almost must for you. Select use iCloud so that the iCloud will be linked with your Apple ID and everything will start storing in the Apple server.
How to set up a new iPad: Set up Find My iPad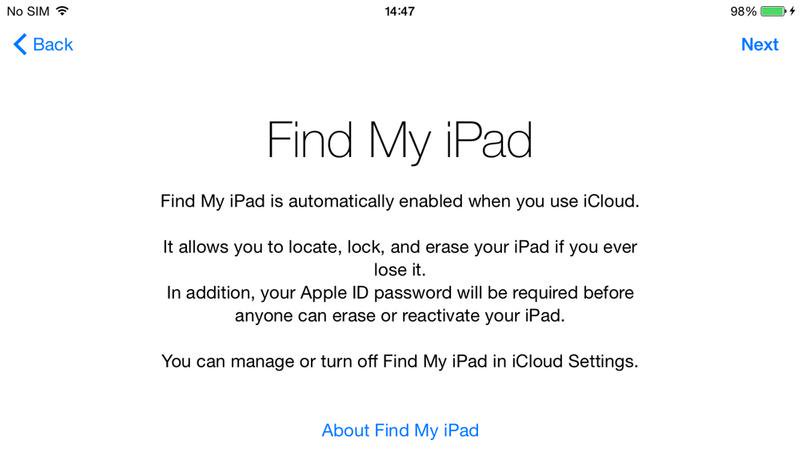 Find My iPad is a great service that will come to work when you accidentally lose the iPad. So, turn on this feature so that you can easily trace your lost iPad using this feature.
You are almost done now. Once the Find My iPad feature is turned on next you will be asked to set some settings for Facetime and iMessage and that's it. The welcome screen will appear next and you can start using your new iPad to explore it the best possible way.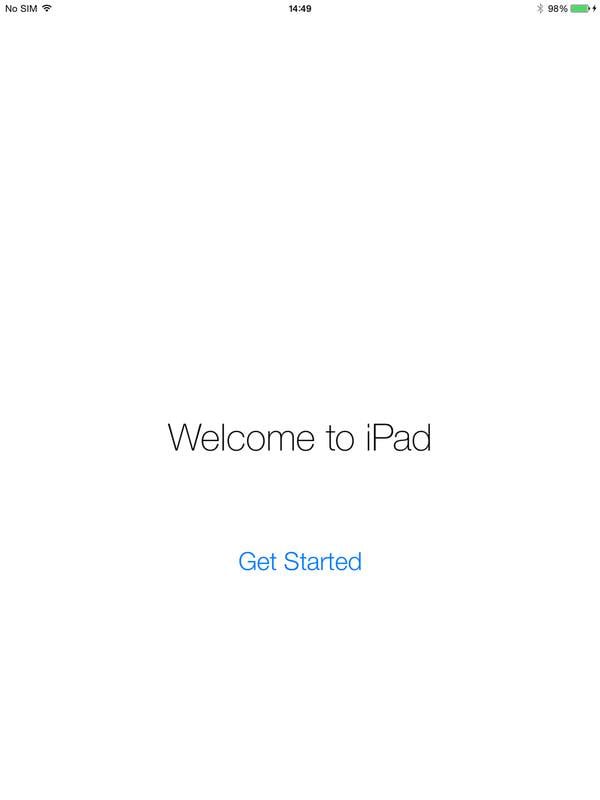 Hope this article on how to set up an iPad will be useful to you.
---