Have you bought an Apple Watch and want to use it the best way? Apple Watch, the wearable iOS device is a very
Have you bought an Apple Watch and want to use it the best way? Apple Watch, the wearable iOS device is a very useful device that has come packed with numerous features to serve various purposes. And if you are planning to use it for communicating with others, this will no doubt help you the best way.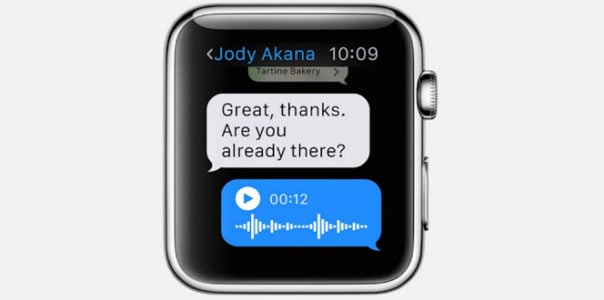 Emojis and text messages are obviously a great way to communicate with others, but human voice is something that triumphs. So, if you too are looking for the process on how to send voice messages from Apple Watch then read this article thoroughly and everything will be much clearer to you.
Using the dictation for voice-to-text input is a great way of messaging; however, voice recording is really something different. The earlier version of Apple Watch OS used to ask users if they want to send a text transcript or voice recording while using the voice input. But things are changed in the latest Watch OS 3. The latest version of Watch OS has the Transcript as default while it can be changed easily to send the message as voice recording.
Here in this article, we will explain the detail process of how to send voice messages from Apple Watch.
See also: How to fix iPhone SE unable to pair with Apple Watch
How To Send Voice Messages From Apple Watch
In order to send Voice messages from Apple watch, the users are required to make some changes in the settings from their iPhone first. And then you can go ahead to send the voice recording from your Apple Watch.
Changes to be made in iPhone
First, take the iPhone that is synced with the Apple Watch and open the Watch app on that iPhone
As you get the My Watch tab, swipe to see the Message section
Tap on Message to have numerous options while Dictated message too will be seen there
Again tap on that dictated message that will allow the users to change the default option Transcript. Here two more options will be available, Audio and Transcript or Audio. You can choose the option that will be needed by you. However, 'Transcript or Audio' is probably the best option to choose that will let you send voice recording from your Apple watch while you can sometimes go for dictating a message using the Voice-to-text input.
In case Voice-to-text dictated messages are never used by you then this section can be used by you only to send the voice message each time. Also, save some time and effort to select the audio option every time.
Once you are done with making the required changes in your iPhone next comes the second part, that is how to send voice messages from Apple watch.
Use Apple Watch to send voice message
First, open the message app in the Apple Watch by clicking on it or else by saying Open messages in Siri.
Next tap on any of the open message to reply and it will bring the Reply option.
Tap on it and then look for the Microphone option.
Again tap on it and start recording what you want to say.
Once completed press done and then tap ' Voice waveform' to send that voice message. That's it. Your recipient can play that voice message in iMessage from the message in any device starting from Apple Watch, iPad, iPhone or other iOS devices.
So, this is the entire process to send voice messages from Apple watch. The process is really very simple that requires some small changes in the settings and you will be good to go.
---