Low Power mode is one of features you can find in iOS 9 Beta. Apple indeed promised to bring a feature related
Low Power mode is one of features you can find in iOS 9 Beta. Apple indeed promised to bring a feature related to battery saving mode which can extend battery life up to 1 hour when battery has reached its critical. The saving mode feature like this has been known by Android users and Apple have just adopted this feature recently. You can find this feature in Settings >> Battery >> Low Power Mode. When Low Power Mode feature is activated, you will see battery icon's color turn into yellow. Apple explained the outline of this feature as follows:
"Low Power Mode reduce performance and networking activity to extend battery life. when this is on, Mail fetch, Background App Refresh, motion effect and animated are disabled"
Users can choose to enable Low Power mode on iOS 9 from system settings or the familiar "low battery" dialogue box that shows up when an iOS device's battery hits 20 percent and 10 percent charge.
Recently, Macrumors found that by activating Low Power Mode in fact can decrease performance of iPhone's processor as they prove via Geekbench 3 for iOS, which was recently updated with support for iOS 9 builds. Geekbench is a benchmark software which is used a lot as reference for performance value of a single or multi core processor quantitatively. They have tried to test geekbench for iPhone 6 plus and they found a decrease in performance of multi core processor score from 2,891 to 1,751, while single-core performance fell from 1,606 to 1,019. Results were similar on an iPhone 5s, which saw a 40-percent decrease in performance.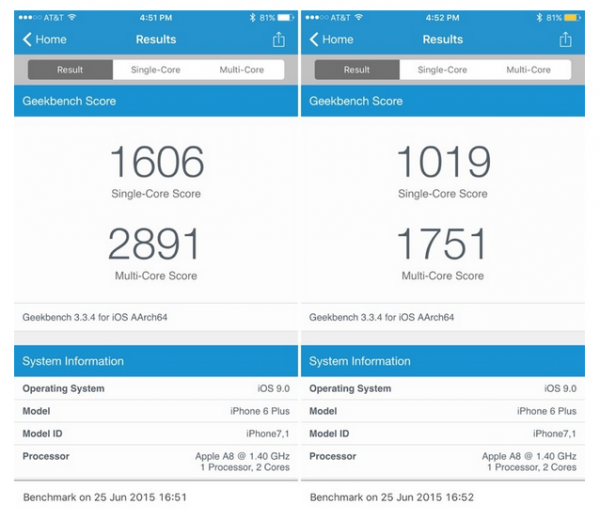 At the moment, we cannot rate about "the technical" that is done by Apple to extend battery life by sacrificing processor performance because iOS 9 is still in Beta version.
It is matter for a user who will play a game, a pop up message that tells about performance decrease should appear on game if Low Power Mode is activated. The solution from Apple related to Saving Battery Mode should be able to reach all components that consume battery life including processor. But unfortunately their ambiguity said that Low Power Mode "lets you extend your battery life even further." Seems that statement needs a further explanation.
Another story: Download Microsoft Office for Android Now
---