Microsoft Band 2 is one of the devices announced by Microsoft on their Windows 10 devices event, October 6.
Microsoft Band 2 is one of the devices announced by Microsoft on their Windows 10 devices event, October 6. They have worked hard to fix and add some requested features on it, so they can be more confident in selling it than its previous version, Microsoft Band, which was launched October 30, 2014. Microsoft Band 2 is expected to be available in many countries, unlike its prior, which is only available in US from Microsoft Store and online, due to the limited quantities. The pre-order has started today with the prices US$249 in the US and £199.99 in the UK.
When Samsung released their new wearable Samsung Gear S2 – last September, we knew that it can be a new competitor for Apple Watch. From the designs and features of both wearables, we know that they compete with each other. Both designs are fashionable and stylish with the quite similar features inside. Today, when Microsoft announced their new wearable – Microsoft Band 2 – we might ask, is Microsoft band 2 the new competitor of Apple Watch?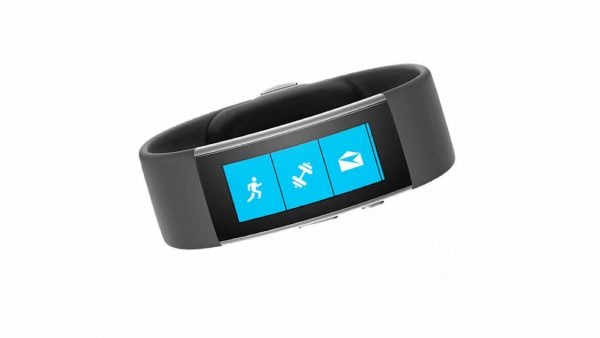 Different Approaches
Both wearables have a different approach. Apple Watch is focused to be more independent from the phone, that's why there are two different options for connectivity: Bluetooth and WiFi; while Microsoft Band 2 always needs the phone around. When it comes to design, these devices also have a different focus. Apple Watch is seriously focusing on design, started from its display, its bands, the material, the colors, and even its digital crown. So, Apple Watch is more than just a personal computer on your wrist. It is also a fashionable watch. The Apple Watch's band is removable, so you can replace it with the other band with different colors as you want. There's no corner on Microsoft Band 2, they prefer to spread all the components around the band, such as the battery, sensor, radio, and connections, so you are not able to take off the band and replace it. However, it makes the wearable slimmer and more comfortable to use as your fitness companion.
The Compatibility
Apple Watch is only compatible with iPhone 5 or greater, running iOS 8.2 or later. The Microsoft Band 2 is compatible not only with Windows phone 8.1 or greater, but also iPhone 5 running iOS 8.1.2 or later, and the Android phones, which are running the Android OS 4.4 or later.
Advanced Health Applications
Due to the main focus of Microsoft Band 2 on fitness and health than a fashionable or personal computer wearable on your wrist, it has a more advanced fitness and health tracker applications than the Apple Watch.
Microsoft has new partnership with more than 20 fitness and health institutions, such as Brooks, Facebook, MapMyFitness, MapMyRide, MapMyRun, Men's Fitness, Runkeeper, Twitter, Uber, MyFitnessPal, and more. On the Apple Watch, the fitness and health applications are not that advance.
Furthermore, Band 2 has more sensors as well than the Apple Watch. Besides, the optical heart rate, accelerometer, gyroscope, ambient light – like the one that Apple Watch has – Microsoft Band 2 has more, such as GPS, skin temperature sensor, UV sensor, capacitive sensor, galvanic skin response, microphone, and barometer for tracking elevation changes.
The Conclusion
In my view point, Microsoft Band is not a competitor for the Apple Watch, but it can make people think about what the wearable device supposed to be. We'll see in the future whether the public tend to choose a stylish wearable with the smart applications inside? Or a simple one, which can be used even when you are sleeping? So, what do you think? Is Microsoft Band 2 the new competitor of Apple Watch?
Sources: Microsoft, Windowscentral
The other news: Beware iOS Device Malware, What's The Solution?
---