iPhones and emails usually work well together, but at times you may end up facing a few problems with your iPhone
iPhones and emails usually work well together, but at times you may end up facing a few problems with your iPhone when you are trying to send or receive emails. If you rely heavily on emails for communication then it can get annoying when you cannot download emails or send a priority email through your iPhone. At times the problem can be as simple as a bad internet connection but at other times the problem can be bigger and more complex. We have put together solutions for all email problems that you may encounter on the iPhone.
Setting up an email account
There are two ways in which you can set up an email account. You can either set it up directly through your iPhone or if you already have your email account set up on your computer then you can simply add it to your iPhone.
Setting it up directly on the phone
From your home screen, tap on the mail app to begin setting up email on your phone.
You will see a list of email accounts that are commonly used. Tap on an account from the list or choose other to proceed.
Then you must enter your name, email address, password and the name of the email account. Once all the details have been filled, tap on Next at the top right corner of the screen.
This will begin a background check to verify the details specified in the last step. If all the information is correct then you will see checkmarks on the screen next to the information and you will be taken to the next screen. If not then you will have to correct anything that is incorrect before you proceed.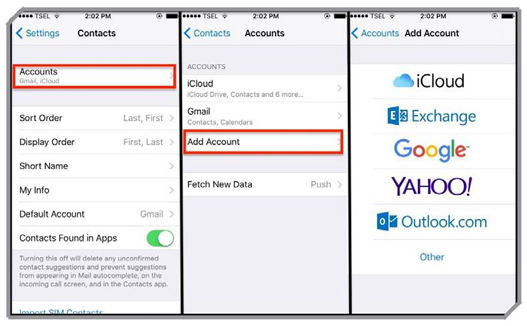 You will be presented with the option to sync calendars and notes if you want. This depends on your choice. If you do not want then synced then tap on next without switching on the sliders.
By clicking next you will reach your email inbox where messages will begin downloading from your account to your phone.
If you would like to set up more than one email accounts then you must do the following:
Go to Settings
Tap on Mail, Contacts, Calendars
Tap on Add Account at the bottom of the screen
Follow the steps of adding a new account
Setting it up through your computer
To set it up from your computer, you must connect your iPhone to your computer and then follow these steps:
Open iTunes and in the row of tabs on the top of the screen you will get an option that says Info
Click on Info and scroll towards the bottom of the screen where you will find all the email accounts which are currently set up on your computer with a checkbox next to each of the accounts.
Check the boxes for the accounts that you would like to sync with your iPhone and click on the Apply or Sync button located towards the bottom right corner of the screen.
Once the sync is complete you can disconnect your iPhone and you will find your email account has been successfully synced with your device and is ready for you to use.
Solving email problems
If you have already set up an email account and now you are facing problems with it then you must try solving the problem by going through the below solutions.
Before we proceed to troubleshoot email problems on your phone, make sure that you have a stable internet connection. If you are using Wi-Fi then you must get a strong connection or if you are on mobile data then make sure that your phone is in an area with good reception. Sometimes, the problem is just a bad internet connection. If you have proper internet and your email problems are still not gone then try the following solutions:
Quit and restart mail app
Double click on the home button and find the email app. Swipe it up to close the email app and then press the Home button again to your Home screen. Open the email app again and try using it now. A small glitch can be solved by this simple step. This is an ideal solution for problems related to a frozen email app or emails not received on the phone.
Restart your phone
If the problem recurs then consider restarting your device. Sometimes, all your phone needs is a simple restart to put things back to their usual way of work. This solution, however, may end up being temporary for a few of the users.
Update iOS
Remember to keep your iOS updated all the time to ensure that you do not face any problem with any of the apps including the email app. Sometimes, an app may have a bug or a known issue which will be solved by an update.
Go to Settings
Tap on General
Tap on Updates
If an update is available then install it and check if your email problem is fixed with the update.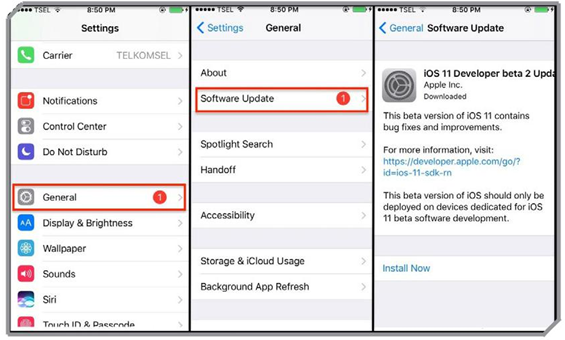 Setup the email account all over again
Deleting the email account and setting it up all over again has helped many users facing email problems too. Before you delete the email account, make sure you have all the details to set it up once again. You will require the username, password, and email settings information.
Tip: If you are using an AOL account and the server does not relay messages then go to the Settings menu of the phone, tap on Mail, Contacts and Calendars and then tap on AOL account. From here, tap on Outgoing mail server (SMTP) and then choose the primary server so that you can enter your username and password for your AOL account. This will fix the problem for AOL users.
Tip: If you are using an official email ID on your phone, then you must check with your office's IT team for problems related to that email account.
---