Most users are never satisfied with the battery life of their phones. They usually want something more out of
Most users are never satisfied with the battery life of their phones. They usually want something more out of their phone's battery life. If you recently updated your iOS version or if you bought a new iPhone then it is best to wait a couple of days before you begin analyzing the battery life. The reason for the wait is that whenever you move to a new version or once you buy a new phone chances are that you are going to play with its settings, download new apps and figure out all the features of the phone in the first few days. This is the time when the phone is being used to its most. Once things settle down, your phone is probably going to experience less usage.
You may want to take lots of photos, even dabble with 4K videos and slow-motion. Then there is the customization of the phone according to your needs and the installation of new apps. All these require the screen to stay on, the Wi-Fi to work and the phone to continually perform different tasks keeping the Wi-Fi and cellular radios busy for most of the time.
So before you begin blaming the battery, make sure that there is no change in your phone habits. Try to analyze battery usage by your phone when it is in standby. Make sure that your phone is not working in the background to install apps or do other work and then leave it for 30 minutes and then pick up your phone and check if the battery drained out significantly even when the phone was in standby. If it did, then there is a problem but if it did not then it is probably your phone usage that is eating into your iPhone's battery life.
If your iPhone's battery is draining too fast and your usage has nothing to do with it, then you can try the following solutions to fix the problem:
Reset your iPhone
Sometimes all it takes is a simple reset to put your phone back to normal. Reset your iPhone by following the steps we have mentioned in our guide to reset and check if your phone's battery works as expected.
Keep All Apps Updated
It isn't always the phone or the phone software that may be causing the problem. Check if the apps are updated on your iPhone. Some apps may end up leeching your phone's battery because of a corrupt file. Visit the Store and tap on Updates to check if any apps need to be updated. If more than one app needs to be updated then tap on Update All at the top of the
screen and wait for all apps to be updated. Analyze the batter performance after the update to check if the problem is fixed.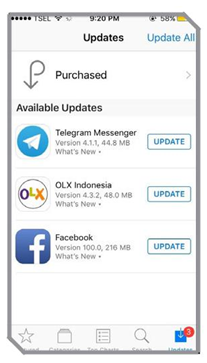 Check Battery Usage
Checking the battery usage on your iPhone will help you identify apps that may be causing a problem.
Launch the Settings app
Tap on Battery
Battery Usage will take a moment to show up on the screen
Tap on Show Detailed Usage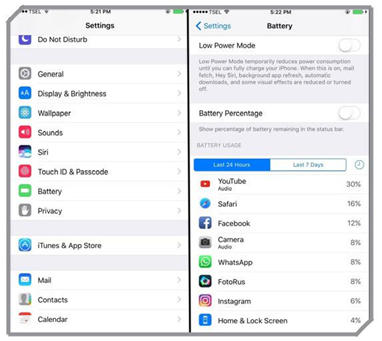 This will give you details of the foreground and background power usage of the apps. Identify apps that show a huge difference in the two because these may be the ones causing the problem.
If you would like to analyze the battery usage over a period of time, then
Apple makes this easy for you too. Tap on Last 7 days and you will get a broader view of the power consumption over a period of time.
If you notice anything that is taking up power then check if the app really requires the amount of power or not. For example, if you have recently upgraded and iCloud is downloading thumbnails then it makes sense for the app to use more battery, but if a game that you downloaded is showing unexpected usage of battery then Force Quit the app.
Double click on the Home button to pull up all the active apps on the iPhone. Look for the app that you want to Force Quit and flick that app off the screen.
Uninstall Misbehaving Apps
If the battery usage feature helped you identify an app that constantly misbehaves then you must consider uninstalling the app completely so that you do not have to deal with battery problems caused by that app. Once the app is uninstalled, check to find out if the problem is fixed. If the app was causing the problem and you want to use it then you must consider waiting for an update and then reinstall the app.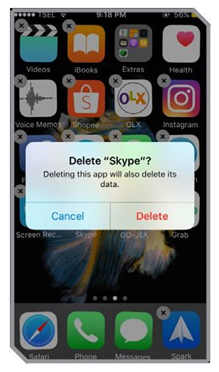 Use Low Power Mode
This is almost obvious, but some users are still not aware of low power mode and all its benefits. If your iPhone is running out of battery too quickly then use low power mode so that you have enough battery before you can plug it to a charger again.
Go to Settings
Tap on battery
Switch Low Power Mode on
Use Airplane Mode Where Needed
Sometimes we may end up travelling to a place where the network is very poor. Your phone will try to search for network continuously and if the network drops regularly then you will end up losing a lot of battery on simply searching the network. Use Airplane mode to avoid the constant searching of the network by your device and switch it off once you are in a place where the signal is strong.
Swipe up on the home screen to open Control Center
Tap on Airplane Mode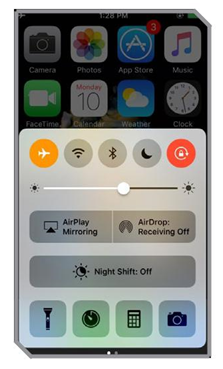 Consider Using a Battery Case or Bank
If you are a power user or if you do not want to make any concessions in the features that you use then consider using a battery case that helps your phone get some additional battery life or you can use a power bank to charge your phone on the go. Either of the two is helpful for people who spend a lot of time on the road or away from a charging outlet.
Restore Your Phone From An Old Backup
If the battery problem does not go away by the above tweaks or solutions then you must consider restoring your device from an old backup. After you restore the device, check if the battery problem is fixed. Remember that the process of restore will require more battery because apps will be installed again and all your previous data will be restored. This will make your phone do more work than required so you must not worry about the initial battery drain.
Contact Apple
If the restore did not fix the problem, then you must consider contacting the Apple Store to check if the battery requires being changed. If your iPhone is under warranty then you may be able to get a replacement without any costs.
---