Use The Accessibility Feature With Kids
If your kids use your phone often to play games or listen to music, then switch on the Accessibility option to reduce the damage that they may accidentally do by erasing files or photos.
Access the Settings menu on your phone
Tap on General
Tap on Accessibility
Tap on Enable Guided Access
This will limit the way in which your children may use the phone and help you avoid accidental damage related to the files and folders on the phone.
Use Complex Passwords – Ask Siri For One If You Cannot Create It Yourself
Complex passwords is becoming extremely important especially since Apple experienced a security breach in iCloud. While Touch ID will help you increase the level of security on your device, for the data stored on iCloud, it is safer to use complex passwords as well. If you are not sure what kind of password to create, then ask Siri to help you with a unique password and it will generate it for you. If you are currently on the default simple password setting which requires only a four-digit passcode, then you must disable it so that you can pick a complex password.
Tap on Settings
Tap on your name (iPhone's name)
Now go to Password & Security
Choose Change Password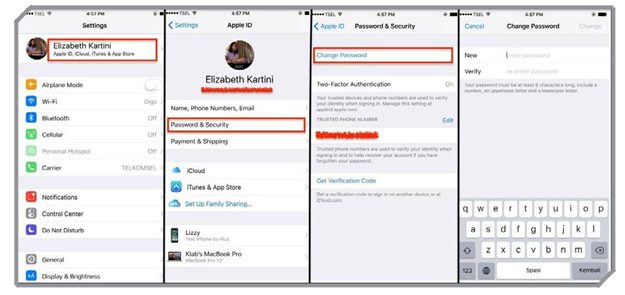 Now choose a complex password that will increase the security of your files on iCloud.
Use the Battery Usage Feature
The battery usage feature was introduced to iPhones with iOS 8.
Access the Settings menu of your phone
Scroll down until you find Battery
Wait for seconds and you will see the Battery Usage section
You will find a host of details that will help you understand the way battery is used on your phone. This comes handy in identifying rogue apps as well that may be leeching your phone's power.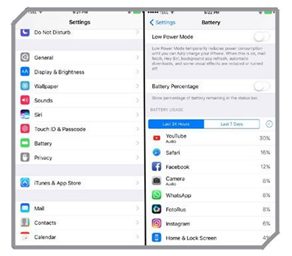 Adjust the Scrubbing Rate for Videos
The rate at which videos are scrubbed can be adjusted now when you are watching videos on the large screen of your iPhone 6 or 6 Plus. Faster scrubbing can help you skip scenes and move quickly through the video while slower scrubbing can give you the chance to check if you really want to watch a video or not instead of spending data on the video that is being streamed. The scrubbing rate can be adjusted while streaming the video. It will show on the top of the screen.
Setting Up Apple Pay
Apple Pay made its debut in the iPhone 6 and 6 Plus. When used along with Touch ID, it can be a convenient way of paying for your shopping at the stores. First, you must set up Touch ID and then you can add your cards to the Wallet (formerly Passbook) to begin using Apple Pay.
Access Wallet
Tap Add Credit or Debit Card
Tap Next
Scan your card and it will verify your information
You can choose a card that is already on files in iTunes or you can set up Apple Pay with a different card. If you choose the card on iTunes then you will be required to enter the security code to complete setting up that card on Passbook for Apple Pay. If you are using a different card then you can manually key in the details or you can take a picture of the card with your phone.
Once set up, when you visit a store that uses Apple Pay, you simply need to wave your phone in front of the credit card terminal and then complete the authentication by using Touch ID.
Use Handoff to Switch between Mac, iPad and iPhone 6
If you have an iPad with iOS 8 and above and a Mac with OSX Yosemite, then you can use a feature known as Handoff to switch between any of these three devices easily. It works for most of the apps, but not all the apps on your device.
You will require Handoff to be switched on for all the devices that you want to switch between. On your Mac you will find this under system preferences where it says Allow Handoff between this Mac and your iCloud devices. Switch on Bluetooth on your Mac from System Preferences before using this feature.
On your iPhone 6:
Go to Settings
Tap on General
Tap on Handoff and Suggested Apps
Now Turn on Handoff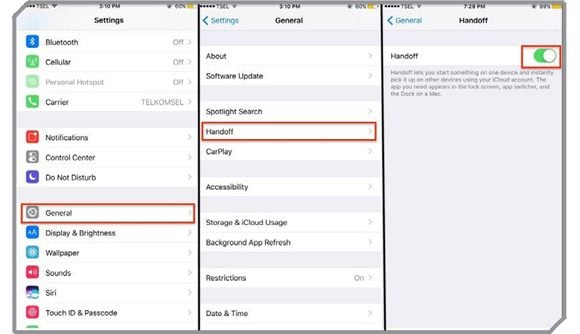 Once Handoff is on the devices then you can begin sharing the apps and documents you want to share between these devices. It allows you to work on apps from different devices giving you ease of accessibility of that app.
These tips can come handy when using your iPhone 6 and iPhone 6 Plus. While most problems that are unique to the iPhone 6 required support from Apple care to fix it, there were other problems that appeared commonly in different phones using the same iOS versions. Some apps like iMessage also had app-specific issues which we have discussed separately to help you with problems unique to the app or iPhone feature.
The iPhone 6 and 6 Plus introduced a significant feature – Apple Pay. This made Apple a popular device among many users and even critics praised the device. While it was far from being flawless, the iPhone 6 and 6 Plus continued to keep the iPhone brand a popular choice among many smartphone buyers. A year later, Apple announced the s version of their 7th generation phone.