It has been quite some time now that the iOS 8 has been launched and the users complained about a few issues
It has been quite some time now that the iOS 8 has been launched and the users complained about a few issues while updating or using iOS 8. Every new software update has a few bugs, few problems like battery gets drained too fast, Wi-Fi connectivity issue etc. So here are some common problems of iOS 8 faced by the users while updating or using iOS 8 and ways to resolve them.
Read also: How to fix iOS 8.3 battery life
The most common iOS 8 problems and ways to fix them:
Not enough space to upgrade iOS 8
This is a very common issue about which many users have complained. However, here are the fixes for that.
Solutions:
To update your device to iOS 8 you need about 5 GB Storage space. If you do not have the required space the update would not go through, hence to check how much storage your device currently has, go to Settings>General>Software update. If you have not updated your phone with 7.1.2 it will prompt you to update that first.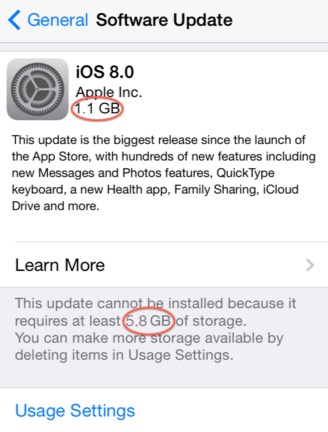 Now if your device has 16 GB phone storage then 5 GB means a considerable part of your pictures, apps, audios, and videos. So users have no choice but to delete their apps, photos, videos, and music in order to make a place for the software update.
Delete Data & Make Some Space on Your Device:
Remove the stored Pictures from the phone The good news is that you won't have to permanently erase the sweet memories you have captured. Instead, users can transfer their data to a PC first and then delete it from their phones.
Delete Apps & Games – For games and apps you might not want to delete the ones containing your personal data on it. It is advisable to transfer apps and games to another device with the help of AnyTrans app so that you will not lose the saved data on your apps and games.
Delete Junk, Log Files, Temporary Files, Cache & Cookies – There is a lot of junk files that are not required but using up your phone's memory and cannot be manually removed. You can use PhoneClean, a specialized iOS tool which can help you remove all those junk files, cookies, cache and other unwanted files on your phone's memory. It can bring back around 40% to 60% of space on your device.
Delete iMessages & Other Text Messages – Once you have deleted the messages and have some storage, go back to Settings > General > Software Update and click update and wait for iOS 8 to install.
Install iOS 8 via iTunes on Computer:
You can try installing the upgrade from the iTunes which will take less space. As the upgrade will happen on your device but the download and installation process will be completed on your computer. Follow the steps below to upgrade from iTunes.
Connect your device to your PC or laptop, and iTunes will be launched automatically. If not, open it manually on your computer.
Click on the device icon from the left sidebar, and then click the " " tab.
If you find no notification about iOS 8, click on the "Check for Update" , and then click "Update". Once the download is completed, your device will restart and will install the new OS.
Getting Stuck While Downloading & Installing iOS 8
A common complaint from many basic and advanced users is that they seem to get stuck while upgrading their device to iOS 8. Well! There are two ways by which you can try and fix this bug.
Solutions:
The iOS 8 upgrade takes some time to complete the download and installation. All you need to do is wait patiently.
Reboot your device by holding the Sleep/Wake and Home buttons together for a few seconds. Once the device reboots go to Settings>General>About and check whether the download process has resumed. If it doesn't resume itself automatically restart the upgrade process again.
Data Loss After Upgrading to iOS 8
Users who updated iOS 8 were surveyed, many of them complained about losing their data on the device while updating the software due to reasons as such:
The software update requires 5 GB device space so many of the users choose to delete data from their device such as photos, songs, videos, contacts, messages etc.
If the update fails or any problem occurs while the process of upgrading. The result might be a loss of data.
All you need to do is switch to the Recovery Mode on the device. The data on the device is erased automatically and the device goes to the recovery mode.
Solutions:
To avoid all this data loss or recover the lost data, user can follow these fixes:
If you have already backed up your device data to another device through iTunes or ICloud then you can easily restore the data to your device after the upgrade.
There is an app called PhoneRescue to help you recover the important lost iOS data on your phone without iTunes or iCloud backup. The PhoneRescue app recovers 24 types of iOS data including the messages, photos, videos, calendar, reminder, notes contacts etc. So this indeed makes it a lot better option than iCloud or iTunes.
Stuck On Apple Logo
One of the most commonly reported issues of the users is that the iOS 8 update gets stuck on the company Logo while starting up. The complaint is that when the users turn on their iPhone only a blank screen or Apple Logo is visible, apart from that nothing happens.
Solutions:
The solution to this is to restore it.
Switch off the device and connect the device to your PC and start iTunes on it.
Click the Sleep button and Home button at the same time and hold it for at least 10 seconds.
Let go the Sleep button and hold on to the Home button unless a message appears in iTunes.
First, select your device and then under the Summary there will be a Restore option just click on it.
iCloud Requires Storage to Backup
Many users found that iCloud needed more space for backups after the upgrade to iOS 8. If you find yourself in this situation before you upgrade your iCloud storage plan try implementing the fixes below and maybe you will not have to upgrade your iCloud.
Solutions:
Delete unwanted backups by going to the Settings>iCloud>Storage & Backup>Manage Storage and then Delete old or unwanted backups.
Turn Off these unnecessary backup options by going to Settings>iCloud>Select the unnecessary backup options and turn it off.
Back up your contents to your computer instead of your device especially if you have a lot of pictures or videos. Apple gives you only 5GB of iCloud storage, so make sure you make the best of the free space. You can back up your data in other ways like by using iTunes library or AnyTrans app.

Apps Crash or Won't Load
This is a difficulty the users might face; just follow the easy ways to fix the issue.
Solutions:
You need to double-click on the Home button and swipe clean the apps which are crashing or failing to open, then try to load it again.
Try to restart by holding down the Home button and Sleep button till the Apple Logo appears on the device screen.
The app should update automatically if not then under Automatic Downloads you can check Setting > iTunes & App Store to turn on the updates.
You can uninstall and reinstall an app to see if the problem is fixed.
Try a factory reset but before that backup, all your important data then go to Setting>General>Reset and selectErase All Content and Settings
While all these fixes will work for with the apps that are in iOS 8 there might be some apps that will not work with iOS 8.
Cannot Send and Receive Messages
With the iOS 8 upgrade your SMS app will also have many new features like the ability to send photos, assigning titles to threads, adding or removing individuals to a group etc. If you seem to face problems in sending or receiving messages follow this solution to fix your problem.
Solutions:
Open Settings, select Messages and click the slider to turn, send as SMS, iMessage off.
From the settings menu go to the General > Reset > Reset Network Settings, send text messages again.
Go back to Settings > Messages and turn on Send as SMS, and click iMessage back on.

iPhone Won't Turn On After iOS 8 Update
This is a common problem faced by many users and with the two below fixes, your device should be up and running.
Solutions:
Press the sleep and home buttons together for a few seconds till the Apple logo appears.
Try a factory reset on your iPhone, make sure to back up all your data.

An Error Occurred While Downloading iOS 8
You might get an error pop-up of 'an error occurred'.
Solutions:
The pop-up error should not be much of a problem. There are many users other than you who are trying to upgrade their phones to iOS 8. You can just restart the download process once again.
Wi-Fi & Bluetooth Connectivity Problems
Users have reported Wi-Fi and Bluetooth connectivity problems after the upgrade to iOS 8. The Apple discussion forums seem to be flooded with this issue.
Solutions:
Your Wi-Fi issue can be solved by going to Settings>General>Reset>Reset Network Settings. Your system will prompt for the passcode to reboot your device. Make sure you remember your WI-FI passwords as they will be erased during this process.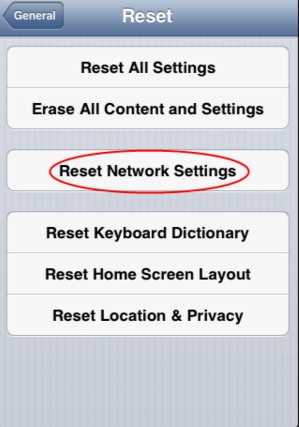 Bluetooth problems can be fixed by going to Settings>General>Reset> Reset All Settings. All your saved settings will reset and you will have to enable them again, however, your Bluetooth will start working again.
"Connect to iTunes" Logo is Stuck
If your iTunes logo is stuck on your device screen then follow the below solution to rectify it.
Solutions:
A hard reset can help you fix the bug. You need to hold the Sleep and Home buttons together for a few seconds, release as soon as you see that your screen has turned black. If you see an Apple logo before you released the buttons you need to repeat the process once again.
iOS 8 is Taking a Long Time to Upgrade
Many users have found that the upgrade takes too long. If you find the same is happening with your device you can follow the below solutions.
Solutions:
>Try connecting to a faster Wi-Fi network.
>Use iTunes for installing and use the iOS 8 direct download links from Apple.
Download only the iOS 8 official release .ipsw.
Plug your device into a computer and open iTunes.
Backup your data just to be safe.
In iTunes, press the iPhone option in the upper right. If you see the Restore and Upgrade options you are on the right screen.
Special Click on Check for Update. A special click is holding a key while you left click.
Hold alt/option on Mac when you press Check for Update.
On Windows, hold Shift button when you click Check for Update.
Find the iOS 8 download and click on the .ipsw file.
Now let the iOS 8 update to happen. This might take 15 minutes or longer depending on how long it takes to verify the update with Apple's servers.
Poor Battery Life After the iOS 8 Upgrade
Like others who have complained about their battery to drain fast, you also might face this problem. You can use the below fixes to solve the problem.
Solutions:
Locate the Power draining Apps by Going to Settings > Usage > Battery Usage, you will find a list of apps consuming battery on your devices in the last 24 hours and last 7 days.
Internet is important on your phone, but it's also a drains a lot of battery. Specially if you are using 3G and 4G data services, your phone will consume a lot of battery life. So if you are not using your cellular data, it's best to turn it off by going to Settings > Mobile and pressing the Mobile Data switch.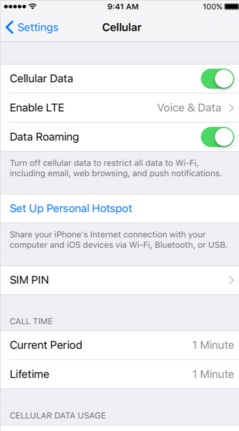 Now that you've just iOS 8 on your phone there are chances that your battery life will go bad. Simply restarting it can help sort out quite a few issues with the software on an iPhone, but it can also help with fix some battery life problems. For a soft reset, you can press the power button and home button together till the iPhone turns off.
If you want to completely stop background app refreshes it will save a lot of battery life, go to Settings>General>Background App Refresh and toggle it off. You can also manage each individual app's settings.
The screen uses a lot of battery on any smart phone. The brighter the screen, the more power it uses. Disable the Auto Brightness and manually control it according to your requirement.
Check that the auto-lock is set to one minute by going to Settings > General > Auto-Lock so if not in use the screen automatically turns off after a minute.
If you're not using Bluetooth for music or sharing any content with other Apple users, then turn it off.
How to Add Third-Party Keyboard After iOS 8 Upgrade
One of the most important features that has been included in the iOS 8 is a Third-party Keyboard. You need to go to Settings>General>Keyboard>Keyboards and then select 'Add New Keyboard. You can switch between keyboards by pressing the globe icon on each keyboard.
Can't Get Hands-off Working or Continuity Calling to Work
Both these features come with the iOS 8 upgrade. Make sure that you have upgraded your Mac to the latest Yosemite as the Continuity feature is compatible only with Yosemite and the old operating systems like Mountain Lion or Maverick.
If your iOS 8 doesn't seem to have these features follow the below solution to enable them.
Solutions:
Go to Settings on your iPhone or iPad running iOS 8.
Click on General
Click Handoff & Suggested Apps
Turn the Handoff option Off and then On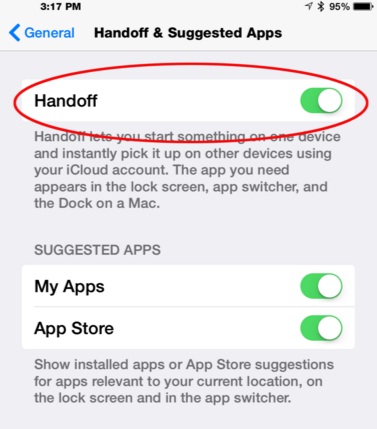 Click General on top to go back to the previous menu
Click on Settings on top to go back to the previous menu
Click on Facetime
Turn Off the iPhone cellular calls and put it back on again
Reboot your device
Make a test call to check if the problem is solved.
Sound Not Working After the Upgrade
Users of iPad seem to complain that the sound of the device was not working after the iOS 8 upgrade. Here are the fixes for that.
Solutions:
Hold the Sleep/Wake and the Home buttons together for a few seconds or till you see the Apple Logo and the device restarts.
Ensure Mute isn't ticked else toggle it off by going to Settings > General and check Use Side Switch. You also can check by swiping up and checking the icon on the right in Control Center.
Can't Make Calls After iOS Upgrade
Users with old devices like iPhone 4S and iPhone 5 reported that they couldn't make calls after they upgraded their device with iOS 8, however they could receive calls. Some of the fixes for this bug are mentioned below.
Solutions:
Double click the Home button and close all background apps.
Try holding down the Sleep/Wake and Home button together till your iPhone restarts and you see the Apple Logo.
Make sure you Airplane mode is off, and check if you are trying to call to a blocked number by going to Settings>Phone>Blocked.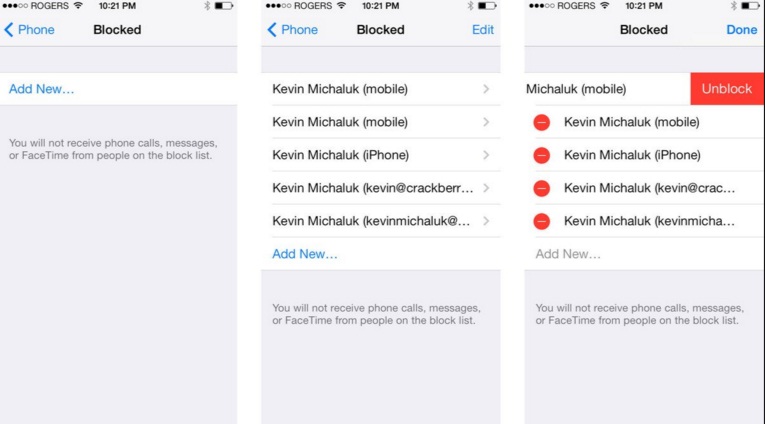 Turn off your device, remove SIM card and then put it back again.
Reset your networking settings by going to Settings>General>Reset>Reset Network Settings.
Call your carrier to make sure that there is no problem with your area or service contract.
If nothing works you better go to the Apple store and get in touch with a specialist.
Cellular Data Problem on iOS 8
Having problems with your cellular data might be a big problem. Smartphones and internet work hand in hand. Check out the solutions for this problem.
Solutions:
A simple restart might fix the problem of your device.
Toggle your cellular data on and off
Switch to Airplane Mode, wait for at least 30 seconds and turn it off.
The above solutions are only possible solutions to common issues that you might come across, if nothing works make sure to visit an Apple store and get professional help.
You may also read: 5 ways to fix No service on iPhone6 after 8.4 updates
---