Reminders app is completely redesigned in iOS 13 with a new look and some very useful features. Once you open
Reminders app is completely redesigned in iOS 13 with a new look and some very useful features. Once you open the app, it welcomes you with four major sections like Today, Scheduled, All and Flagged. Also, there is a separate section called 'My Lists' which shows all the reminders you have added into separate lists. This app syncs with all your Apple devices after setting up your iCloud account and all the reminders are shown in Apple devices signed with the same Apple ID. You can use it in both dark mode and light mode as well.
See also: Best AI chatbot apps for iOS
Design
All of the reminders you add are arranged into four major sections as mentioned earlier. Today section has reminders that are to be addressed today. The scheduled section contains reminders with a specific date. In the 'All' section you can view all the reminders you have added. The flagged section contains remainders that are important and there is no manual sorting allowed other than the above-mentioned ones.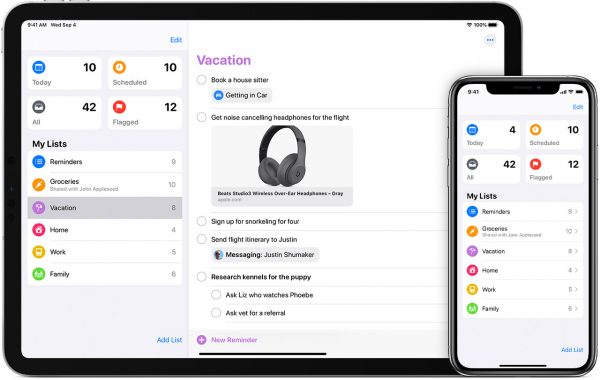 Set up a reminder
Open Reminder app, get it into any section and just press the 'plus' icon at the bottom of the screen to add a reminder. You can also add a subtask to every reminder to make it like a checklist. Press the 'i' icon to the side of each reminder and then click on subtasks to add them.
Tools
Clock, Arrow, Flag, and Camera are the four available tools that can be used to add a specific date and time, location and even attach files including photos and scanning documents. You can also set a flag for every reminder which is shown in the 'Flags' section. Each reminder can also have a subtask to that. With the use of toolbar and other options, reminders can be also set to activate in many useful situations like:
When arriving at a location
When leaving a location
When messaging a specific person in the Messages app.
Any notes, URLs and a priority can also be added to a reminder.
Organization
Press Add list in the main screen and type a name, select an icon and color. Tap Done to create the list. You can edit Name, Appearance and Add people to any lists you created. You can also move any reminder into a list by the press and hold on it and then drag it to any list name. Note that if you drag one to the other reminder then it will be nested together which essentially acts as a subtask. You can also change the order of the reminders within the list.
Other useful features
Siri intelligence is improved in iOS 13 and now offers many useful features.
You can ask Siri to add a reminder. Also, you can add a reminder while using any other app by using Siri or using the share button and selecting the reminders app.
You can share a reminder list to people with an iOS app or any third-party app too. Then you can also group a set of reminders list under a single topic. Press the edit button on the top right of the main screen and you can create a group by pressing Add Group option at the bottom left corner of the screen. Each group can also be modified at any time.
You can also easily search for a reminder with the search bar at the top. By default, Reminders app will send you a notification from 9.00 AM but it can be changed in the settings app to start your day with all your reminders from a specific time.
Finally, you can also add reminders just using Apple watch quickly by using Siri.
---