WatchOS 2 was introduced by Apple on WWDC June 2015 brings important features from an Apple Watch. To be able
WatchOS 2 was introduced by Apple on WWDC June 2015 brings important features from an Apple Watch. To be able to get it, seems you have to wait until fall season this year. Fall season becomes a deadline for Apple to launch the update of WatchOS 2 to public. At this moment, WatchOS 2 still in developer version which is needed for developers to prepare their applications so it will match with WatchOS 2 technology. This technology is ensured will be adopted by all Apple Watch users.
If you want to try it but you are not a developer, it's still possible for you to try it. All can be possible in today's technology era, isn't? Well, we will be pleasure to discuss how to update Apple WatchOS 2 developer safely. But, need to be noticed that at this time WatchOS 2 is not a stable version yet and maybe you will find bug which may annoy you in daily usage and no downgrade option yet. If you are ok with that, you can continue to the steps below:
How to Update your Apple Watch WatchOS 2 Developer safely
Preparation:
Paired iPhone with iOS 9, go to this link to update your iPhone to iOS 9. Yup, to be able to update your Apple Watch, you must have iOS 9 on your iPhone.
Your Apple Watch
Apple watch charger
Internet connection
Mac/PC
Read also: How to Find your missing iPhone by using Apple Watch
Steps to install config profile
Config profile is needed here, so that your Apple Watch can download and install WatchOS 2 which actually is intended for developers.
Download WatchOS config file here.
Send WatchOS that config file to your iPhone via email or iMessage as an attachment.
Open the email/iMessage that you have sent in your iPhone. Tap that attachment file and when there's a pop up appears, choose Open in Safari.
In Safari page, a "Choose a Device" message on pop up menu will appear. Choose Apple Watch.
Apple Watch app on iPhone will be opened in Install Profile page. tap Install and enter your iPhone passcode.
Unlock your Apple Watch.
Tap Install on Apple Watch app in your paired iPhone. On pop up menu, tap Install and profile will be installed to your Apple Watch wirelessly.
if the profile has been installed, a "Restart Apple Watch" message on pop up menu will appear in Apple Watch app. Tap Restart.
Steps to update WatchOS 2
make sure Apple Watch is connected to its charger.
Open Apple Watch app in your paired iPhone, go to My Watch >> General >> Software Update
You will find WatchOS 2.0 Beta 1 ready to be dowloaded and installed.
Tap Download and Install, enter your iPhone passcode and let the download process done and send the download file wirelessly to your Apple Watch and install it. Be patient.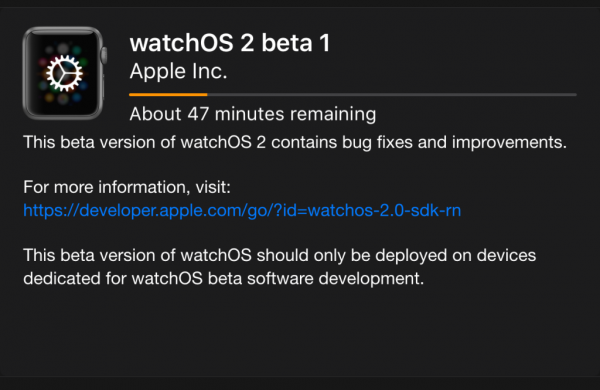 Apple Watch will enter to installation step with Apple logo and progress bar.
If it's done, to check whether your Apple Watch has WatchOS 2 or not yet, go to Settings >> General >> About scroll and check Version there.
Read also: How to Update iOS 9 Developer Beta Without a Developer Membership
How to Downgrade?
If you have tried this WatchOS 2 and feel that it's not ready to accompany your days, and you want to downgrade it and back to the latest version of WacthOS: WatchOS 1.0.1 which is stable for this time, how to do that? At this moment you cannot do that. Too bad huh. But i will keep looking and find out how to do downgrade it.
---