Apple usually releases a major update of macOS every year. They recommend keeping your Mac up to date. Why is upgrading it so important? The new update always includes improvements (especially regarding security) and bug fixes. Sometimes, it also comes with new exciting features. Here, we will show you how to update the software on a Mac.
How To Update The Software On A Mac
1. Check Your Mac Compatibility
Checking the compatibility of your Mac is one of the most important things to do before starting the update process. If you are updating your Mac to an incompatible macOS, you might experience some issues. For example, Mac doesn't finish the start-up process, apps unexpectedly quit, etc.
Make sure that your Mac model is one of these:
MacBook (Late 2009 or newer)
MacBook Pro (Mid 2010 or newer)
MacBook Air (Late 2010 or newer)
Mac mini (Mid 2010 or newer)
iMac (Late 2009 or newer)
Mac Pro (Mid 2010 or newer)
2. Back-Up Data
Don't start the upgrade process without backing up your data first. This is essential to the "how to update the Software on a Mac" guide. You can back up your data using a Time Machine hard drive, third-party hard drive, or external drive.
3. Check Storage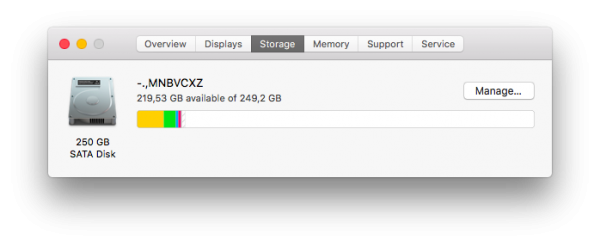 Make sure you have at least 14.3GB of available storage and 2GB of memory on your Mac. If you are going to update macOS to High Sierra on the MacBook series, don't forget to plug it into AC power.
4. Internet Connection
Some macOS update issues occur due to the internet connection that is slow or unstable. To avoid these issues, make sure you have a dedicated internet connection.
5. Download and Install macOS High Sierra
Once you perform all the above steps, you can perform the download and install process confidently and safely. These steps are the main part of the "how to update Software on a Mac" process. You can download macOS High Sierra through App Store. This is the easiest way.
Launch the App Store from the home screen or use Spotlight. If you are on your browser screen, click the Apple logo on the upper-left corner of the screen and select App Store.
Click Update on the top toolbar of the App Store window, wait for a few seconds, and you will see Software Update.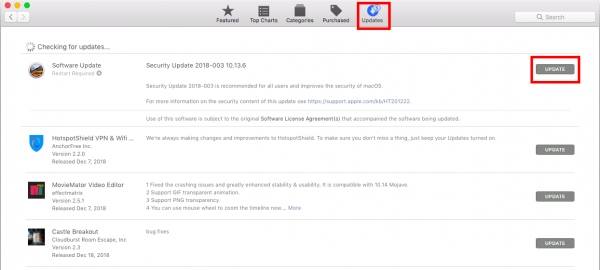 Click the Update button to download macOS High Sierra.
Once the download process is complete, click Continue and follow the on-screen instructions.
You may need to enter your admin username and password.
Congratulations! The upgrade process is done. You can now enjoy macOS High Sierra on your Mac.