Apple Watch can be pre-ordered since 24th April ago. Some users have received the Apple Watch they have ordered
Apple Watch can be pre-ordered since 24th April ago. Some users have received the Apple Watch they have ordered and some other are still waiting until June. Within a month, Apple has released a new update for Apple Watch OS 1.0 to Watch 1.0.1 with performance fixes and improvements:
Improved performance for:
● Siri
● Measuring stand activity
● Calculating calories for indoor cycling and rowing workouts
● Distance and pace during outdoor walk and run workouts
● Accessibility
● Third party apps
Display support for new Emoji characters
Additional language support for:
● Brazilian Portuguese
● Danish
● Dutch
● Swedish
● Russian
● Thai
● Turkish
It seems like a minor update but if you have got your Apple Watch, it's suggested to update the software. Here, we're going to share a guide how to update Apple Watch OS 1.0.1.
Read also: How to Fix Siri is Not Working in Apple Watch
How to Update Apple Watch OS 1.0.1
Preparation:
The paired iPhone must be connected to WiFi.
Make sure your Apple Watch is nearby the paired iPhone to smooth the update process.
Make sure your Apple Watch battery life remain 50% for minimum and it's connected to its inductive charger. Keep it charge until the update process end.
Steps to update Apple Watch OS 1.0.1
The steps below are done on the paired iPhone:
Open Apple Watch App.
Tap My Watch in the bottom of menu tab.
Tap General.
Tap Software Update, the latest update will appear on this screen. iPhone will check the available latest update.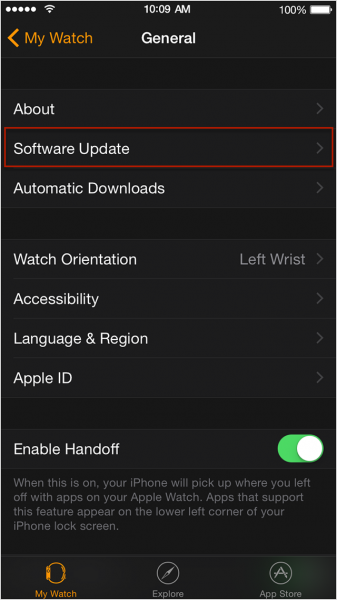 Tap download and install and when the agreement screen appears, tap Agree. This process will download the update package to Apple Watch and install it. If you're asked for your iPhone passcode or Apple Watch passcode, then enter the passcode).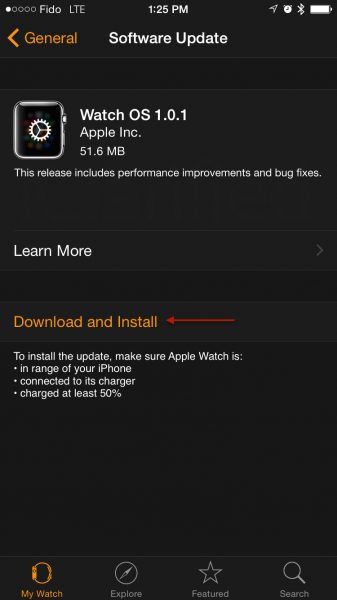 You will see Apple logo with progress bar, it signs that updating process is running on Apple Watch. When it done, Apple Watch will restart.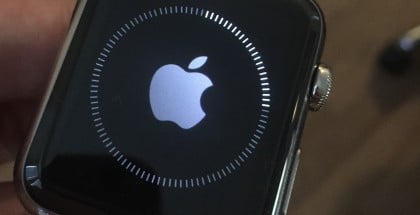 You can check back your Watch OS version by entering the Apple Watch app in paired iPhone. Tap My Watch >> General >> Software Update and check the available latest version. Or if you want to check it through your Apple Watch, you can follow the steps below:
Make sure you are in your Apple Watch home screen, or press digital crown one time if you are still in watch face.
Find setting app.
Tap General >> About, here you will see your Watch OS version of your Apple Watch.
We didn't know yet whether the performance improvement has been proved by users or not, because some time users experienced a loading lag with Apple Watch OS 1.0 when there're opening an application.
Read also: How To Fix Apple Watch Disconnecting And Unable To Pair with iPhone
---