Have you ever asked: "can i unlock my mac with apple Watch?", "Does it make unlock my Mac
Have you ever asked: "can i unlock my mac with apple Watch?", "Does it make unlock my Mac faster and effective?". The keyword are faster and effective wherein you do not have to type the password to login to your Mac.
Apple Watch has a huge potential for developers to create great Apple Watch apps as a a companion iPhone application that they have developed. Apple Watch gives a new experience in using an application. At this moment, Apple Watch app is a companion application which is requiring you to install the main application on your iPhone. Apple seems keep on developing watchkit and watch OS to make a companion application run on Apple Watch with better. With over than 3000 thousands applications makes Apple Watch App Store like the ocean applications which will answer the similar question above. The answer of the questions above is "yes, you can". Technobezz have found the application with that ability. So, we are going to share how to unlock your mac with apple watch.
How to unlock your Mac with Apple Watch
We will use the application names Knock. At first, this application offered the solution to unlock Mac by using your iPhone and now they offer the same solution by using your Apple Watch. Knock application itself uses a low energy bluetooth technology from iPhone and some of Mac series, so that it does not eat a lot of iPhone's battery life. iPhone and Mac series which are supported by Knock application:
iPhone 6, 6 Plus, 5s, 5c, 4s
2015 MacBook (single port) or newer
2011 MacBook Air, Mac Mini or newer
2012 MacBook Pro, iMac or newer
2013 Mac Pro or newer
Steps:
Download Knock application on your iPhone via App Store ($4.99) and it already included for Apple Watch. After it's installed on your iPhone, automatically it will also appear on your Apple Watch. It's a default settings of Apple Watch wherein Apple Watch will automatically add all available Apple Watch apps already on your iPhone. If the Knock application does not appear on your Apple Watch, go to step below.
Open Apple Watch app and select Knock. Enable Show App on Apple Watch. This will install Knock on your Apple Watch.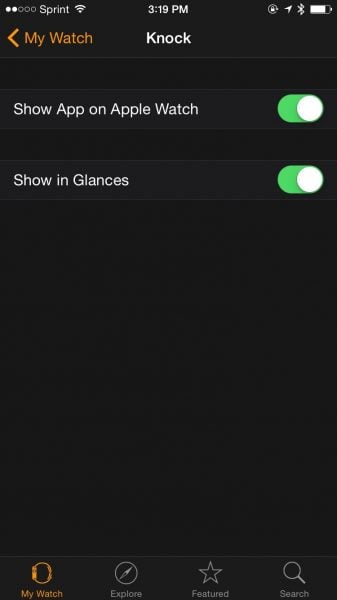 download knock application for your mac at this site and install it.
Knock on Mac will guide you through the setup.
You'll receive a notification on the Apple Watch, scroll down and press setup.
(Knock may ask you to put your iPhone to sleep even if it's already sleep, this is a known issue and we're working on it. You can just turn the iPhone on and put it back to sleep in this case).
Complete the setup on Mac.
The way to unlock mac your mac with apple watch
Once Knock setup is complete there are two ways to use Knock.
You can use Knock *without* 'Touch to Unlock'. This is the most convenient way to use Knock as you can simply knock-knock on your iPhone to unlock your Mac. If your iPhone is across the room, you'll get a notification on your Apple Watch and pressing 'Unlock' on the notification will *also* unlock your Mac.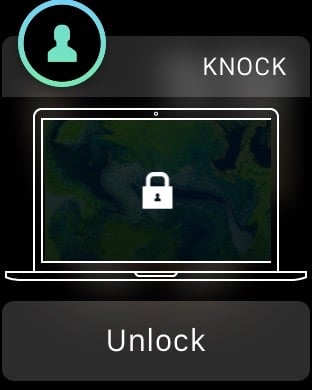 You can use Knock with 'Touch to Unlock' enabled. In this setting, Knock will ask you to use TouchID to unlock your Mac. If you have your Apple Watch on and unlocked, you can respond to the notification from Knock and unlock your Mac from your Apple Watch.
Finally, you can use the Knock Watch Glance to quickly lock or unlock your Mac as you are moving towards or away from it. (Unlocking will only work if your computer is on display sleep and not full system sleep). You can also open the Knock iPhone or Watch app and lock and unlock your Mac by pressing on the computer screen.
---