"Jailbreak" is a familiar word for some of iPhone, iPad, and iPod Touch users. If your device is
"Jailbreak" is a familiar word for some of iPhone, iPad, and iPod Touch users. If your device is jailbroken, you will have freedom in installing the applications which are not permitted in App Store. But you may change your mind, and want to unjailbreak  your iPhone, iPad, and iPod Touch for some reason, such as:
You want to turn back the iOS performance.
There are some bugs caused by certain tweak or application that you've installed from Cydia.
You are planning to sell your device.
There is a new way to do that. Creator of Cydia app and service, Jay Freeman (nickname: Saurik) has released Cydia Impactor, a tweak that lets you unjailbreak iPhone, iPad and iPod Touch without restore. Before this, the users who wanted to unjailbreak their devices had to restore their iPhone, iPad or iPod and that was the only way.
How to Unjailbreak iPhone, iPad and iPod Touch Without Restore
Before you do this:
Cydia Imfactor supports iOS 8.3 and 8.4
Cydia Impactor will not work with iPod Touch 6th gen.
After you are done with unjailbreaking, you will have to activate your device. For the unlocked iPhone, you need to use a SIM card for the activation process.
If you have activated Find My iPhone, you need to sign in again by using Apple ID that you used previously in the iCloud setting.
In the process, the device has to be connected to the internet.
Your device needs to be connected to a charger.
Never interrupt while the unjailbreak process is running.
Steps
Go to Cydia application on the home screen.
Tap Search and type: Cydia Impactor
You will find it and tap Install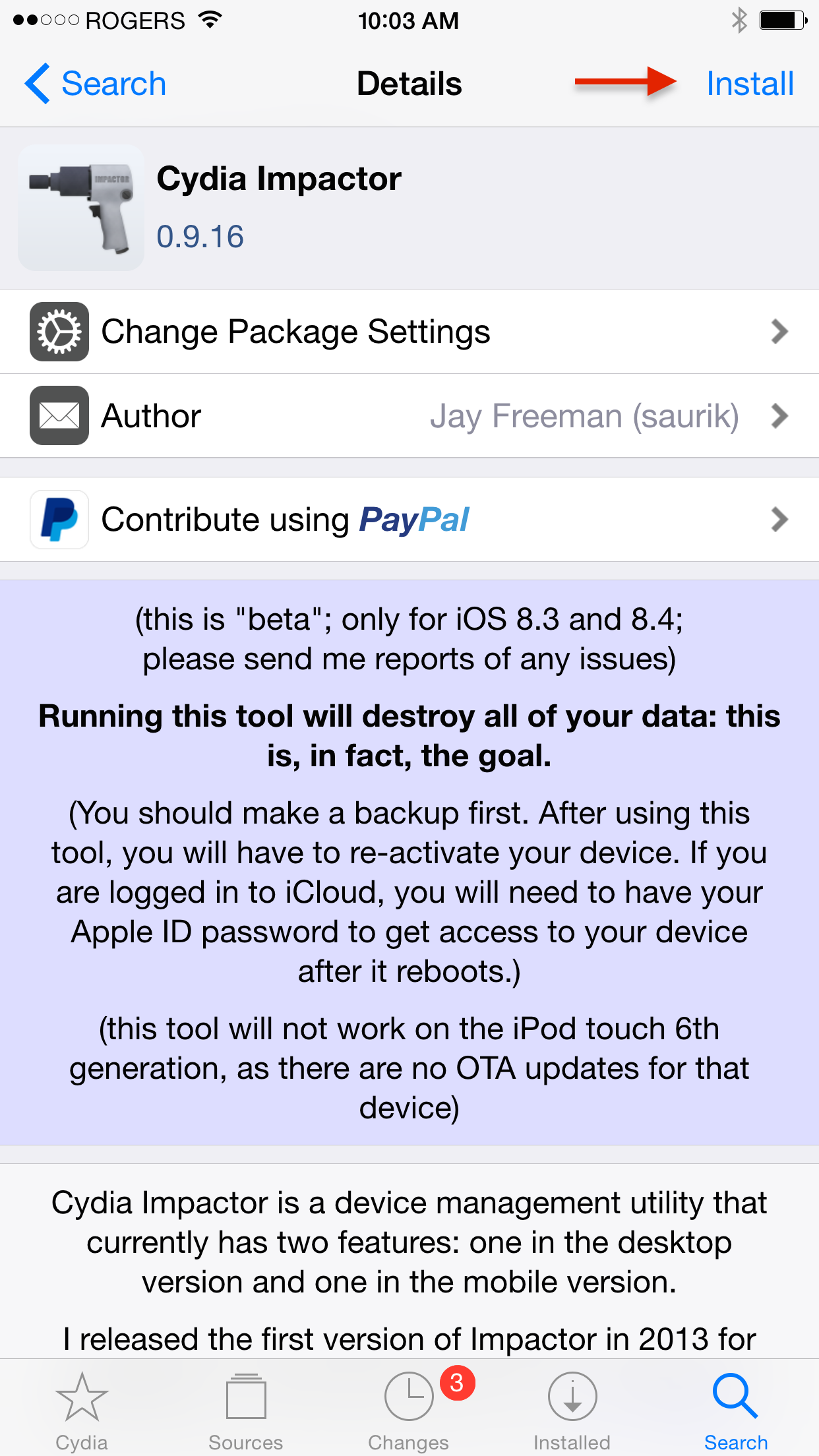 After that, there will be a new application on your home screen named Impactor
Tap Impactor on home screen
At the first screen, you will be reminded about the preparation you need to do
Tap delete all data and unjailbreak device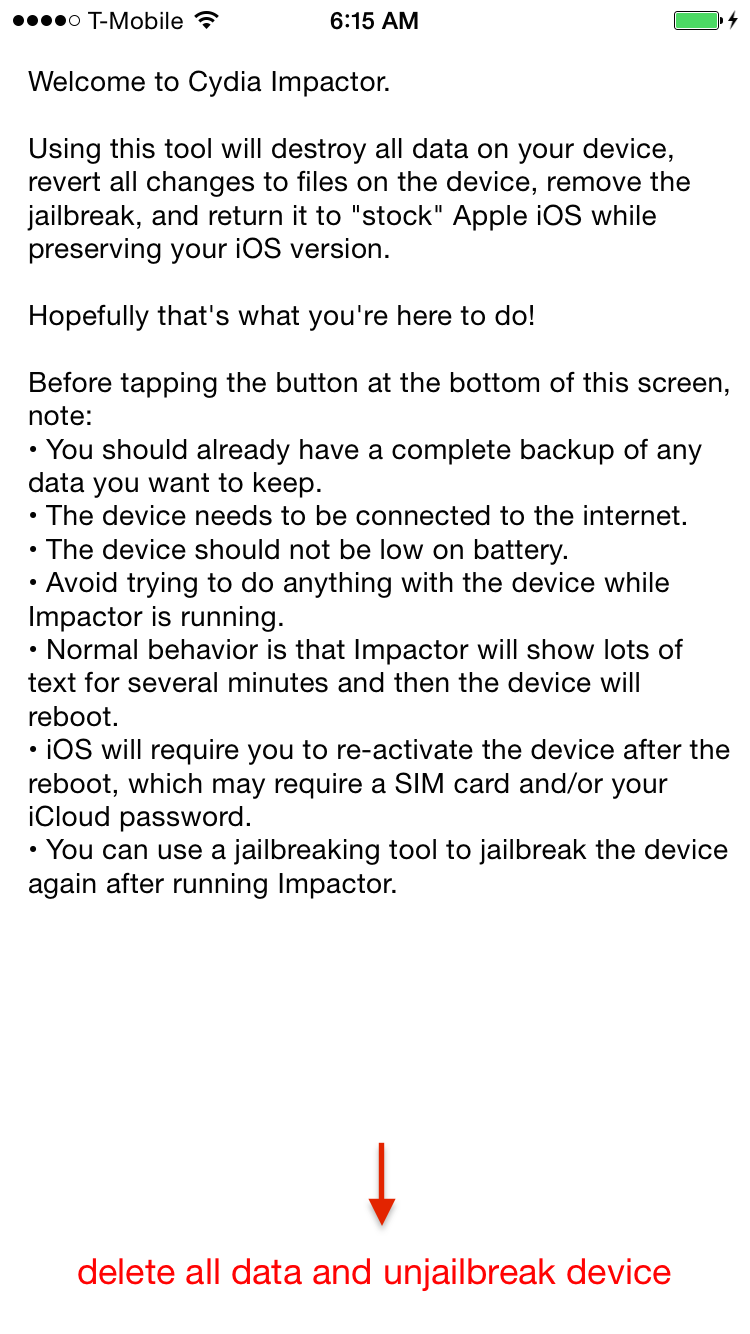 A pop-up message "Confirmation" will appear, tap Delete all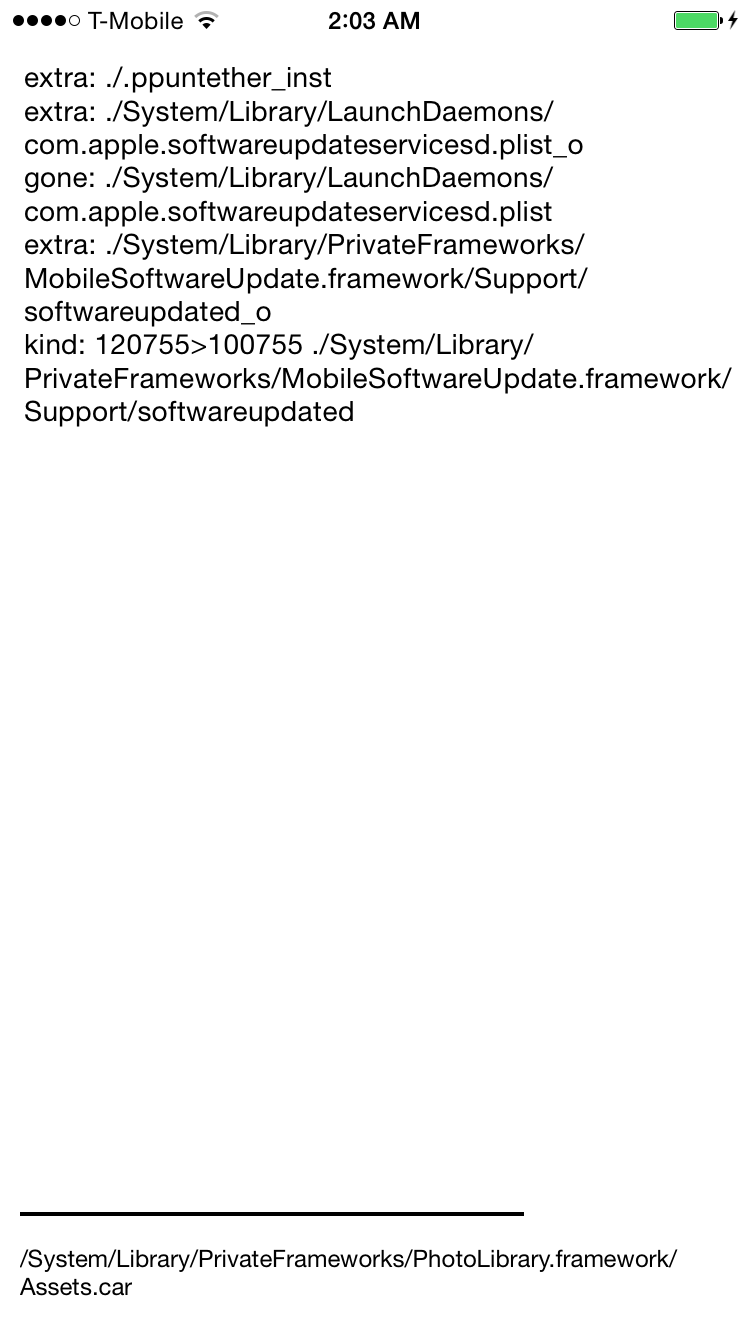 Do an initial setup your  iOS device.
You can restore your device back by using a jailbreak tool.
Read also: How to full untethered Jailbreak iPhone iOS 8.4 on Mac Safely
---