A secondhand iPhone 8 costs around $300, while at the same price, you can get a brand-new Android phone with more advanced specs. This is one of the reasons many people prefer to buy an Android phone instead of an Apple smartphone.
But Apple released its most affordable iPhone, the iPhone SE 2nd generation, for only $399. It allows more Android users to switch to an iOS phone. If you are new to iOS devices, you may need to learn everything from scratch. But first, let's learn how to transfer data from Android to iPhone SE (2020).
How To Transfer Data From Android To iPhone SE (2020)
First Thing First
There are a few things you need to do in advance. Therefore, the transferring data process can be done smoothly.
Ensure your iPhone has enough storage to store all content from your Android phone.
Connect both devices to power sources and WiFi.
Download and install the Move to iOS app on your Android phone. This app allows you to transfer contacts, photos, messengers, and more to your iPhone without a hitch.
Steps To Transfer Data From Android To iPhone SE (2020)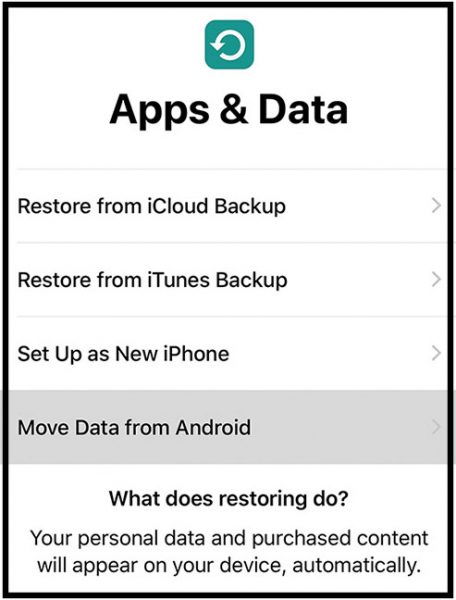 Transferring data from Android to iPhone SE is much easier and more straightforward than you might ever think.
Turn on your brand-new iPhone SE. You don't know how to do it? Find the physical button on the right side of your iPhone SE, and press it for a few seconds. When you see the Apple logo or the "Hello" screen on the iPhone screen, release the button.
Follow the on-screen instructions on the iPhone, like selecting a language, region, etc. When you arrive at the App & Data screen, choose Move Data from Android.
On your Android phone, open the Move to iOS app and tap Continue. Read the Terms and Conditions, then tap Agree to confirm. Tap Next in the upper right corner of the screen.
On the Move from Android screen, tap Continue, and it will direct you to the next screen with codes.
Enter the code that appears on the iPhone screen on your Android phone. Select the content you wish to move to your new iPhone, such as your email account, contacts, etc. When you are ready, tap Next.
The transfer of data process will start. You will see the loading bar on both devices' screens. Depending on how much data you are transferring from Android to iPhone SE and your WiFi speed, it will take some time to finish.
Once it's done, tap Done on your Android phone and continue to set up your iPhone SE.
Once the process is completed, ensure there are no missing contacts or content on your iPhone before you erase your Android phone.