The long-rumored second-generation iPhone SE is finally here. If you are one of those who were waiting for this
The long-rumored second-generation iPhone SE is finally here. If you were waiting for this to happen, you must be ready to upgrade your iPhone right now. But what are you going to do with your current iPhone?
Why don't you sell or trade in the phone before getting the new one? If you've never done that before and have no idea how to start, this article may help. It's all about how to trade in a used iPhone for iPhone SE.
How To Trade In Used iPhone To iPhone SE
The iPhone SE's second generation comes with the latest Apple chip, the A13. It is the same chip you can find in the iPhone 11 series and has fabulous camera features. On top of that, it is affordable. The price starts at $399 for 64GB or $299 with the Apple Trade-in program. Interesting, right?
Apple Trade-in Program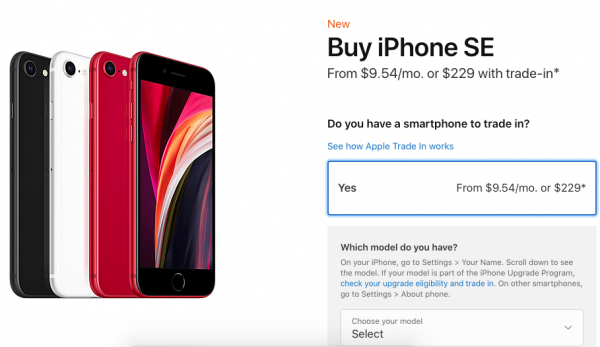 Apple has a program for trading in your old iPhone to get credits for buying a new Apple product. This way, you will get a new iPhone SE at a lower price. How does it work? You can do so online at Apple.com or offline by bringing your used iPhone to the nearest Apple Store.
For an online trade-in, you can visit Apple's official website. If your iPhone is eligible for the Apple Trade-in program, they will send you a trade-in kit to your address. Therefore, you can send your used iPhone to them for free shipping. Once they receive your device, they will give you Apple credit or Apple Gift Card. You can use it to get a discount to purchase a new iPhone SE.
How much does Apple value your iPhone? It may vary depending on the iPhone model and condition. For example, if you have an iPhone 8 and the phone is in good condition, Apple will value it at $170. Thus, you can get a new iPhone SE for only $299. Unfortunately, Apple will give you the same price for any storage of each iPhone model. The 64 GB iPhone 8 will have the same value as the 256 GB storage.
Here are the estimated Apple trade-in values for each iPhone model:
iPhone XS Max Up to $500
iPhone XS Up to $420
iPhone XR Up to $300
iPhone X Up to $320
iPhone 8 Plus Up to $250
iPhone 8 Up to $170
iPhone 7 Plus Up to $150
iPhone 7 Up to $120
iPhone 6s Plus Up to $100
iPhone 6s Up to $80
Sell It To A Buyback Site
If you are not too comfortable trading in your used iPhone for credit or gift cards, you can sell it to a buyback site for cash. Selling your used iPhone to buyback sites is the easiest and fastest way to get money. There are some popular buyback sites you can try. Most of them offer free shipping to send your iPhone to be reviewed. Once your device arrives, they will check and send the money via PayPal or other payment methods.
Each site has different standard prices and policies. Some of them offer a higher estimated value than Apple does, but some may offer less. Comparing one site to another will be better to get the best deal.
Sell It By Yourself
Trade-in your used iPhone for iPhone SE to Apple or sell it through buyback sites is faster than selling it yourself. You will get credit or cash instantly. This way, you can buy the new iPhone SE immediately.
However, the value you will get may be lower than if you sell it directly to the buyer by yourself. Your current iPhone 8 64 GB in good condition will be priced around $160 to $180 through trade-in programs and buyback sites. You may get $200 to $320 for the same item if you sell it yourself. However, it may take some time to get a buyer.
Where can I sell my used iPhone? Some popular buy-and-sell sites like Swappa, eBay, Craigslist, or Facebook Market exist. Posting it to your social media like Instagram or Facebook is not a bad idea either. Maybe your friends or relatives are looking for the item you are selling.
---