The most effective way to show someone a part of an interesting article on the website when using your iPhone 11 is to take a full-page screenshot of the iPhone 11 and highlight the part.
How To Take A Full Page Screenshot On iPhone 11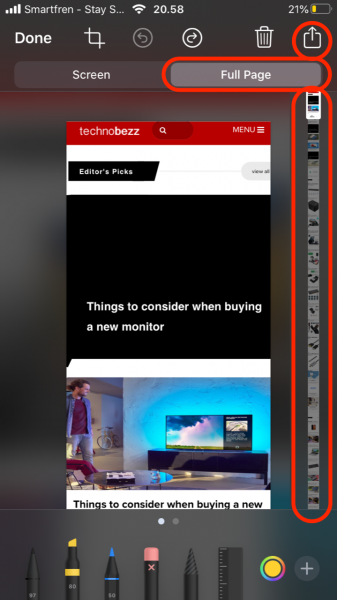 You may have never heard about this method before. It has just arrived on iOS 13 and iPadOS. Since the iPhone 11 series comes with iOS 13, you can use this method. Does it work on older iPhone models as well? Once you have updated your device to iOS 13 or later, you can take a full-page screenshot on your iPhone.
However, if you want to take a full-page screenshot of the website, you must open the Safari link on your iPhone 11. It may not work on Chrome or other browsers. If you are on Chrome, you can copy the link and paste it into Safari.
Open the page you want, like a webpage, email, document, etc. Yes, you can also use this method to take a screenshot of the entire page of your email, Files app, and Note.
To take a full-page screenshot of the webpage, go to the Safari browser and enter the link.
Take a regular screenshot by pressing the Volume up and Side buttons of your iPhone 11 at a time. Once you have activated the Assistive Touch on your device, tap it. Tap Device, the three dots, and then touch the Screenshot option.
As soon as you get the screenshot, tap it to bring it to the editing screen.
On the editing screen, you will see two options on the upper menu. Choose Full Page.
If you want to highlight an important part of the page, use the markup tool. You can move the page down and up using the slider on the right side of the screen.
Finally, tap the share icon to send via email, AirDrop, messaging apps, etc. If you want to save it to the Files app, scroll up to the Share window and tap Save to Files. The screenshot will be saved in PDF format.