Maybe you are not in the office or having lunch when someone asks you to send an important file or photo via email. You don't have a laptop or any other device except your new iPhone 11. Thank God you have that file on your iPhone. The problem is when you are trying to reply to the email, you cannot find the attachment option. How do I send an attachment in an email on iPhone 11? Keep on reading because this article may save your day.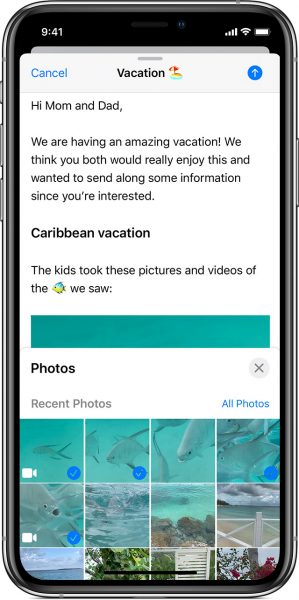 How To Send An Attachment In Email On iPhone 11
You may think that the iPhone 11 is not designed to send attachments because there is no option to do that in the email body. No matter how often you check all over the Mail screen from corner to corner, the attachment option is not there. Well, it's there, but Apple is hiding it someplace.
Steps To Send An Attachment In Email On iPhone 11
Open the Mail app like you usually do.
Tap the compose message icon at the bottom of the screen.
If you want to send an attachment from the reply, select the email you want. Tap the reply icon in the lower-right corner and select Reply.
After you tap one of the options above, a new compose message screen appears with the keyboard. Check if you see the arrow button on the upper-right keyboard. Tap on it.
To send a video or picture from the Photos app, tap the photo icon document icon if you want to send a file from the Files app on your iPhone 11 and choose one.
Type your message in the email body if you have not done so yet. Check the sender and the subject, then tap the send button.
Another method is to send an attachment in an email on iPhone 11. Tap your finger on the email body to see the edit menu. Tap the arrow button to get to the other menu. You can choose Add Document, Insert Photo, or Video. Select the file and tap the send button.
How To Scan A Document And Send It Via Email
If you need to scan a document, like an invoice or ticket, and send it via email to a colleague, but you don't have a scanner machine, use your iPhone 11. Follow the steps to send an attachment in an email on iPhone 11 above, but choose the scan icon instead of the photos or document icons. Then tap on it to start scanning the document you want to send. You can also send a sketch or your signature if you need to sign something by tapping the pencil icon
.