Factory reset wipes all the data and settings of your smartphone, so performing an iPhone hard reset may not
Factory reset wipes all the data and settings of your smartphone, so performing an iPhone hard reset may not sound ideal, but in many situations we need to do it: when you want to sell your phone so that your personal data does not fall into the wrong hands, sometimes to fix some software issues, etc. So, knowing how to restore iPhone comes very handy sometimes. If you do not know the steps, do not worry, we will discuss the process in a step by step guide.
Restoring your iPhone to the factory settings will take maximum five to ten minutes, but after the process is done, you will find that all the data including contacts, music, and photos are already deleted. So, first backup all the necessary data and then proceed with the factory reset iPhone. The process may differ slightly depending on the iOS version your iPhone is running, but it is basically the same, so you can follow this guide to reset iPhone, iPad, iPod Touch or other iOS device.
There are two ways to restore iPhone, using iTunes and using the smartphone. We will describe both ways here.
If your iPhone accidentally falls into the water, then click here to know the required steps that you should do.
See also- 5 ways to fix iPhone sounds on apps is not working after iOS 8.4 update
Steps to factory reset an iPhone using iTunes
Make your iPhone ready for restoration
Click the iTunes menu, which you will find at the iTunes toolbar's left side, then select 'Check for Updates' and make sure that your iPhone has the latest version of iTunes. Now, connect your iPhone to your computer using a USB cable and the Back Up Now button needs to be clicked on when you see the Samsung tab in iTunes. It will store the apps, contacts, photos and other data so that you can restore the data later.
Restore the iPhone
After the backup is complete, a summary tab for your device will be shown in iTunes, click the Restore iPhone button there. A pop-up window will be shown to you with Restore button, click that button for confirmation. If you see an Agree button, click on that and start downloading the essential iOS software file before restoring.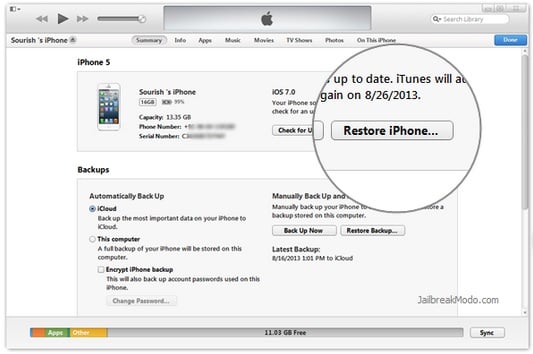 Make sure that the iPhone was restored
The process of iPhone reset may take several minutes, once the process is complete, check your iPhone to make sure that the process was done successfully. If the process goes successfully, iOS Setup Assistant will be shown in the screen when you start the phone. There, you will be given three options, 'Set up as new iPhone', 'restore from iCloud backup' and 'restore from iTunes backup'. Click on the "Set up as new iPhone".
Must read- How to get Microsoft office for iPod and iPhone
How to reset an iPhone using the smartphone
Make your iPhone prepared for restoration
Connect your iPhone with your computer using USB and click the Back Up Now button when a Samsung tab for your iPhone shows in iTunes. This step will restore your iPhone's data such as contacts, photos, apps, settings so you can restore other iOS device from the backup line.
Navigate to reset menu of your iPhone
From the Home screen of your iPhone, tap the main Settings icon. In the resulting menu, you will find General option. Tap that option. Now, tap the Reset button you can find at the bottom of the next screen.
Reset iPhone
Upon clicking the Reset button, a new page will show up with the "Erase all Content and Settings" option. A pop-up window will open, and the red "Erase iPhone" needs to be tapped in order to confirm the process.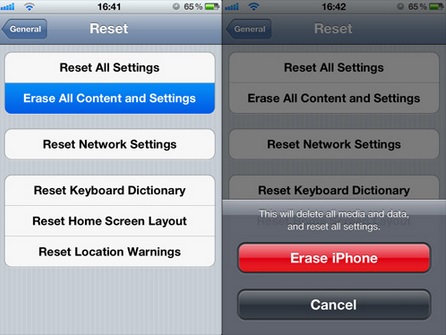 Check and make sure that the phone was restored
After you are done with the restore iPhone process which may take a few minutes, check your iPhone to make sure that the iPhone is restored to its original factory settings. iOS Setup Assistant will be presented upon start up if the process is done correctly. Again, you will see three options among which you need to select "Set up as new iPhone".
---