Do you find yourself being left out of group chats all the time? Maybe you're not included in every group message, or maybe you've been forgotten about entirely. Either way, it's probably because someone forgot to add you or removed you from the group chat. If you find yourself in this unfortunate situation more often than not, there are ways to prevent it from happening again.
This article will help you remove yourself from a group text so that it doesn't happen again. Sometimes being left out of a group chat is unavoidable and we can only take measures to minimize the risk of it happening again. Read on to discover how to remove yourself from a group text. There are several ways to do this, including iOS and Android apps, Facebook Messenger, and Viber.
How to Remove Yourself From a Group Text: iMessage
The process is very simple if you're wondering how to remove yourself from a group text on your iPhone.
1. Recommended
The first step is to open the iMessage app on your phone and look for the conversation you'd like to remove yourself from. Once you find the conversation, tap on the profile icon to open the "Info" menu.
The next step is to tap the "Leave this conversation" button, remove yourself from the group text, and confirm your decision.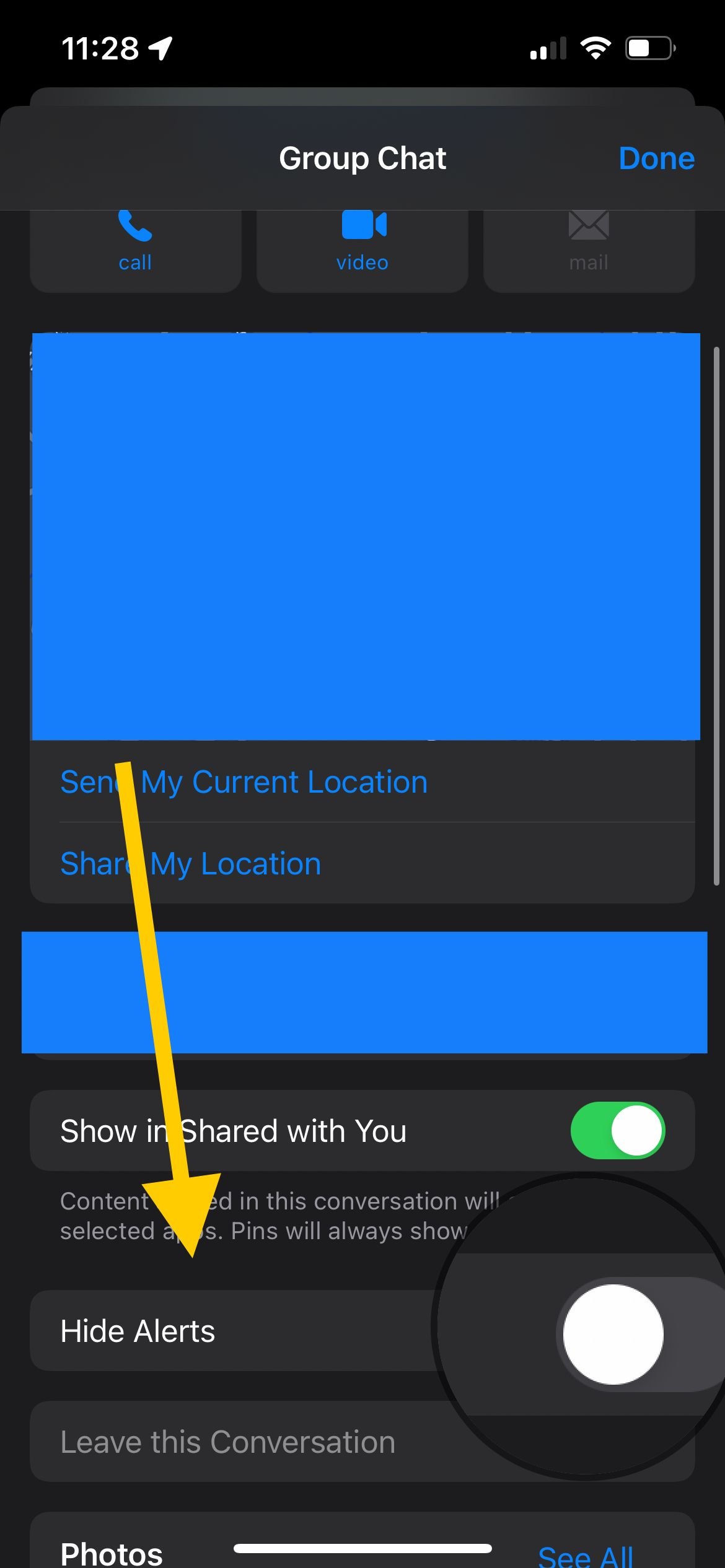 Once you've done this, you'll no longer receive group text notifications when someone sends a message to that group.
Now, others in the group can see that you've left the conversation.
Note: If a single person within the group chat is not using an iPhone or iMessage, then the "Leave this conversation" will be grayed out. If this is the case, please read the following workarounds:
1a. Hide Alerts
If someone within the group is not using an iPhone or iMessage, another workaround would be to "Hide group alerts." Hiding alerts is another way to disable all notifications from that group text, you will not be notified and new threads will be silenced.
Navigate to group chat

"Press and hold" the group chat icon until the "Info" screen pops up.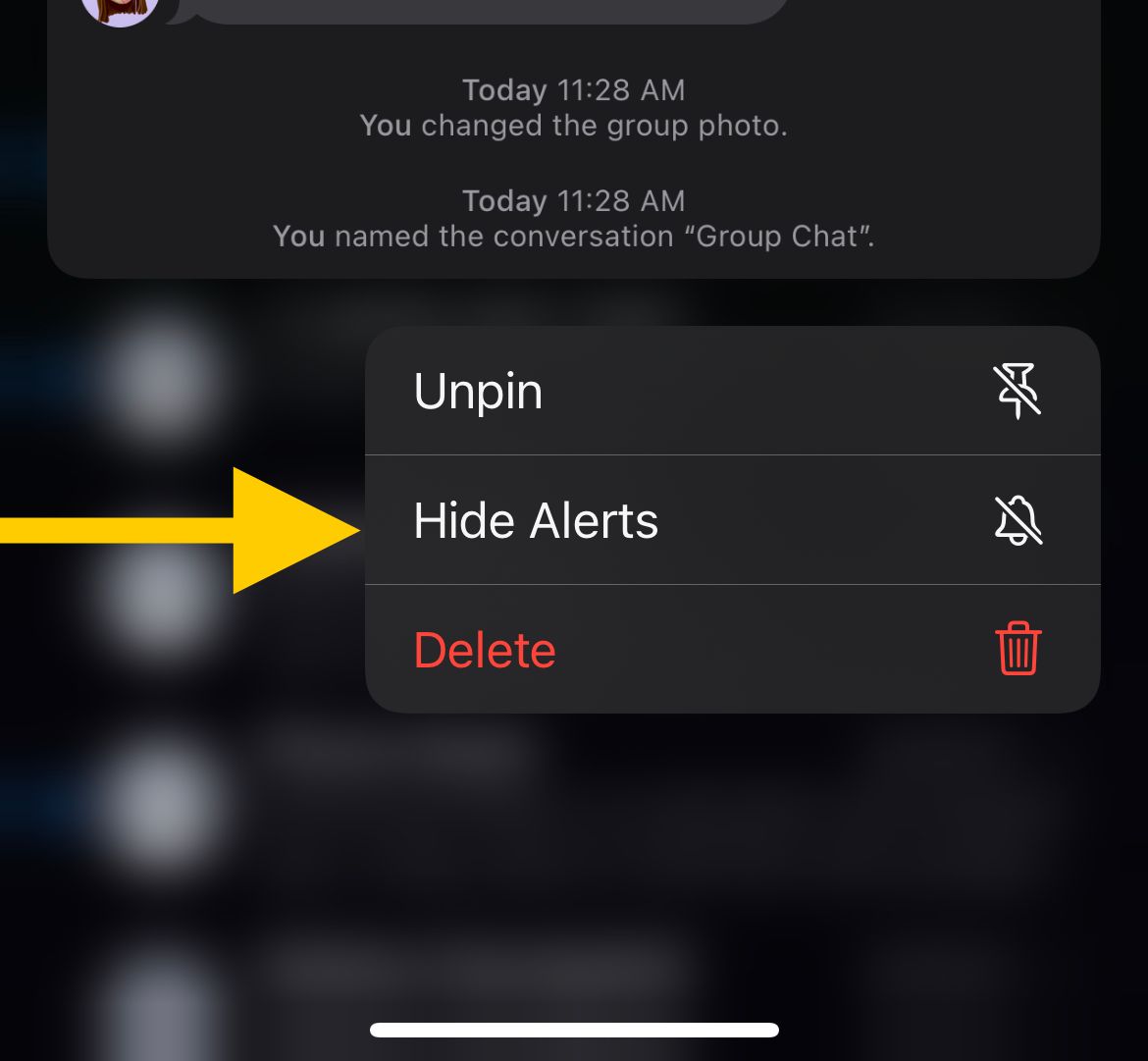 Tap on the "Hide Alerts" button

Alternatively, you can navigate inside the group text and tap on the group name or icon.

Then scroll down until you see the "Hide Alerts" toggle. Slide to enable it.
1b. Block the sender
Alternatively, if hiding the alerts isn't ideal for you, blocking the sender is an option. You will need to block all active participants in the group. However, blocking such contacts will bar them from calling or texting you.
Navigate to the group chat "Info" screen that can be accessed by tapping the group icon.

Tap on "People" and then go through all the active participants and tap "Block this caller."
1c . Recreate the group chat without you
Another option is to ask the creator of the group text to remake the chat without adding you as a member. This is a straightforward approach, especially if you are friends with the admin.
How to Remove Yourself From a Group Text: Viber
If you wish to remove yourself from the Viber group, there are a few steps you need to follow. First, make sure that you have the permission of the admin. If you don't, you cannot remove yourself from a group. Once you have this permission, you can delete the group. You can also mute the group if you don't want to receive messages from the group.
If you're in a large group, you might not know everyone in it. So you might think that you accidentally added someone else and they've left. If you're in a large group, it's impossible to know if the person who added you has left it. Fortunately, Viber's app lets you create a secret group and hide conversations from your recipient.
If you're on an iPhone, you can easily remove yourself from a group text by opening the group chat and tapping the group icon button at the top of the screen.
From there, scroll to the bottom of the details page. Tap "Leave and Delete." You'll now be excluded from this conversation, and other members will no longer be able to message you.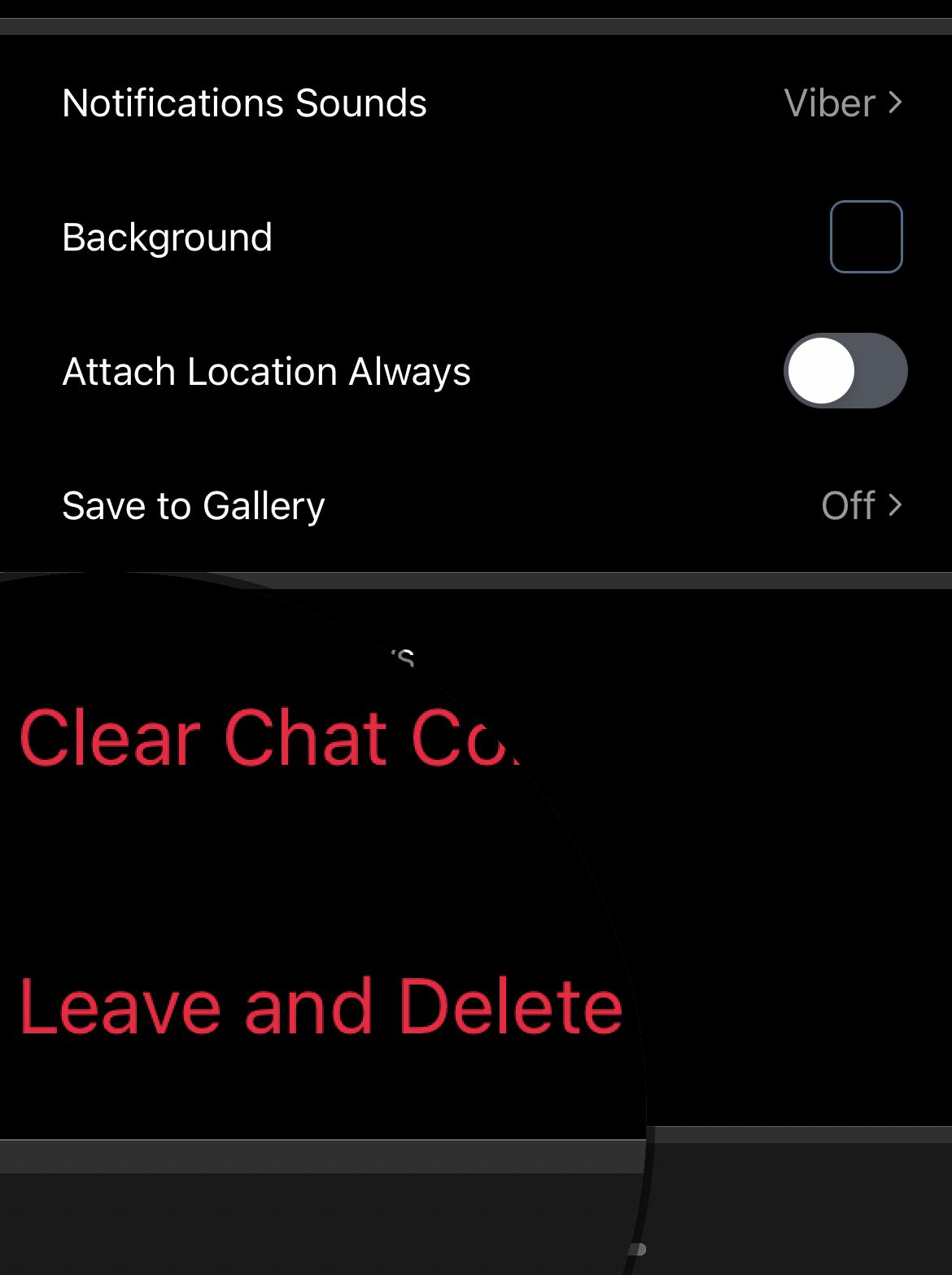 Another option is to "Mute the chat." At the very top of the same group menu, toggle "Mute Chat." On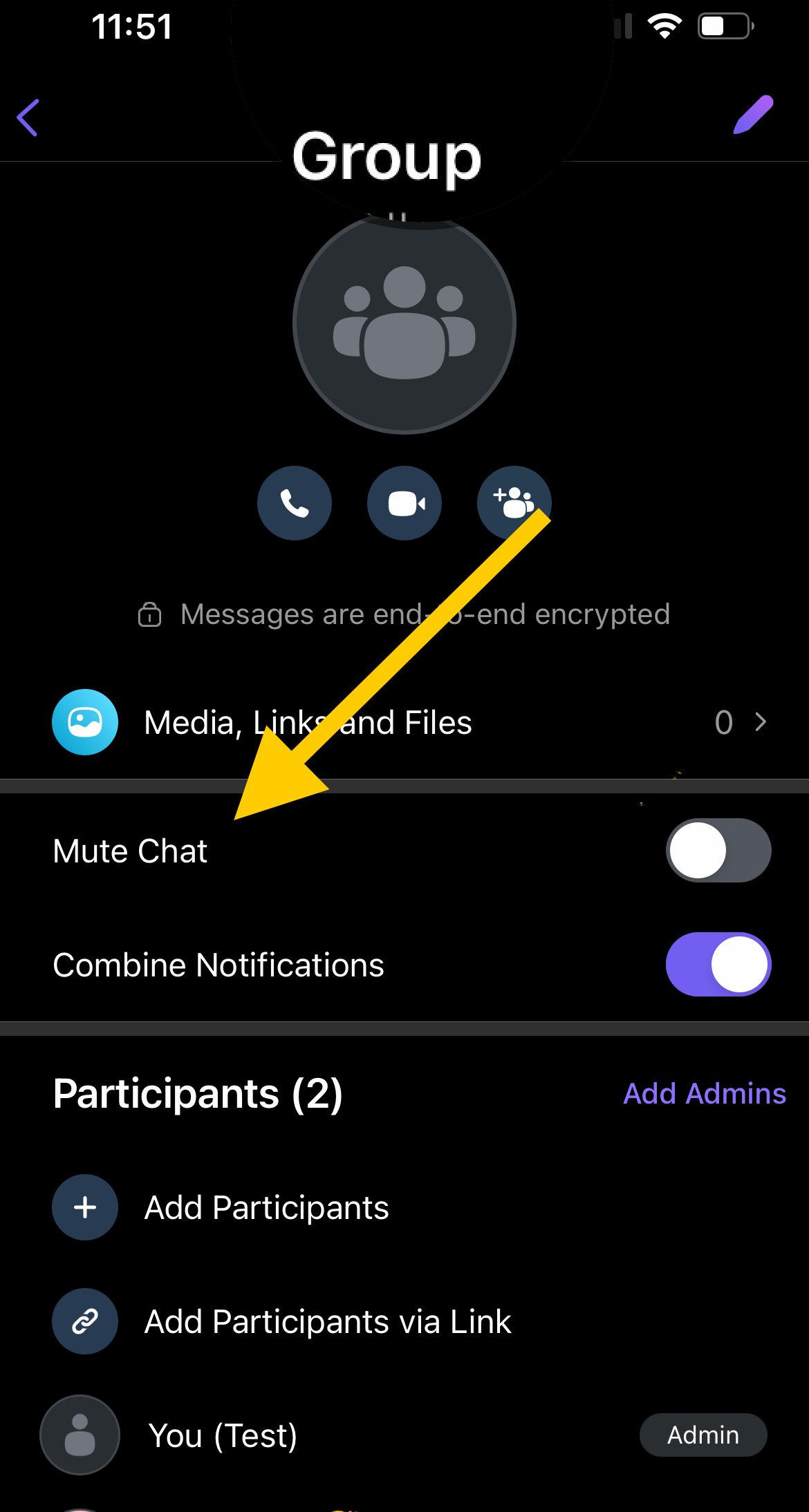 How to Remove Yourself From a Group Text: Android
Sometimes, you must remove yourself from a group text for various reasons. For example, you may find that a group of people is causing you to become irritated. Luckily, there are ways to silence them. One of the easiest ways to do this is by muting the notifications for the group text.
To do this, long-press the group text and then tap the notification icon. You can either mute the entire conversation or delete it from there.
Alternatively, open the stock messaging app and select the group text. Then, tap the three-dot icon in the upper-right corner. Tap on "Notification Type > Custom Notification >"Notifications".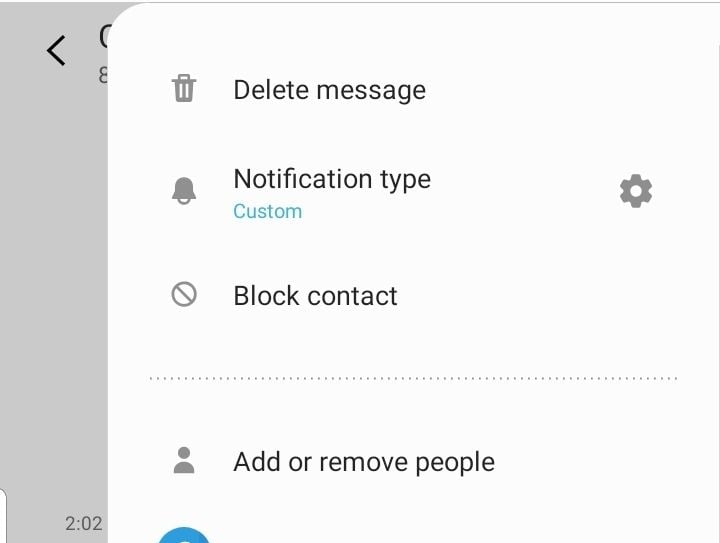 Another way to unsubscribe from group texts is by blocking individual people within the group. This way, you can avoid being flooded with spam text messages.
However, this method will prevent you from receiving messages from people you no longer want to communicate with.
Conclusion
The easiest way to remove yourself from a group text is to simply leave the conversation. This might not be ideal if the group text has a ton of people in it, but it's still an option. Simply leave the conversation and you won't be included in future group chats.
Another option is to mute the conversation. This way, you can still see the messages in the thread, but you can't reply or be tagged in any way. Muting a thread is a great option if you want to be included in the conversation and still be able to ignore the person who forgot to add you.