Microsoft Word doesn't need a special introduction because, for years, it has been considered the best and most popular word processor used by millions of people worldwide. It has various options that allow you to make everything you write to look the way you want.
A convenient tool in Microsoft word is that you can password-protect a file. You may now want to remove the password at some point, and we will show you the steps. Let's see how to remove a password from a Word document.
How to remove a password from a Word document
Many people find this step confusing because when you head to the part of Word where you can enter the password, there is no option that says "Remove the password." We will help you figure this out. Follow the steps below:
Open a Word file that is protected with a password
Next, click on File in the top-left corner of the screen
Click on Protect Document
Next, click on Encrypt with password
To remove the password you placed before, clear the field for password until it looks like in the image below.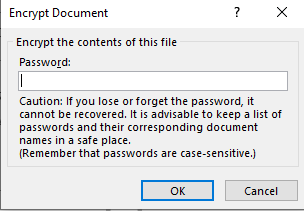 Once you are done, click OK.
The password has now been removed. There's no one option that allows you to remove the password; you need to manually clear the password and click OK. The document is no longer protected. Simple, right?