With the widespread occurrence of malware attacks and corrupt storage issues, it is quite common to suffer from
This is a sponsored post. Opinions expressed by sponsors are their own.
With the widespread occurrence of malware attacks and corrupt storage issues, it is quite common to suffer from an unwanted loss of data. A few years back, there were hardly any reliable data recovery tools to get back our lost or deleted content. Thankfully, now there are numerous tools out there to perform data recovery on various sources. One of the most popular and reliable applications of them is Recoverit Data Recovery by Wondershare. It is available for both Windows and Mac and offers tons of advanced features. In this guide, we will cover an in-depth review of the data recovery tool and will also get to understand how it works.
Recoverit Data Recovery: The Major Features
Before coming up with this guide, we decided to get a hands-on experience of the tool ourselves. The data recovery tool is developed by Wondershare, which is one of the most reputed tech firms in the data recovery industry. Since the Free version of Recoverit is available (the basic version), anyone can go to its website and give it a try. Recoverit is already known for its high data recovery rate of 96% for Windows, making it one of the most successful data recovery tools.
The application is extremely easy to use and supports all kinds of data recovery. Users can perform data recovery on the internal drive or any other connected source as well. Here are some of the major features of Recoverit Data Recovery that we liked.
Extensive data recovery
Recoverit Data Recovery supports more than 1000 different types of file formats. Therefore, users can recover their photos, videos, audios, documents, emails, compressed files, and all kinds of content.
All scenarios supported
The application supports all kinds of conditions and scenarios that lead to data recovery. Some of the common cases are accidental data deletion, Recycle Bin deletion, lost partition recovery, corrupt system recovery, virus attack deletion, and so on.
External device support
The data recovery software for Windows and Mac supports the scanning of the internal storage of the system. Besides that, it can also perform extensive data recovery from numerous sources like SD card, MP3 player, USB drive, camcorder, digital camera, external hard disk, etc. It also supports recovery on NTFS, FAT16, FAT32, exFAT, and other common file systems.
User-friendly interface
The data recovery application is extremely user-friendly and features an intuitive interface. One can follow a simple 3-step click-through process to recover their data without any prior technical experience.
Preview available
This is one of the best features of Recoverit Data Recovery that we found. Once the recovery process is over, the interface will let you preview the extracted data (like photos and videos). In this way, users can simply choose the files they wish to get back selectively.
Different recovery modes
As of now, Recoverit by Wondershare supports two different kinds of data recovery modes. The quick mode will let you perform a fast and satisfactory scan. The All-around recovery will perform a deep scan on the system. Even though it is time-consuming, it will yield better results in the end.
Recover data from a crashed system
Even if the PC or Mac has been crashed, Recoverit can help you get your data back. It supports all the prominent scenarios like an unresponsive computer, blue screen of death, operating system error, and other prominent issues. The Ultimate version of the tool allows us to create a bootable media, letting us perform data recovery even on an unresponsive system.
100% secure and reliable
While performing data recovery on the specific location, Recoverit will not save your data in between. All the data will remain secure and users can trust Recoverit to handle even their sensitive or personal content.
Free and paid versions
To make it easier for others to use the data recovery application, Wondershare has made the application available in different ways. The basic version of Recoverit Data Recovery is available for free and allows us to recover up to 100 MB of data without spending a single dime. The Pro version can be bought for $39.95 (per year for 1 computer) while the Ultimate version costs $59.95 a year. All the purchases support a free lifetime upgrade as well.
Compatibility
As of now, Wondershare Recoverit is available for every major Windows and Mac version. This includes Windows XP, Vista, 7, 8, and 10. If you own a Mac, then you can run Recoverit on macOS X 10.8 and all the later versions (including macOS X 10.14).
How to Recover Lost or Deleted Data using Recoverit Data Recovery?
Using Recoverit Data Recovery is extremely simple as it features an intuitive interface. After installing Recoverit on your Windows PC or Mac, simply follow these basic steps to recover your data.
Step 1: Select a data recovery mode
As you would launch Recoverit, you will be asked to select a data recovery mode. For instance, it can be deleted data recovery, Recycle Bin recovery, lost partition recovery, and so on. Simply pick your current situation to start with. If you have lost files on any other source (like SD card or pen drive), then connect it to your system first. Henceforth, select the "External Device Recovery" option from the home.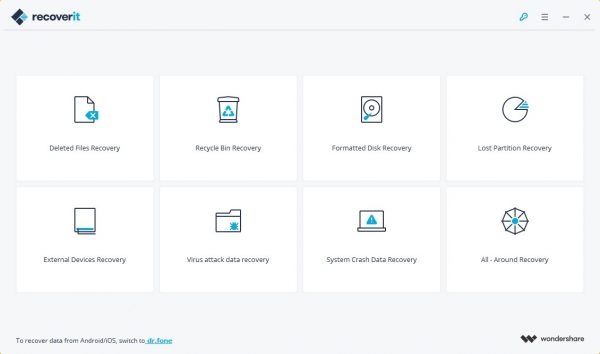 Step 2: Pick a location to scan
The next window will display the available partitions or the external sources that are attached. Users can simply pick the location they wish to scan and click on the "Start" button to commence the recovery process.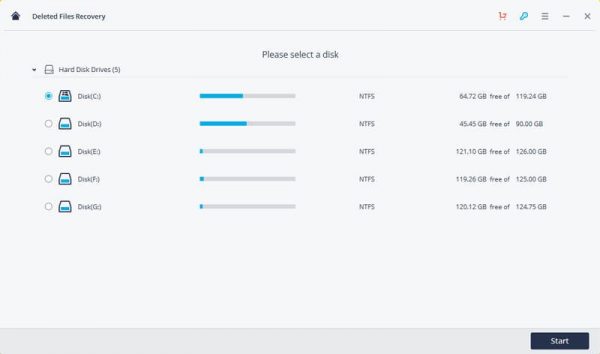 Step 3: Preview and restore your data
As Recoverit would try to extract the lost, deleted or inaccessible data from the selected source, users are recommended to wait for a while. View the progress from an on-screen indicator and try not to close the application in between.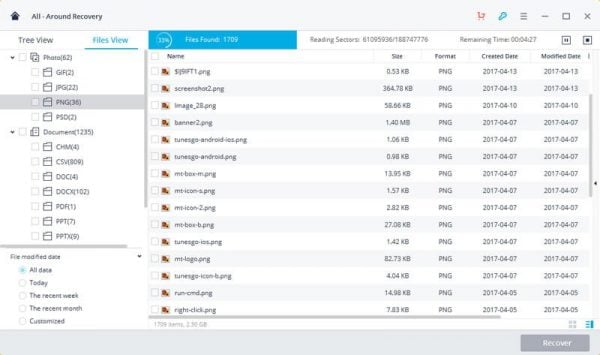 Once the scan is over, you can view the recovered content, listed under different categories. Just visit a category from the left panel and preview your data on the right. In the end, you can just select the content you wish to get back and click on the "Recover" button. This will give you an option to save your data to any location of your choice.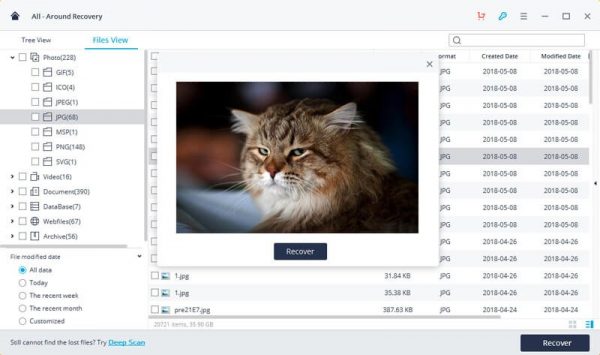 Step 4: Perform a deep scan (optional)
In case if you are not able to extract the files that you are looking for, then consider performing a deep scan. To do this, click on the "All-around Recovery" button placed at the bottom of the interface and wait for it to process as it would take more time. In the end, you can preview and restore your data the same way.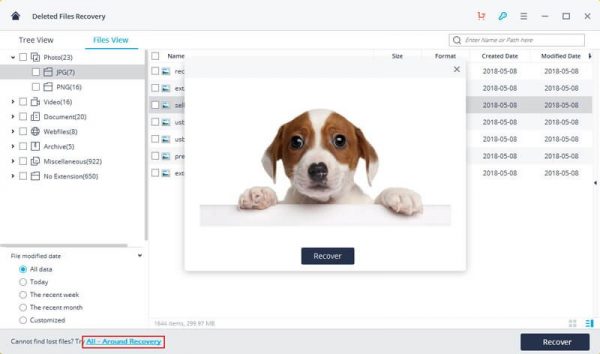 Wondershare Recoverit is certainly a resourceful data recovery software for PC and Mac that every user should consider trying. The tool is already used by over 5 million people in 160+ countries and is known for its highest data recovery success rate. It can help you get back all kinds of data under different scenarios, no matter what the situation is. Therefore, if you don't want to suffer from any unwanted data loss, then keep the tool handy. It can help you get back your lost data and save the day at any unexpected occasion.
---