Smartphones make our lives easier because we don't need to open computers to check and send email, or
Smartphones make our lives easier because we don't need to open computers to check and send email, or browsing some important info. Sending messages, photos, video, and even sending money are something we can do in seconds without any hassle through it. However, due to the fact phones contain lots of personal data, a smartphone is one of the most insecure devices. When it comes to privacy and security, Blackberry and iPhone were two of the best. But, since the San Bernardino case, many people doubted the security of their iPhone. We are going to share some useful tips to protect your privacy on iPhone.
How To Protect Privacy On iPhone iOS 10
Privacy is everything for most of the people. Thus, we are going to share tips how to protect privacy on iPhone iOS 10. You can reduce the possibility of someone see your private data.
1. Use Passcode Instead Of Touch ID
Apple provides the iPhone users 3 passcode options: Custom Alphanumeric, Custom  Numeric, and 4-Digit Numeric Code. We suggest you choose the Custom Alphanumeric code. It allows you to create the stronger passcode by combining the letters, numbers, and symbols.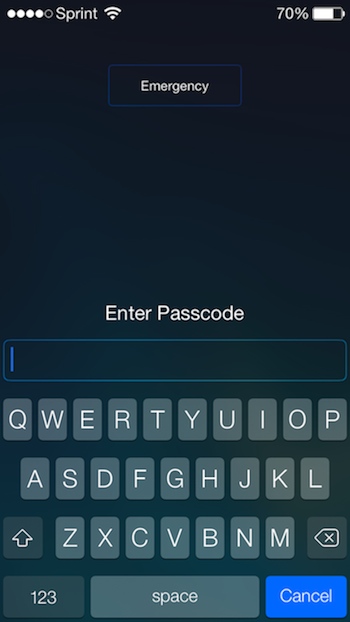 We also advise you not to use Touch ID, though it's a great feature that allows us to unlock our iPhone faster. But, in a certain case, it might not be a good idea. If you face someone who wants to steal your iPhone, that person may use your finger to unlock the device. You can protect your privacy on iPhone by disabling the Touch ID feature, head to Settings >> Touch ID & Passcode >> turn off the green button next to iPhone Unlock.
2. Delete Widgets
Apple made some changes in iOS 10. Now, you can see the widgets by swiping unlock screen to right, which is more accessible. A widget can show you brief of information from certain apps, such as weather, news, reminder, your schedule, and upcoming events, etc. This is a good thing, yet pretty dangerous. Someone can misuse your private info from widgets that she/he can easily access from the unlocked screen of your iPhone.
So, it is wise not to show the widgets that contain your personal data. To edit it, you can swipe your iPhone screen to the right. Then, scroll up the widgets screen and tap edit.
3. Turn Off Certain Home Screen Features
The iOS 10 allows you to reply messages right away from home screen while it's  locked. Also, if you scroll down from the same screen, you can see certain features like Today view, Wallet, or access Siri. Someone can misuse it for bad things.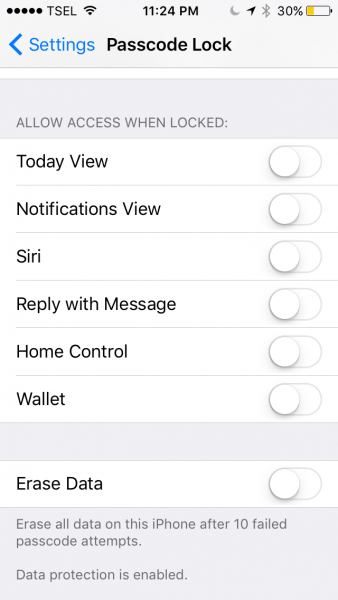 If you want to protect your privacy on iPhone, it's better to disable some Home screen features. Go to Settings >> Touch ID & Passcode. Here, by scrolling down, under "ALLOW ACCESS WHEN LOCK" section, you can turn off Today View, Notifications View, Siri, Reply with Message, and Wallet.
4. Turn Off Frequent Locations
Frequent Locations is a Maps feature that will track the places you go often, as long as your iPhone is connected to the Internet. You can turn it off by going to Settings >> Privacy >> Location Services >> scroll down until you find System Services >> disable Frequent Locations.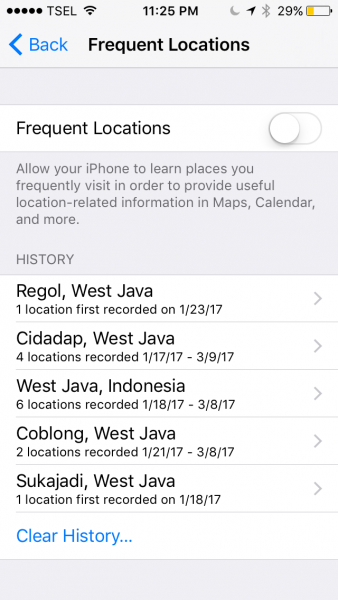 5. Enable Find My iPhone
Find My iPhone feature will be useful if you lose your iPhone, whether you forget where you put it the last time or someone steals it. If this feature is activated, you will be able to track it using your iCloud and lock it remotely. Thus, it can prevent someone from stealing your personal data on that iPhone. Head to Settings >> iCloud >> Find My iPhone.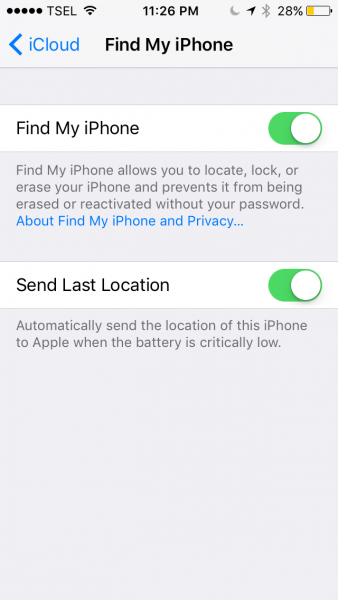 6. Disable Automatic Sync To iCloud For Certain Apps
If you activate the Automatic Sync To iCloud feature, all the data on your iPhone will be stored on iCloud. Even though you have deleted it from your iPhone, the data still exist on iCloud. This can be bad if you have more than one Apple devices that sync each other by the same iCloud. If you lose one of them someone can access to it and steal your data, such as Contact, important messages, etc. We recommend to turn off the automatic sync feature for certain apps. To do so, just open Settings >> iCloud >> Storage >> Manage Storage. Here, you can disable certain apps that contain sensitive data.
7. Beware Of Malicious WiFi
Getting WiFi isn't that difficult nowadays. Almost every place you go has WiFi, such as in your office, cafe, hotel, etc. Don't get excited yet because some of those WiFi networks may be fake. You have to be careful, especially when you are in public area and find free WiFi. Perhaps, your iPhone will be connected automatically with that WiFi and someone out there is stealing your important data from your iPhone. To prevent this, you can go to Settings >> WiFi >>  turn on the "Ask To Join" feature. Thus, your iPhone won't sync to any WiFi without your permission.
8. Use iMessage Instead
iMessage is a messaging platform especially used by iOS device and MacOS. This platform is available on message application by default. It's also provided by the encryption technology, in which the messages we send can only be read by the sender and recipient.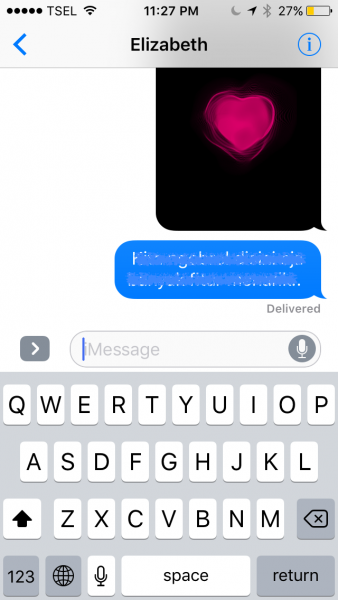 The encryption technology has become a controversial issue in iOS 8. The police and even government are no longer able to open any conversation if the iPhone is locked. However, using iMessage you can protect your privacy on iPhone.
Read also:  Why Should I Hire A Personal Assistant If I Have Siri On My iPhone
---