We all can get calls from unknown numbers for various reasons, but the situation become annoying if the unknown call is not important and they keep on calling repeatedly for no reasons. Nothing can be as good as blocking that unknown number. If you are an iPhone user and want to know how to block unknown calls on iPhone, iOS 7 came with a feature to block unknown callers. So, if your iPhone is running on iOS 7 or above, process to block unknown callers will be done by following some easy steps. But in case, the iOS version is older, there is also a solution for that which will be discussed.
Also, if you are eager to know the process of how to transfer contacts from iPhone to iPhone, read the guide here.
Learn here: How to restore your iPhone from iCloud
Ways to block unwanted callers in iPhone
Method 1:
This method describes the way to block callers who are already in the contact list. You may find yourself in a situation when you would want to avoid people even from the contact list. It can be done in two ways:
The first process requires you to follow the steps, settings> Phone> blocked> add new and then search for the contact that is to be added in the list. Select that number and that's it.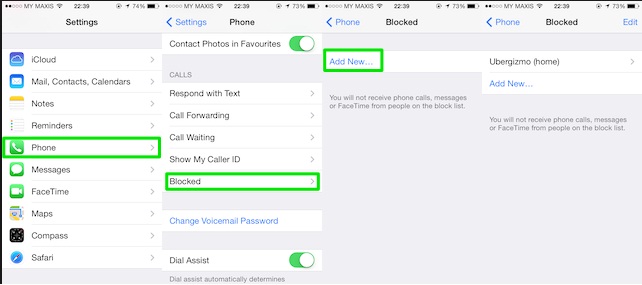 The second involves finding the contact of the person from the contact list and then scroll down to get the option block this caller. Next, tap 'Block contact' and the number will be blocked in your iPhone.
Method 2:
The above method can block the calls from numbers that are in the list, but in case you want to know that how to block unknown calls on iPhone, here it is.
First, launch the 'phone' app and click on the 'recent' tab to view all the incoming.
You will notice a blue icon (i) in front of every contact in the recent incoming call list. Tap on that 'i' icon for all those callers that you want to block.
Now scroll down and select the 'recent options' (shown as blue clock) again to see the 'Block this caller' option at the bottom.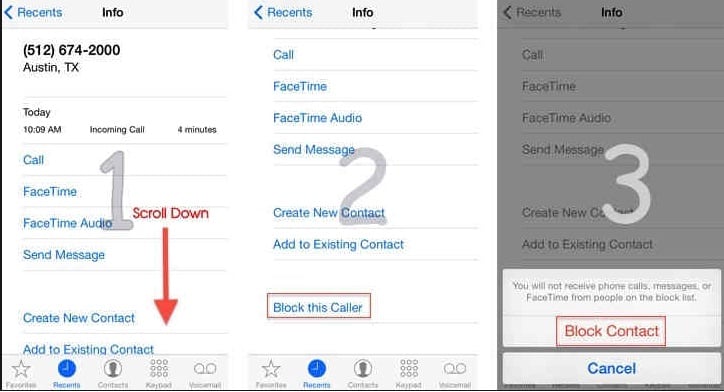 Tap on that and a message will be shown to you that says 'you will not receive any calls from people on the block list'. Click 'Block this contact' and that number will be blocked.
Method 3:
Apart from the process to block unknown callers iPhone, if you want to know the process of blocking someone who has texted you, learn it here.
Open the message app on your iPhone.
Next, open the message from that unknown number you want to block.
Press the option 'contact' located at the top, followed by which you need to tap on the 'I' icon.
Select the option 'block this caller' and tap 'block contact' to block that unknown person.
Method 4:
If you have received 'Face time' request from an unknown number and want to block it, the process is same as above. The steps to be followed to block unknown callers iPhone are:
Launch the Face time icon first.
Tap on 'recent' to see the request from numbers.
Next, tap on the icon 'i' located beside the contact that you want to block.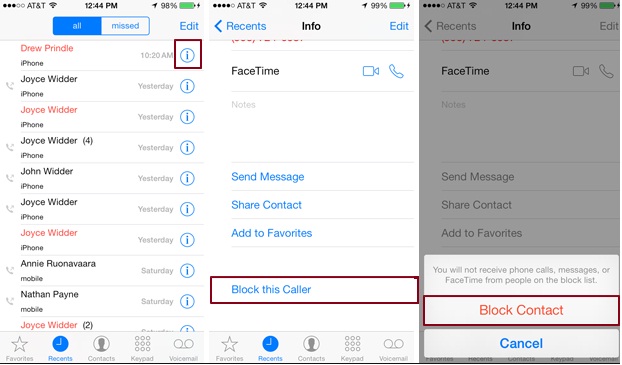 Move down and 'Block this caller' option will be visible at the bottom.
Tap on that and click 'block this contact'. That's it.
So, if you are using iOS 7, then how to block unknown callers or how to block unknown numbers should not be a tough job for you as the detail guide is already explained following which you can do it in just a second.
How to block unknown calls in iPhone running in iOS 6 or older versions:
However, if you are using iOS 6 or previous version and want to know how to block unknown calls on iPhone, here it is. What you need to do is just save that unknown number and save it by a name such as 'ignore' or 'unwanted' so that you can avoid the call just by seeing the name only.