Previously, we have discussed "jailbreak" iOS 8.3 using a free application in App Store which injects
Previously, we have discussed "jailbreak" iOS 8.3 using a free application in App Store which injects Cydia Installer. It's a temporary alternative method we can do at that time because there wasn't any full jailbreak method yet from hacker team. Moreover, that method can make the Cydia injection on iPhone not good and sometimes there will be found some issues when you run the application that you've downloaded from Cydia store. Lack of full jailbreak apps for iOS 8.3 in quite long time was caused by the difficulty to break iOS 8.3's security system. But, today we got a good news from a popular hacker team: TaiG who also made jailbreak app for iOS 8. They have just released TaiG version 2.0 which can be used to jailbreak iOS 8.3. We're a bit surprised with the present of TaiG version 2.0 for iOS 8.3 in which previously they said that they will focus on iOS 9. Unfortunately, this version is only available for Windows PC and not yet available for OS X. So, let's get started to discuss how to full untethered jailbreak iPhone iOS 8.3 safely and you can have your Cydia App store back.
How to full untethered Jailbreak iPhone iOS 8.3 Safely
Important!: We always remind you to backup your data first, as you may lose your data.
Preparation
Make sure your iPhone does not have any issues such as random restart, network searching problem, issues with WiFi, etc.
Make sure WiFi or the other internet connection is active so that you can download jailbreak app for iPhone or for finishing the process like update Cydia.
PC Windows which are going to be used as a tool for a jailbreak app.
Latest iTunes version 12.0.1.
A lightning cable.
Make sure your iPhone is charged and that it has free storage space (at least 1.5 GB)
You must turn off any lock screen passcode or Touch ID by going to Settings >> General >> Touch ID & Passcode >> turn off Simple Passcode. Passcode and Touch ID can be turned on after the jailbreak and after Cydia installation is completed.
Turn off Find My iPhone by going to Settings >> iCloud >> Find my iPhone.
Steps
On your PC, download TaiG 2.0 here. It's a .zip form.
Open TaiGJBreak_EN_2000.zip and you will find file TaiGJBreakEN.exe. double click to open it.
Plug your iPhone to PC. The software will detect your iPhone and on software screen you will find 2 options in "Section will install the DEBs below during jailbreak": Cydia and 3K Assistant. The 3K Assistant is TaiG App Store and it's up to you if you want to install it or not.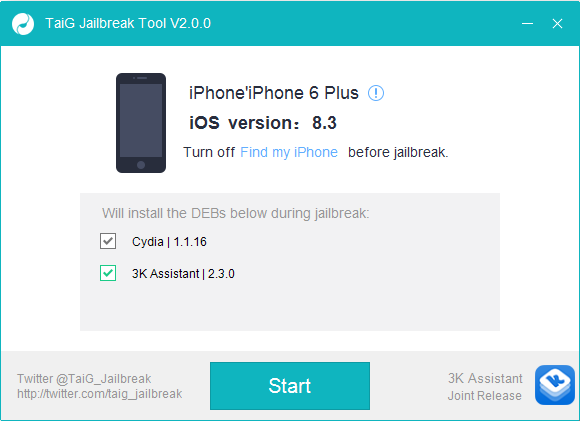 Clik Start and wait while the jailbreak process runs.
Your iPhone will reboot and a Cydia app will appear on your home screen. You will be welcomed with the wide smile.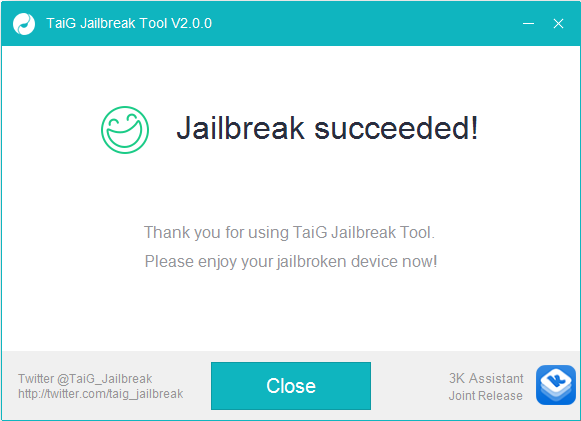 Well, that's a wrap!
See also: How to Fix iPhone 5c has Black Screen, But It's Still On
---