A desktop picture can improve your mood, especially if you work on your Mac for hours. Changing the pic on a Mac is pretty simple. So, if you are wondering how to customize a desktop picture on a Mac, this article will show you how to do just that. Follow the few simple steps listed above, and you will be done in no time.
How To Customize A Desktop Picture On A Mac
We are going to change the background via System Preference. It's an easy-to-follow method so that everyone can do it without hassle. Here are the steps:
1. You can launch System Preferences from the Mac home screen or click Apple () menu on the top-left corner of the screen.
2. Once the System Preferences is opened, find "Desktop & Screen Saver" and click on it.
3. You might see three folders on the left side of "Desktop & Screen Saver," i.e., Apple, Photos, and Folders. Choose Apple and click Desktop Pictures. You will see the pictures that come with your Mac. Select one and close the panel. You have successfully changed the wallpaper on your Mac.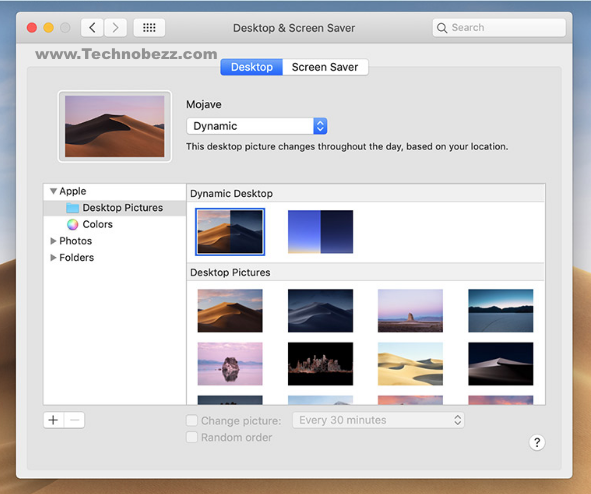 4. If you are using macOS Mojave, you can try one of the Dynamic Desktops themes: Mojave and Solar Gradients. The picture lighting will dynamically change following the time on your desktop. For example, the picture will shift to a darker blue in the evening.
How To Change Wallpaper On Mac To Your Own Picture
The images available on Mac are great, but you might want to change the wallpaper using your picture. There are two methods to customize a desktop picture on a Mac using your photo.
Method 1:
First, through System Preferences. Follow the steps from first to third (listed above) and choose Photos instead of Desktop Picture in "Desktop & Screen Saver."
Select the photo you want, then close the pane. Once you click an image, it will immediately replace Mac's background.
Method 2:
Launch the Photos app and find a photo.
Right-click the photo, choose Share, and click Set Desktop Picture.
Done.