When you want to upgrade the iPhone, but your budget does not allow you to buy the brand new one, getting second-hand is the most suitable way. However, buying a used Apple device is not as simple as you think.
The first thing to do before buying a second-hand iPhone is to ensure it has been erased and is not linked to the previous owner's account. Otherwise, you may see the Activation Lock screen, which requires the previous owner's Apple ID, and you won't be able to use the phone. If you are facing this issue, don't panic. I will share the steps to bypass the Activation Lock on your iPhone.
What Is an Activation Lock?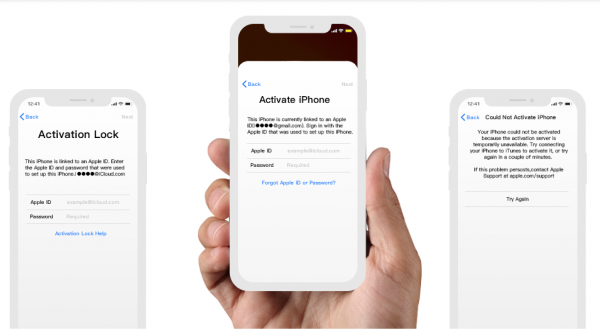 Apple provides its devices with an Activation Lock security feature to prevent them from falling into the wrong hands. It's part of the Find My app (previously Find My iPhone). This feature will automatically activate once you turn on the My Find app on your iPhone.
If you bought an iPhone with an Activation Lock screen inside, you would not be able to use any services or features on your iPhone. Although you get it at a very low price, if it cannot be used at all, then it is worthless. The good news is that there is a way to bypass the Activation Lock on your iPhone. So, don't throw away your iPhone just yet.
How To Bypass Activation Lock On iPhone In Various Scenarios
Ask the Previous Owner to Turn Off the Activation Lock
To check if your iPhone is protected by Activation Lock or not, switch it off and switch it back on. If you see the Passcode lock screen, ask the seller to unlock it. Ask the previous owner to enter the Apple ID and password on the Activation Lock screen. Then, ask them to sign out from iCloud and iTunes & App Store. Next, go back to Settings > General > Reset > Erase All Content and Settings.
These steps can only be applied if the seller is close by. If you bought the iPhone online, ask the seller to remove your iPhone from their Apple account remotely. They don't know how to do it? Tell them to follow these steps:
On their computer, go to
Connect your iPhone to the computer using a USB cable, and it will start downloading a jailbreak package for your iPhone.
Once the download process is done, click the Start Jailbreak button and follow the onscreen instructions. Once the jailbreak process is done, click Next.


Note: This will disable the function of the phone-call, cellular, and iCloud of your new Apple ID after bypassing the iCloud activation lock screen.

On the next screen, check if all of your iPhone information is correct. Whenever you are ready, click Start Bypass.
Once it's finished, click Done.
Now, log in using your Apple ID from the App Store or iTunes Store. Avoid logging in through Settings.
If the seller forgets the passcode, use LockWiper to remove various iPhone passwords. LockWiper allows you to bypass 4-digit passcodes, 6-digit passcodes, Touch IDs, and even Face IDs.
DNS Method
The domain Name System (DNS) method is another option you can try to bypass the Activation Lock on your iPhone. Unfortunately, it may not work for all iOS versions. Many users find it works well on iOS 8 to iOS 10 only. Also, it will only allow you to access limited features on your iPhone.
Make sure you have a SIM card installed on your iPhone.
On the iPhone Activation Lock screen, tap the home button and choose Start Over.
Select Language and Region.
On the WiFi Settings screen, tap the exclamation sign "i" next to the network name and Forget This Network.
Tap the "i" sign, and enter a DNS server to bypass the iCloud Activation Lock.
You can use one of these DNS servers.

USA: 104.154.51.7South America: 35.199.88.219
Europe: 104.155.28.90
Asia: 104.155.220.58
Australia and Oceania: 35.189.47.23
Other continents: 78.100.17.60
Tap Back, choose a WiFi network, and enter the password. Then, tap Join.
Tap Back, and you will be on the iCloud DNS Bypass screen. Here, tap on the Menu section to set up your iPhone apps, Internet, Camera, Mail, etc.
Wrapping Up
When it comes to securing a smartphone, iPhone is the tough one. Apple protects users with a bunch of security features on their product, like Passcode, Activation Lock, etc. It can be a great point, but on the other hand, it can stress you out.
If you have tried any methods but come to nothing, iMyFone iBypasser can be the ace in the hole for your iPhone Activate Lock screen issues. The monthly plan is only $39.99/month, but by adding an extra $10, you can get a 1-year plan for $49.95. However, the best option is the Lifetime plan which costs $69.95 for 5 iOS devices.