We would have been lost without good storage options, right? iPhone users have iCloud. Users often come up with the question on how to download stored pictures from iCloud on their Mac or Windows PC. We have step-by-step instructions on how to download photos from iCloud.
Steps to Download Photos From iCloud
If you wish to download a picture from iCloud on Windows Computer or Mac, follow the instructions below:
Open a web browser and log in to iCloud.com using your Apple ID
When you are logged in iCloud website, click on the Photos icon
Click on the picture you wish to download
When the photo is loaded completely then, click on the download icon, which is in the shape of a small cloud with an arrow coming out of it.
You can repeat the process for other pictures you need to download from iCloud.
The picture will be downloaded to its original resolution.
You don't have any option of a Download All or Select All button in iCloud Photos, but there is a way you can download all pictures at once. Follow the below instructions to download photos from iCloud on your Mac or PC.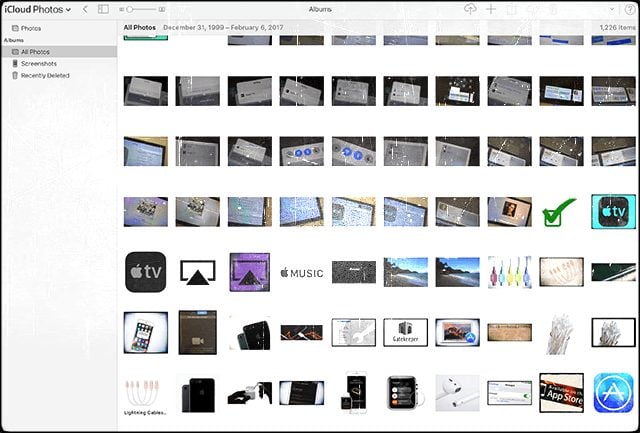 Login to iCloud.com with your Apple ID and go to Photos
Select All Photos album
Go down to the page of the All Photos album and click Select Photos at the top of the iCloud Photos bar.
Hold the Shift key and click on the last picture in the album in the All Photos album. The bar on the iCloud Photos will read "abcde items selected (abcde is an example)
When all the photos are selected in iCloud Photos, select the blue color Download button at the top of the iCloud Photos bar.
Confirm that you wish to download all the selected photos and click Download. You can have any number of pictures for Download, follow the process, and all of them will be downloaded.
Windows 10 users can follow the process below to download all photos from iCloud.
You need to install and setup the iCloud sync software on a Windows PC
After you install iCloud for Windows, locate and select iCloud Photos from Windows File Explorer
From the file explorer navigation bar, select Download Photos, and Videos
When prompted, select the years or dates of photos you wish to download. You can select all the years for all pictures if you want.
iCloud will begin the download process. Depending on the internet connection and the number of pictures to download, it may take some time.