The surprise thing occurs on the benchmark score among these 3 new flagship smartphones this year: Samsung Galaxy Note 5, iPhone 6s, and Meizu Pro 5. From the benchmark results of these 3 smartphones, using Geekbench version 3, Meizu Pro 5 got the highest score in multi-core. It was surprising, because the 2 flagships from the 2 giant companies (Samsung and Apple) couldn't compete that benchmark result.
The public might think that Samsung Galaxy Note 5 or iPhone 6s will be a winner as the high-end smartphone this year. But, what the benchmark results say may change it.
The 3 flagship smartphones use the best processor of 2015. The first flagship, Samsung Galaxy Note 5 uses the Exynos 7420 processor, made by Samsung itself. Exynos 7420 is an octa-core 64bit processor with 14nm manufacture, which has specifications of 4 core Cortex A57 @2.1GHz and 4 core Cortex A53 @1.5GHz. Meizu pro 5 uses the same processor with Galaxy Note 5: Exynos 7420; while iPhone 6s uses Apple A9 processor, designed by Apple. Apple A9 is a dual-core processor 64bit with 14nm manufacture with 1.8GHz of speed. Here are the benchmark scores of these 3 smartphones: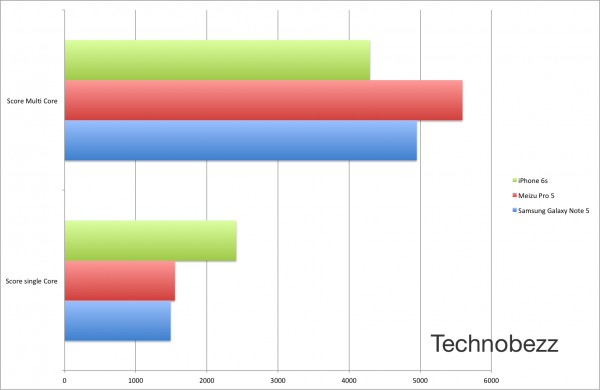 It seems that Meizu Pro 5 has the best score in the multi-core if it's compared with Galaxy Note 5 although both are using the same processor. It's probably because the difference of the display resolutions: Meizu Pro 5 1920 x 1080 and Galaxy Note 5 has 2560 x 1440. When it comes to iPhone 6s, we can see that its single-core score is very high, but for multi-core score is low, it gets the third place. It's because the A9 processor only uses dual-core, while Exynos use octa-core. I got the 3 scores above from Slashgear and 9to5mac. We haven't got the further results related to these scores. Do these scores show the real device performance? To find it out, we have to check it directly in the real world test.
Read also: Nvidia GTX 980 is Coming to Notebooks