Apple's iPhone X has been around for some time now and it is a fantastic phone to own. It looks and work great.
Apple's iPhone X has been around for some time now and it is a fantastic phone to own. It looks and work great. However, with time, users have come across some issues on this smartphone. But most of the problems can be easily fixed. Here, we are going to share common iPhone X issues and their fixes.
Read also- How to Fix iPhone X Sound Issues
Common iPhone X Problems And Their Fixes
Face ID Doesn't Work Sometimes
Apple's Face ID is an exciting feature to have on your iPhone. The company said that their security feature has been designed to recognize your face even if there are some changes – if you are wearing a hat, shades and contact lens or even if you have grown a beard etc. However, some users found that they were unable to unlock their phones at times. Here is what you need to remember while unlocking your iPhone X with Face ID.
Although the feature works with all the above changes remember if you cover your eyes, nose or mouth the feature will not work. So keep your face clear of any obstructions when you are unlocking it.
If you are using your iPhone X while you are lying on the bed and your phone is in landscape mode then your phone won't unlock. Flip it over to portrait mode and it will instantly unlock your phone.
iPhone X Screen Burn-in Issues
Another iPhone X issue that users face is the screen burn-in problem. Screen burn-in is a ghost image or a translucent image caused by the prolonged usage of static images on your iPhone X screen. Apple explains that the OLED display used on the smartphone causes image persistence or burn-in with time. Here is what you can do to handle this issue:
An excessively bright screen is also one of the reasons for screen burn-in. Keep the brightness to the minimum or according to your eye comfort.
First turn off the Auto-Brightness because most times your phone may not detect the surrounding light and react to adjust the brightness.
Go to Settings > General > Accessibility > Display Accommodations > Auto-Brightness and toggle it off.
You can then adjust the screen brightness manually to keep things in your control.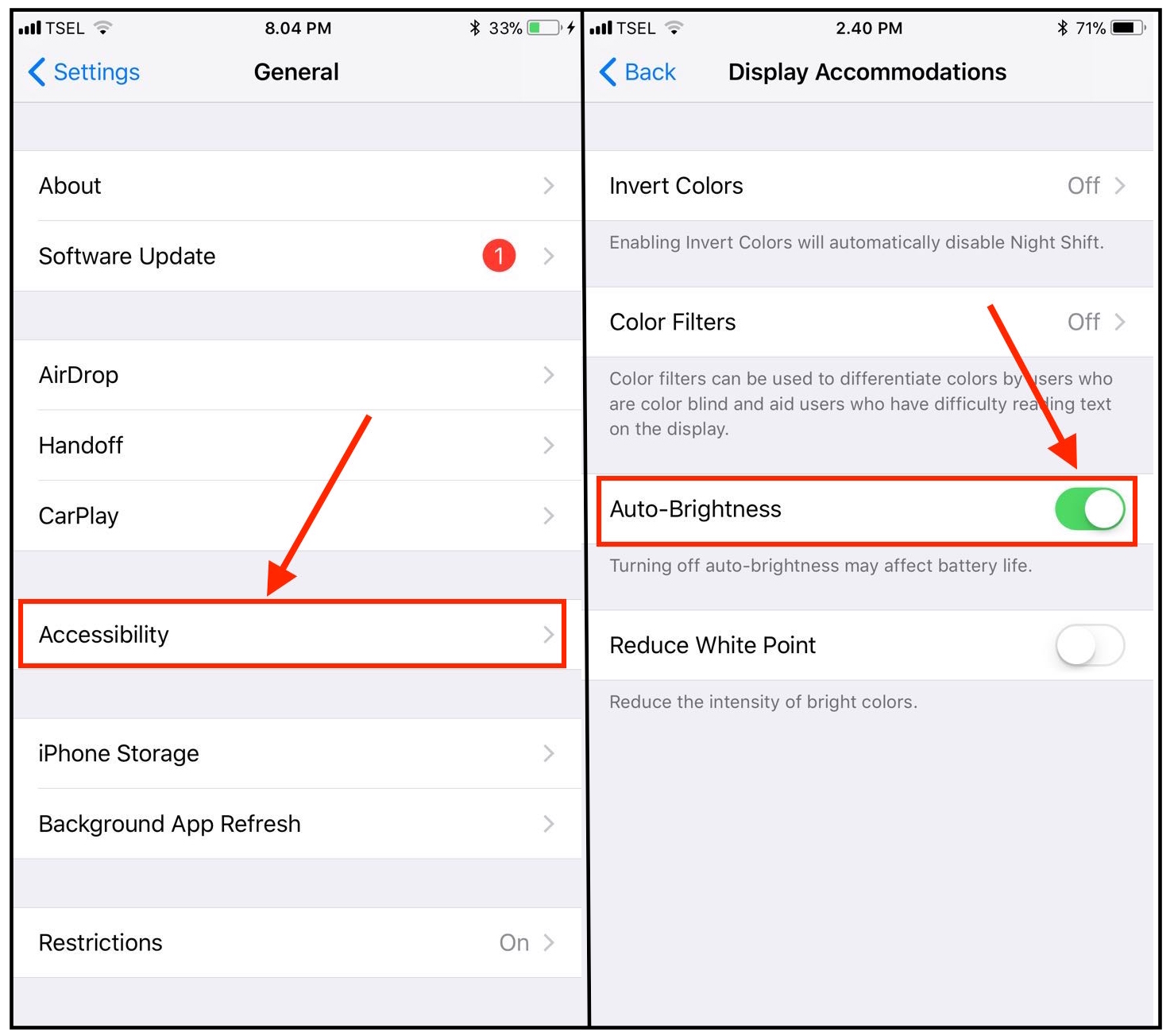 Go to Settings > Display & Brightness > Use the slider to drag and adjust the brightness of the screen.
As a next solution adjust the time taken to turn off your phone's screen when it is not in use.
Go to Settings > Display & Brightness > Auto-Lock – you have a list of options from 30 seconds to 5 minutes or Never. Selecting 30 seconds is the best.
iPhone X Stuck While Updating iCloud
Next in the list of common iPhone X issues and their fixes is a problem while updating your iCloud. Here is what you need to do:
A force restart is what works when you face such an issue. Here is how you can force restart your iPhone X.
Press the Volume Up button and let go, now press the Volume Down button and let go and finally press the Side button and hold it. Keep holding the Side Button till you see the Apple logo and then once it appears, let the button go. Your iPhone X will reboot. Once it turns on after a Hard Reset you can update iCloud once again.
Battery Life Issues
One of the most common iPhone X issues that users are facing is the battery problem. There are some tips which if you follow will help you with the battery problems.
Method 1  Locations services usually drain a lot of battery. Although it is a useful service and several features are connected to it, it should be turned OFF when not in use. Here is how to turn off Location Services
Go to Settings > Privacy > Location Services – toggle it OFF.
Method 2–  Keep the brightness of your iPhone X down. A full bright screen causes extreme battery drain. Remember to first toggle off the Auto-Brightness Mode so you can adjust the screen brightness when required.
Go to Settings > General > Accessibility > Display Accommodations > Auto-Brightness and toggle it off.
Go to Settings > Display & Brightness > Use the slider to drag and adjust the brightness of the screen.
Method 3-  Always keep your apps updated. If they are not up to date, they tend to cause different problems like performance issues, overheating problems, and excessive battery drain. If you are not using the app simply uninstall it. To update the apps follow the below process:
Head over to the App Store
Locate the Update All button to update the apps
For individual updates, you can click the Update button beside each app listed on the screen.
Method 4-  Live wallpapers or Dynamic wallpapers may be pretty to look at. However, they are not battery friendly. The iPhone X has an OLED screen with a wonderful resolution and even Static wallpapers look classy on it. Static wallpapers are kind to your battery and will help you save on its percentage.
Method 5-  There are certain apps which will usually consume more battery life compared to the others. iPhone X gives you the option to keep a check on your apps and manage the battery life of your smartphone.
Check the battery life from Settings > Battery
You will get a list of apps and the percentage of battery they have used. There are two options – Last 24 Hours and Last 7 Days. Click on both the options to see which the rogue app is. If there is an app which is showing a big difference in the consumption of battery then you can uninstall it and then install it once again.
WiFi Issues
The common issues are WiFi connection keeps dropping, greyed out WiFi icon, incorrect password prompts and unable to connect to a hotspot. If you are facing WiFi issues on your iPhone X then here are some workarounds that will help you fix it.
Step 1- The first thing to try is a Force Restart. The steps are mentioned above.
Step 2- You can toggle the WiFi off and then turn it on again to check if the problem of dropping WiFi connection is solved.
Step 3- If your iPhone X is connected to WiFi hotspot but the internet doesn't seem to be working then you can Forget the network and connect again.
Go to Settings > WiFi > Tap on the problematic network name and click on Forget This Network > Forget to confirm your selection.
Now re-join the network once again:
Go to Settings > WiFi > Select the network and then enter the password > Join the network
Step 4- Reset Network Settings
Resetting the network of your smartphone helps in refreshing everything and fixes small yet irritable issues.
Go to Settings > General > Reset > Reset Network Settings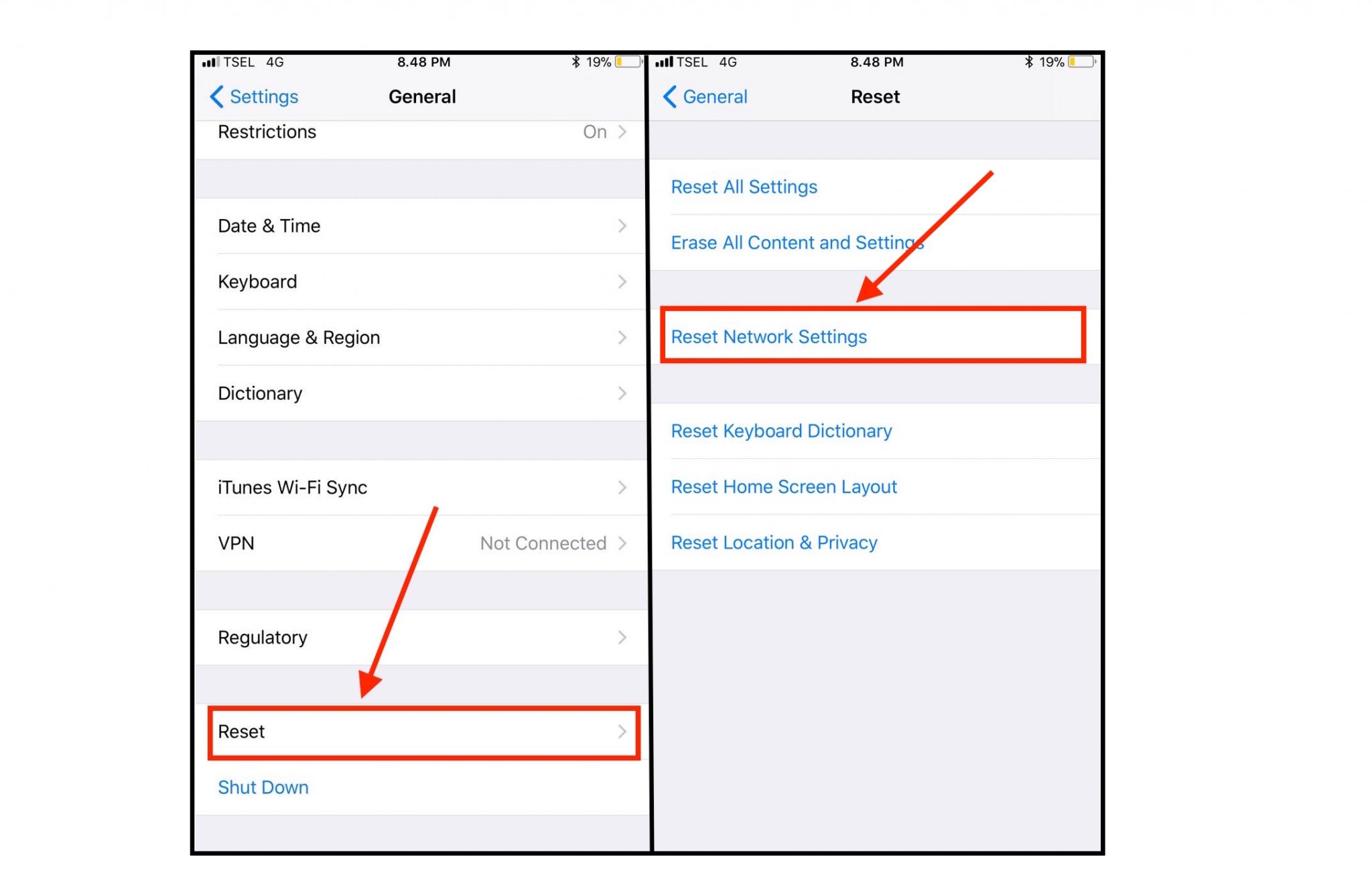 Step 5- WiFi Networking Services is a feature that is connected to the Location Services. Turning this feature OFF has helped many users fix WiFi problems. The feature is meant to block your smartphone from defining your location based on the Wi-Fi network information. It doesn't disable Wi-Fi completely.
Go to Settings > Privacy > Location Services > System Services > WiFi Networking – toggle this feature OFF.
Step 6- If you have the WiFi Assist feature on your phone ON then every time you have a weak WiFi signal or no WiFi at all then it will keep switching to mobile data. This leads to WiFi connection dropping. Try to keep this feature OFF especially when you are using a WiFi hotspot or in a place where the WiFi signal is weak.
Go to Settings > Cellular > WiFi Assist – toggle the feature OFF. This feature is turned ON by default on an iPhone.
Step 7- Sometimes, the cause of the problem for WiFi may be a VPN. Most of us use a VPN for safe browsing. Disable it to check if the problem with WiFi is solved.
Go to Settings > General > VPN and toggle the service OFF.
Step 8- If nothing seems to work then the problem may be because of the ISP. You should set custom DNS and get rid of the problem.
Go to Settings
Go to WiFi, locate your connection and tap on the 'i' icon
Scroll down to locate the DNS section and then tap over the number written beside it
You will now be able to set a new DNS address.
For OpenDNS, you can use
For Google DNS you can use
iPhone X Problems 
Can't Connect to the App Store
Step 1- Before you can perform any fixes check if the App Store is down from System Status. This screen shows all the online services that Apple offers. The first on the list is App Store. If the App Store icon isn't green then there is a problem with Apple and you need to wait till the service comes up.
Step 2- First, restart your phone.
Step 3- App Store works only when you have an internet connection, so check if the WiFi or Mobile Data is ON. If you are not in a WiFi area and are trying to download something without turning on your Mobile Data then the App Store will not work.
Step 4- Users also limit downloads over Mobile Data and if they are not using WiFi then the App Store will open but they will be unable to download or update apps. You can permit Mobile Data for App Store:
Go to Settings > Mobile Data > Use Mobile Data for > App Store – toggle the service ON.
Step 5- Check the Date & Time of your smartphone. Ensure that it is set to the current date and time as per your time zone.
Go to Settings > General > Date & Time > Set it to Automatically – so you don't have to keep changing it every time especially when you are an avid traveler.
Poor Performance
Some users complain about the poor performance of iPhone X such as stutters, random reboots, lags or frozen screen. Here are some fixes for this problem:
Step 1- If the storage of your iPhone X is almost full then your phone will get slow.
Go to Settings > General > iPhone Storage
Check all the files that are taking up space. If nothing is worth deleting transfer to your laptop or iCloud and free up some space.
Step 2- Check to see if there is an update pending because upgrades come with bug fixes and they help in improving the performance of your phone.
Go to Settings > Software Update – download and install if any.
You should also check if all your apps are updated. The steps to update them are mentioned above.
Step 3- Clear Browser Cookies & Data
Besides just freeing up memory space it also helps in speeding up your iPhone X. Users who are using the Apple recommended Safari can follow the steps below:
Go to Settings > Safari > Clear History and Website Data
Step 5- Animations may also hinder the performance issues of your phone. They cause the phone to lag.
Go to Settings > General > Accessibility > Reduce Motion – toggle it ON.
Step 6- Turning off the Background Refresh has also helped in solving the performance issues of iPhone X. Here is what you need to do to turn off this feature:
Go to Settings > General > Background App Refresh – toggle the feature OFF.
The tips mentioned above will help you in solving the issues that you face while handling your iPhone X.
Read also- How to Fix iPhone X 3D Touch Issues
---