Apple's iOS 12 has been one of the company's best-operating systems for a long time. The interface has been revamped to seamlessly work with all their new devices that no longer utilize the home button.
While you can enjoy it on your iPhone and iPad, there are some common iOS 12 issues, and their fixes should help you make the most out of your products. For a minor user group, they still couldn't update to the latest OS because the download and installation wouldn't work correctly. You should check your device's compatibility and send an error report to Apple to inform them about the situation.
Common iOS 12 issues and ways to fix them
Issue 1: Display Colors are Not Vibrant
The OLED displays are known for their fantastic brightness levels and color contrast ratio. The iPhone X was the first phone to adopt this technology, but users on Reddit suggest that their displays are not as good-looking as they used to be. According to a couple of posts, the new iOS 12 updates have affected the color levels on the smartphone.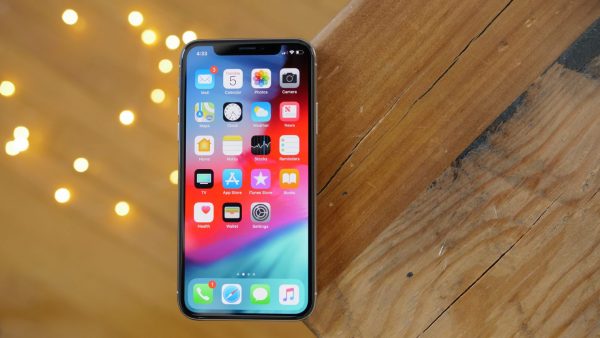 Method 1: Tweaking the Settings
You can swipe to the right corner of your display for the new operating system to get to the Settings page.
Find the meter that pertains to the brightness levels
Adjust it so that it is set to the highest level
If you have multiple iOS devices, check the same on a different device that doesn't have an OLED display to confirm if your iPhone X is working fine.
Newer phones have not been caught in this issue much, except for the iPhone X.
Issue 2: You Never Received the iOS 12 OTA Update
It is easy to guess that most people are keen to download the new OS as quickly as possible, but a few haven't received the OTA update yet. There are a few reasons why you may not have received the update, such as probably already running the latest version. You might not have noticed it yet due to the version numbering style.
Method 1: You are Beta Channel
Make sure you are using a compatible version of the iPhone or iPad, as older devices are slowly being removed from the list
iOS 11 GM is iOS 12 because you are already on the developer build for the operating system, and there is no need to upgrade
The numbers, however, might confuse you and make you feel you are still running an older version
Method 2: Manually install iOS 12
Head to the Settings page
Open the General tab
Click on Software Update and let your device find any new updates available.
Tap download and install if you find an iOS 12 update ready to be done
Once the download is finished, it might take another 15 minutes to complete the installation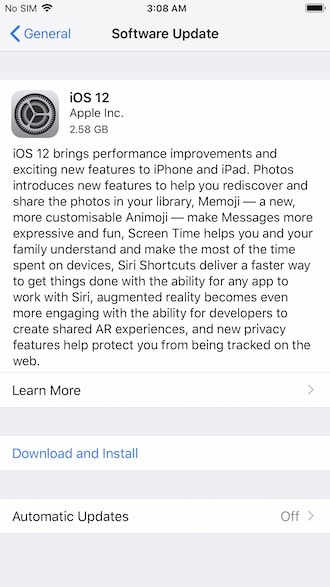 Issue 3: Camera Filters, Stickers, and Text Effects are Not Working
If you have been fumbling hard to find the camera filters and stickers to create a Snapchat-like effect, it's time to check the model of your device. Unless you are using one of the new tablets or the iPhone 6S or higher, you will not be able to find this feature. This feature can only be found on 6th gen iPads and 2nd-generation iPad Pro models but will not be released on any older devices.
Issue 4: Personal Hotspot Not Working on iOS 12
Some users have confirmed that their iPhones no longer allow them to create their own hotspots since they have updated the newest operating system. Here are some easy fixes for it.
Method 1: Use Airplane Mode for a Couple of Minutes
Turning on Airplane mode and leaving it on for a couple of minutes could help.
You can find it on your Settings page or the panel you can get by swiping down.
It will switch off all connections and restart them, which could solve most problems.
Method 2: Switching it Off and Back On
It's as simple as it sounds
Switch off your personal hotspot and switch it back on again
Change your password and make sure your mobile network is working properly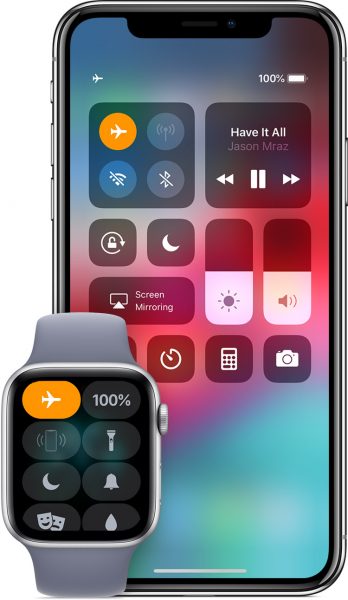 Method 3: Reset Your Network Settings
Open the Settings page
Tap on General
Scroll down to find the option called Reset
Open it and tap Reset Network Settings
Try using your hotspot again
Issue 5: The Keyboard is Glitchy on iOS 12
Have you encountered a situation when your keyboard abruptly hangs while you are typing? While this might sound annoying, it is something many users have come across in the new iOS 12 updates. While Apple should solve the problem in a future update, you can follow these fixes to get things under control.
Method 1: Free Up Some Space
The internal storage can cause lots of issues when there isn't enough space for apps to work with
Offload some of the apps and games that you no longer use
You can also offload unused apps automatically by switching it on in General>iPhone Storage>Offload Unused Apps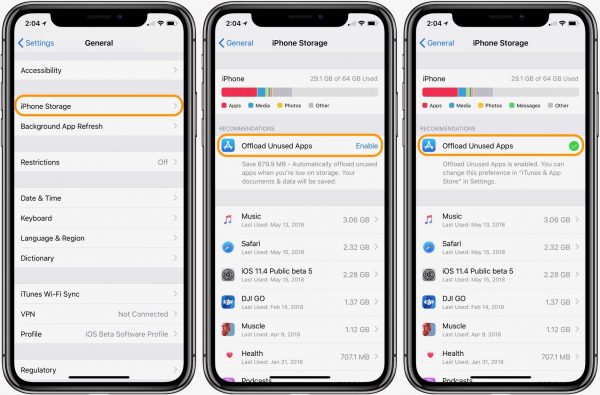 Method 2: Switch Off the Option Reachability
Open Settings
Tap to open General and find the option Accessibility
You can tap to toggle the Reachability feature off to avoid these keyboard glitches
Method 3: Reduce Motion Should be Turned Off
Open Settings by tapping on the icon
Find General and then open the Accessibility option
Tap to switch off the Reduce Motion option, which tries to create a parallax effect that might create issues in your keyboard's performance
Issue 6: Your Apps are Crashing More Ever Since the Update
Another common problem that can be addressed at the user end until the developers release better updates for their applications. The apps have started crashing more frequently than they used to, according to many social media and iOS forums users.
Method 1: Update Apps to the Latest Version
If you have not updated all your apps and games after moving to iOS 12, you should probably do it now.
Tap to open the App store on your iPhone or iPad
Open the apps individually to check if there are new updates
Update them all
Force quit all open apps and reopen them
Keep using it to check if they eventually crash crash. The issue should be fixed for most apps.
Issue 7: Bluetooth Not Working Properly on iPhones
Connectivity issues are often prevalent every time a new operating system is rolled out. Many users have complained that Bluetooth on their iPhones is not as seamless as it used to be since they started using iOS 12. Many factors could cause the issue, but the change in OS is suspected to be the main issue. You can still do some tweaks and reset them all to see if it works.
Method 1: Toggle it On and Off
Open your Settings page on your smartphone
Find the option called Bluetooth
Toggle it off and switch it back on
You can also access it by swiping your finger from the top of the display
It will open the tray where you can use the icon to switch off and switch Bluetooth back on
Method 2: Reset Your Network Settings
Open the Settings page
Head to the General option
Open Reset
Tap on Reset Network Settings and wait for the process to be complete
Check if your Bluetooth is working fine now
You can also pair your Bluetooth headphones to check if the connection is stable.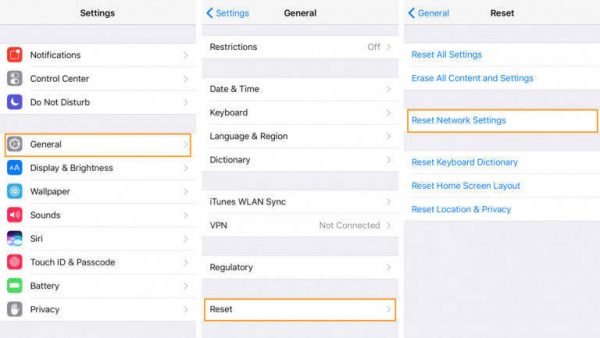 Issue 8: Improper Storage Being Displayed
iOS devices are glitchy when it comes to displaying available storage space. Even when you have gigabytes of free space, it shows that your apps have already filled up the available space, and some of them should be deleted.
Method 1: Connect to your Mac or PC
The problem, as reported by some users, can be fixed by connecting your device via cable to your Mac or PC
Check the space on your system, and it often shows the correct number
The device later revises the available space and displays what is available properly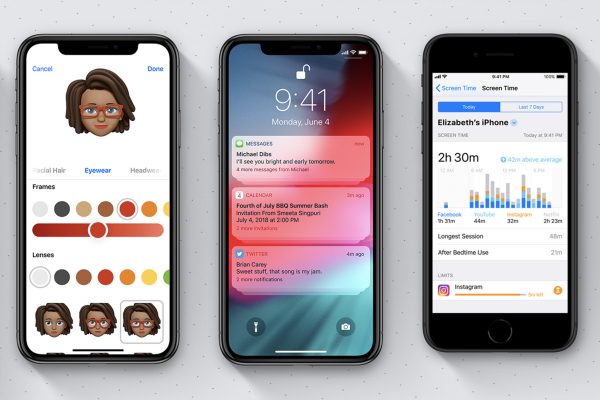 Final Words
While Apple has quickly identified and addressed most issues, software glitches, app crashes, or connectivity problems happen whenever an entirely new operating system is upgraded. You don't have to wait for updates but rather implement changes to your usage pattern to give app developers and Apple time to roll out new updates.
The company has already rolled out iOS 12.1 to fix the charge gate issue found on iPhone XS and XS Max devices. They are focusing on new devices, while connectivity problems and other identified iOS issues will eventually be fixed in future updates. You should also check out forums where common iOS 12 Issues and their fixes are discussed by users who often have many practical solutions to your problems.