iPhone X is yet to reach the hands of users. So, it is time to look for accessories for it to get the best out of your device. While many accessories are available to beautify the iPhone X, a wireless charger is super useful. This is the first time Apple has integrated the Qi-technology on their latest phones – iPhone 8, iPhone 8 Plus and iPhone X. And it will allow users to charge their phone wirelessly hassle-free. We have listed here the best wireless chargers for iPhone X.
See also: Top best gaming PCs under $500 to buy in 2021
Buying Guide
iPhones tend to have a much longer lifespan than regular Android-based smartphones. One of the reasons is that Apple keeps updating its iOS operating system across its older models too. This ensures the iPhone users get to enjoy the latest features on their phones. iPhone X is still a popular model among users. The phone has a wireless charging feature. You can buy wireless chargers from a wide range of products available in the market. You should know the key features that must be looked into before placing the order. Here are some suggestions.
Charging Power: In today's market, wired fast charging facility has touched the 35W and 45W levels. The wireless charging capacity is yet to reach those levels. 7.5W is the charging power you may find in the wireless chargers for iPhone X. There are chargers with 15W power too. The very nature of the charging is such that you don't mind it if it takes longer to charge the phone fully. Even if a call comes through, you can just pick up talk and place the device back on the charger.
Shape of the Charging Base: Wireless chargers for iPhone X come in different shapes and types. The round disc form is common. You also get those vertical stand-type charging pads. Choose the style and color you prefer.
Grip: You would want the iPhone X placed on the wireless charging pad to stay there and not slip away. The charging pads are provided with a rubber disc in the middle that offers the grip. This is a useful feature.
Protection Features: The better wireless chargers for iPhone X come with suitable features to protect the device from voltage surges and temperature increase.
Car Mounting: There are wireless chargers for iPhone X available for use while driving around. If you spend a lot of time during the day in your car, you can choose the model that can be easily mounted on your car's windshield. The phone will keep getting charged and you can see it in front of you. That way, you can attend to calls by activating the hands-free speaker.
LED Indicator: Some wireless chargers have LED indicators to show whether the iPhone X is charging or whether the charging is complete.
9 best wireless chargers for iPhone X
Best Affordable And Quality Wireless Charger For iPhone X
Spigen Essential F303W Wireless Charger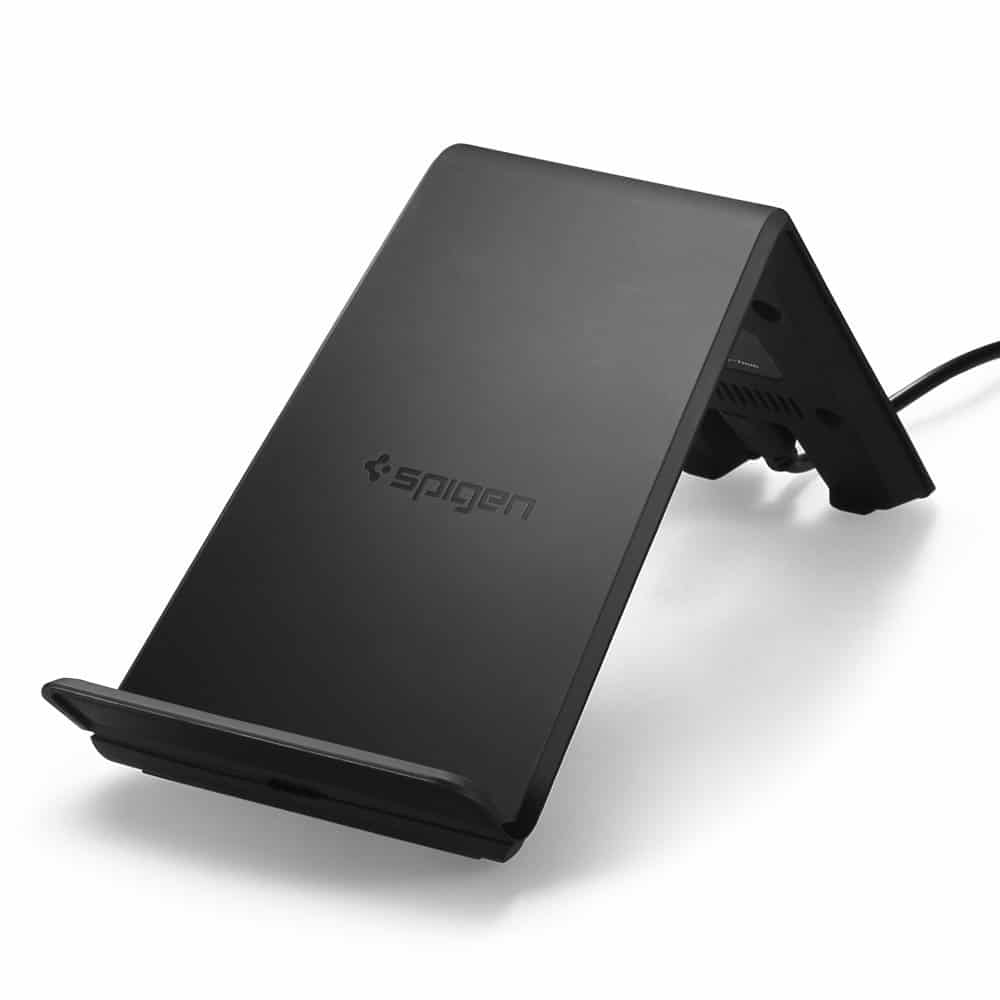 Spigen is one of the best names in the market when it comes to the accessories. The best thing about this company is that they offer quality at affordable ranges. So, if you are looking for the best wireless charger for iPhone X, the Spigen Essential F303W charger is the best option to look for. You can place the phone either horizontally or vertically on the charging pad. The two coil technology boosts the charging speed, so your phone will charge the fastest way.
Why you should buy this?
It has an in-built LED light that shows when the charger is operating for absolute convenience.
The charger's stand design as well as free positioning technology unfetters the device from unnecessary wires and restricted placements. It allows you to prop up and charge your iPhone X in either vertical or horizontal position, according to your whim and fancy.
The device safeguards from overcharging and overheating that keep your phone out of any vulnerabilities.
Best Wireless Charging Base from Apple & Mophie
Mophie – Wireless Charge Pad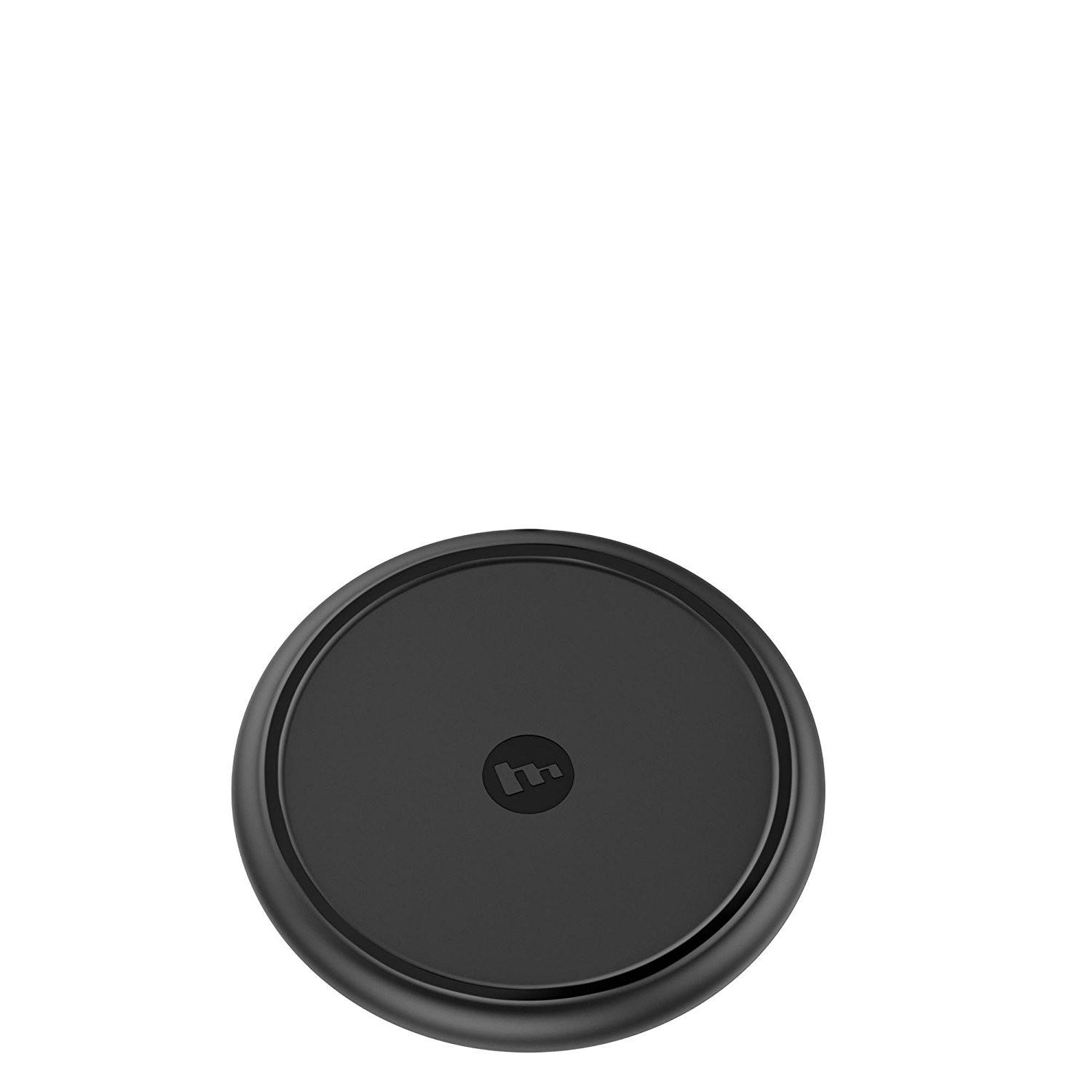 This is one of the best small rounded charging bases that is developed very recently with the collaboration of Apple and Mophie. This charging pad is designed to charge your iPhone X almost 50% faster than other standard charging pads. Besides, the support for 7.5-watt power is what allows you to enjoy the fast charging facility. The base is coated with a non-slip TPU material to offer the best security against accidental drops and scratches. Also, the surface of the Mophie charging base is stable enough to hold your phone securely.
Why you should buy this?
The charger is Qi-compatible which means apart from working on your iPhone X it also works with a good number of wireless-charging smartphones that were released in the last few years like Google Pixel, Samsung galaxy lines, Airpods or even Galaxy Buds.
The pad has an output of about to 7.5W of charge for connected devices.
Its Wireless Charging Pad has fail-safe circuitry that prevents overcharging as well as controls the temperature to prevent overheating.
One Of The Best Optimized Wireless Charger For iPhone X
Belkin BOOST UP Wireless Charging Pad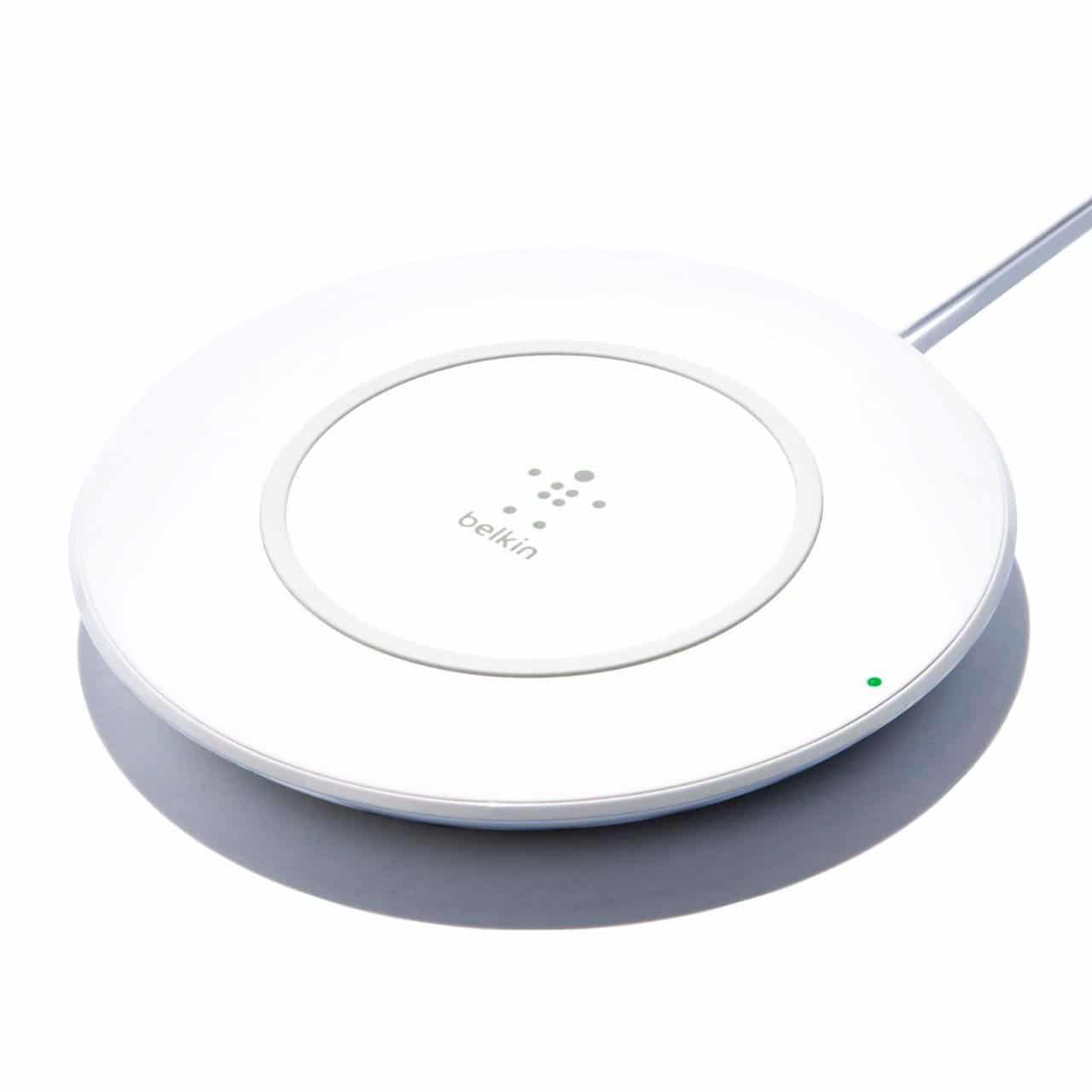 This is a 7.5-watt charging pad optimized especially for the new iPhone 8, iPhone 8 Plus and the iPhone X. It will charge the phone in a fast and reliable way. What you need to do is just place the phone on the small circular disc and the phone will start charging. The charging pad has a small rubber band in the middle to offer a good grip. A green LED light on the surface of the pad indicates if you placed the phone properly.
Why you should buy this?
The LED light detects foreign objects nearby like keys or coins, on the wireless charger that may possibly affect charging.
The single-chip solution offers universal compatibility to effectively charge devices at 5W, 7.5W, 9W as well as 10W
You can charge your iPhone X without removing the mobile cover case. The wireless charging Pad is optimally built to work with lightweight plastic cases which are up to 3mm
The Best Affordable Wireless Charging Pad
Anker Wireless Charging Pad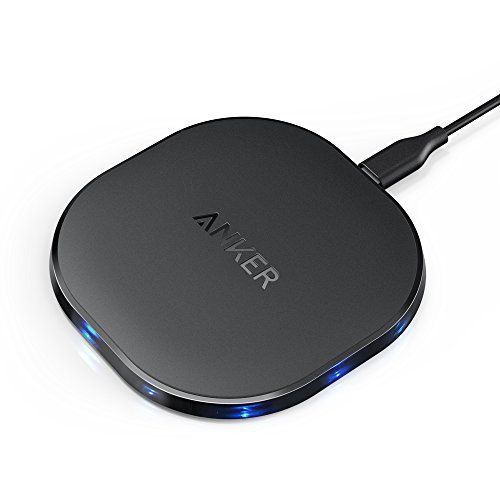 Anker is a reputed name in the world of accessories and their wireless charging pad is definitely a good one. Anker ensures to keep the price at the minimum so that all can afford to buy one. The Anker Wireless charging pad for iPhone X is available at an affordable price and it can charge the phone at 7.5Watt. Also, this charging base comes integrated with a multi-project technology that ensures short-circuit prevention, surge protection, and temperature control.
Why you should buy this?
The LEDs signify the device and charger status. The indicator will not turn off when charging is finished.
Revolutionary Wireless inductive technology that eases the charging into just setting your phone down on the wireless charging pad.
Speedy charge mode allows similar devices to wirelessly charge about to 2x faster
Best Feature-rich Wireless Charger For iPhone X
RAVPower Fast Wireless Charger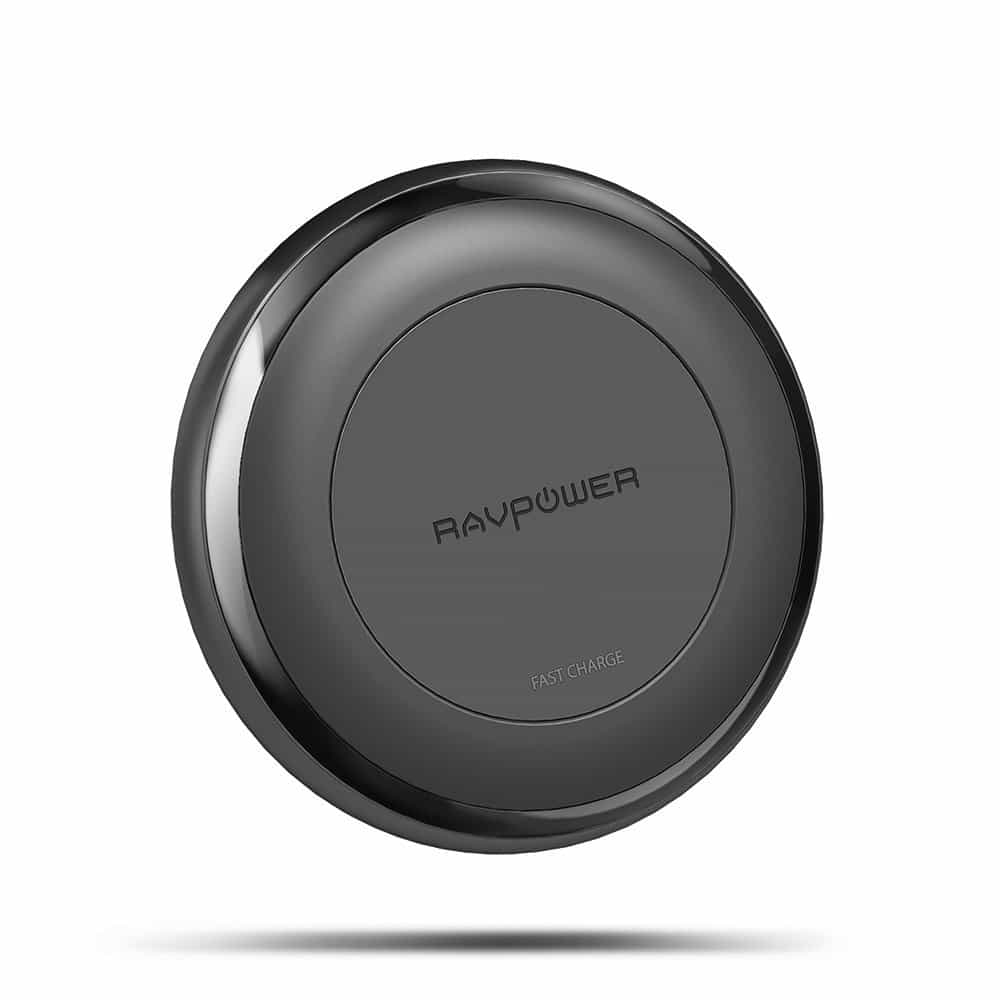 If you are looking for one of the best, most stylish and lightweight charging pads for your new iPhone X, this RAVPower Fast charging pad is definitely a good choice. This small circular charging pad supports 7.5 Watt output so your phone will be charged almost 50% faster compared to standard chargers. It has built-in over-voltage, over-current and temperature protection features. So you can be assured that your phone will not be damaged in any condition. Not just the iPhone 8 or iPhone X – all other phones that have support for Qi can be charged with this charging pad.
Why you should buy this?
Charges 20% faster than other wireless chargers available for iPhone X
The charger's body is built out of metal and has a silicone ring on the top to avoid the phone to slip off.
It includes a high powered adapter and top quality USB cable which can be a rarity.
Best Wireless Charger For iPhone X From Samsung
Samsung Fast Charge Stand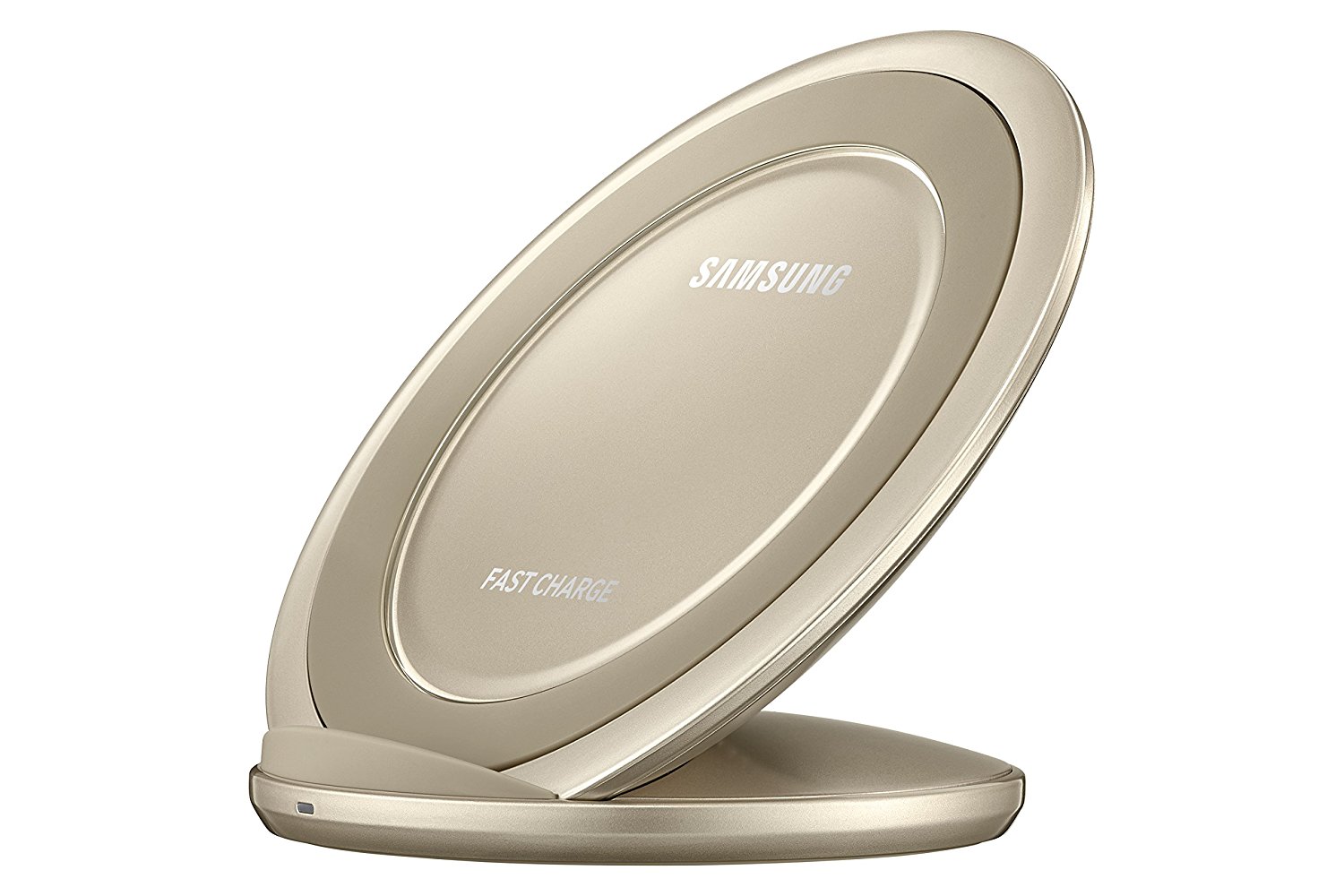 Looking for a wireless charging pad available in several color options? If so, then Samsung Fast charge stand is a great option to look for. It is an excellent wireless charger that holds the iPhone X in the upright position so that you can see the display perfectly. The integrated non-slip ring ensures your phone will not fall. Also, it comes with a built-in fan to keep the charging coil in the proper working condition. It is available at a very affordable price. In conclusion, this is a great option.
Why you should buy this?
A colorful LED indicator on the front shows its charging status.
The charger uses a USB-C cord, which is a standard across various devices.
Engineered with a built-in cooling that keeps the charger as well as the phone cool while in use.
The wireless adaptor comes along with a supplementary adapter and cable.
Apple's iPhone 8, iPhone 8 Plus, iPhone X, iPhone XS are compatible with the charger, however, the speed might slightly vary.
Best Car Mount Charger For iPhone X
SCOSCHE Qi Wireless Charging Car Mount and Charger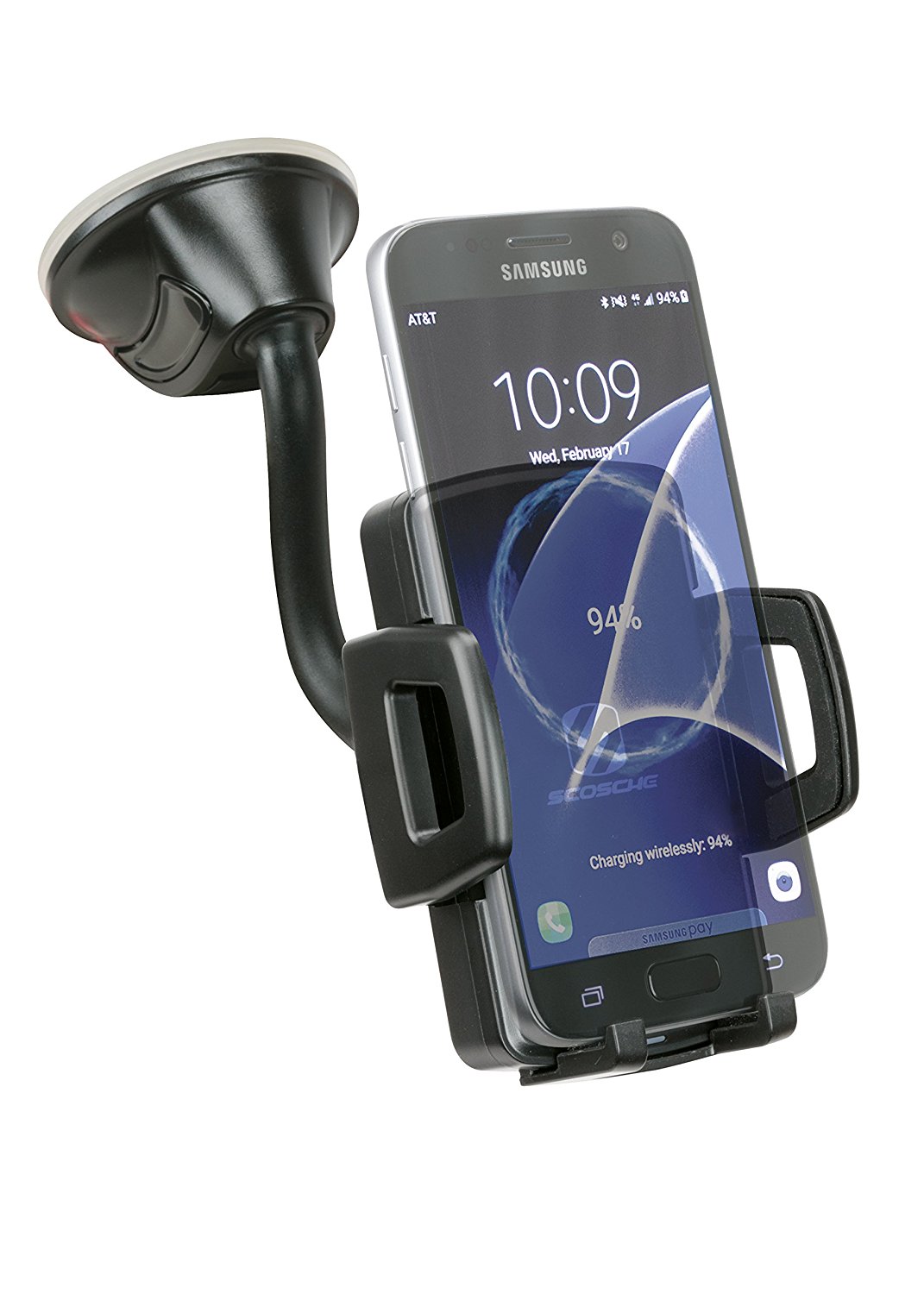 This is one of the best wireless chargers for your new iPhone X that is just perfect while driving a car. It has a suction-based grip where you need to mount the phone and it will start charging. Then, you can enjoy hands-free viewing, receive phone calls, read notifications, etc. hassle-free. Also, it can be adjusted 360 degrees to have a perfect viewing angle. Your phone will charge smoothly and in the fastest way through this excellent charging base. It comes with a 3-year warranty.
Why you should buy this?
Secures the iPhone X to the vehicle's dash, window or any other flat surface at home or office.
Engineered with a 360 Degree rotating neck for efficient view angles as well as stuck-up arms adjust to fit a smartphone, tablet or GPS devices which are up to 3.5 inches wide.
Built with a one-touch push-button design that makes it simple to lock and unlock the phone to the mount.
The Best Cheapest Wireless Charger For iPhone X
CHOETECH Type C wireless chargers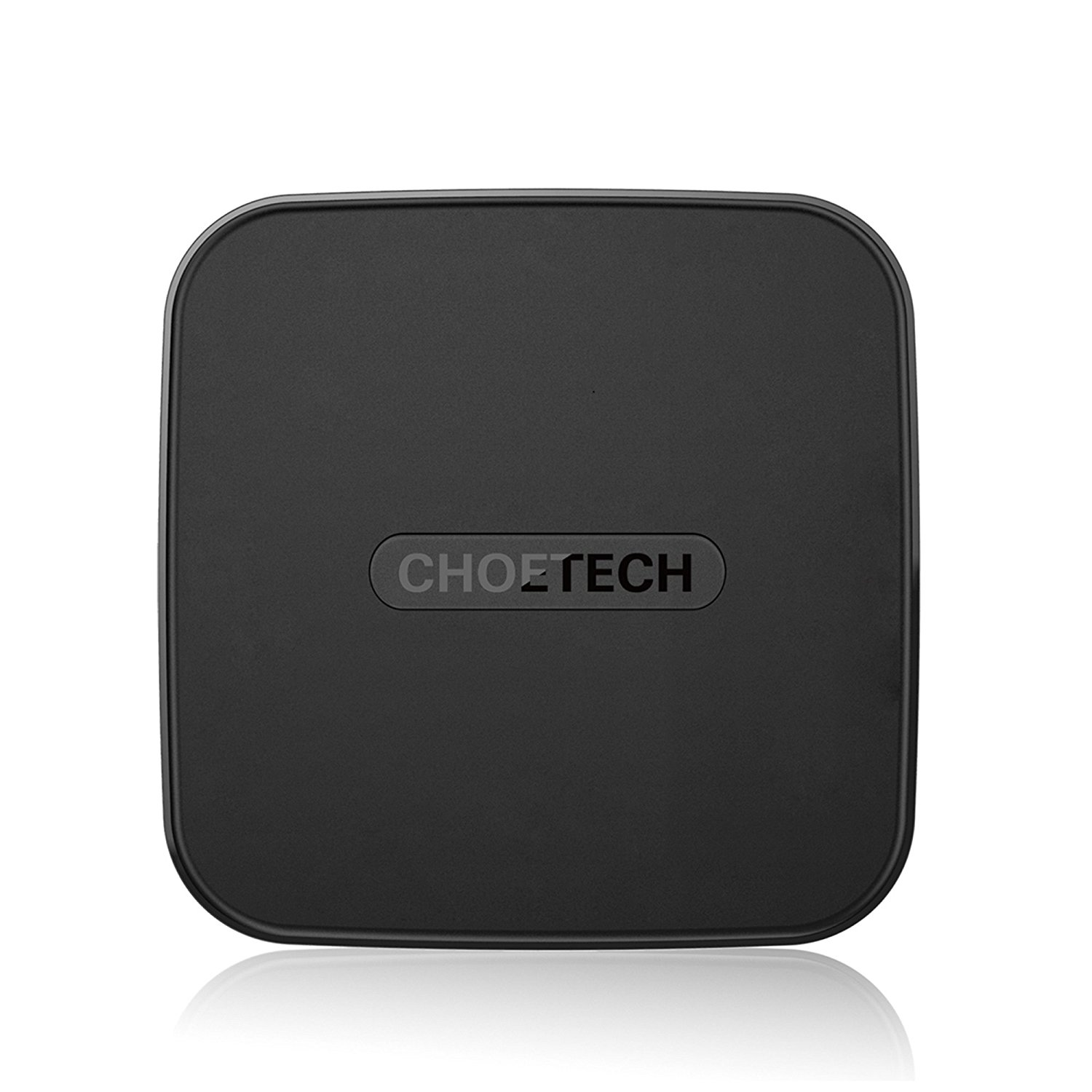 This is a simple wireless charger for iPhone X which is available at a very reasonable rate. If simplicity is what you are looking for, this charger is the best option to look for. It has a non-slip coat on the surface to hold the iPhone. Also, there is a LED indicator to show that your phone is charging. What's more, this charger is compatible with all other smartphones as well including all the Galaxy and Nexus devices.
Why you should buy this?
It enables fast wireless charging of your iPhone X up to 1.4x faster than typical wireless charging pads.
Engineered with a dim light LED indicator, aesthetic design and does not distract while sleeping.
The USB C port enables you to use the original adapter and cable that was provided with your iPhone X. So, you can now travel without extra cables and adapters and therefore it provides extra convenience as compared to the standard port wireless charger.
Stylish And Stable Wireless Charger For iPhone X
BEZALEL Futura X Qi Wireless Charging Pad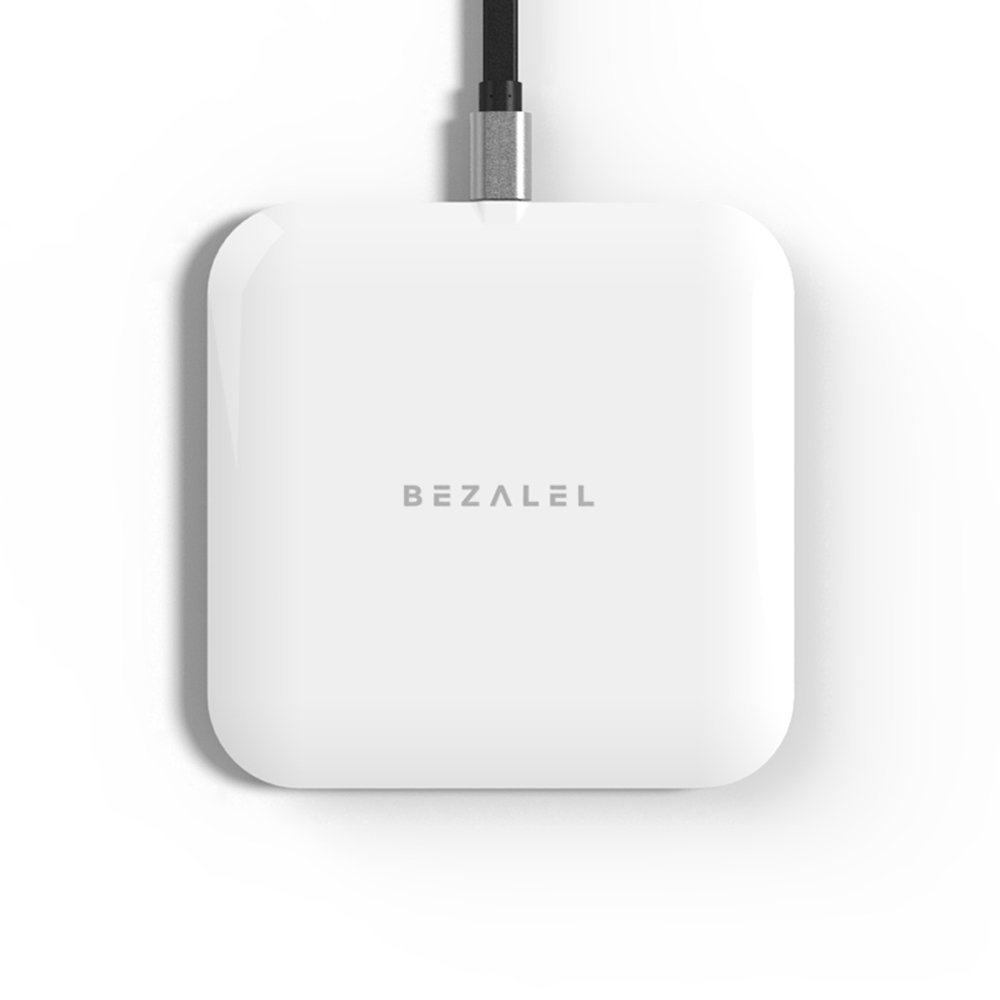 This is the last wireless charger on our list of the Wireless chargers for iPhone X. This one can charge all Qi-compatible phones including the iPhone X. Just place the phone on the stylish looking square-shaped charging pad and your phone will start charging. The internal cooling system is really good. It comes with a 1-year warranty, so if anything goes wrong within this time period, just call the friendly customer service and they will take care of everything.
Why you should buy this?
Futura X has a finely-designed internal cooling system that makes it distinctively stable and safe.
It is the thinnest wireless charger across the globe at present.
It is Qi-certified, which makes it absolutely safe and reliable.
Every component of the wireless charger from milled aluminum base to the radiant acrylic surface – embodies excellence.
See Also: Top best 15 inch laptops of 2021
Frequently Asked Questions
Will the wireless chargers for iPhone X work when the phone is inside a case?
Yes, with most regular cases, you can place the iPhone X for charging on the wireless charger pad and the phone will start charging. There have not been specific reports of the wireless charger not working with the case on. Some cases have extra projections in the rear. In such cases, the charging may not happen smoothly. For wireless charging, the phone's rear has to be fully in contact with the charger's pad.
Can other models of iPhones or Android phones be charged with the same wireless charger?
Check the specs in the product listing carefully. It must be possible to use the same wireless charger for iPhone X, as well as the other iPhone models with wireless charging capability. Android phones can also be charged with them. The details will be given in the product description section.
Can I use the wireless charger for iPhone X to charge my Apple Watch?
No, the wireless charger for Apple Watch is different and this iPhone X wireless charger cannot be used for that purpose. So it is suggested to go through the list of devices that can be wirelessly charged using the charger you propose to buy.
Do phones get heated when wirelessly charged?
Some minimal heat is definitely generated when phone batteries are charged whether through wired charging or with the wireless charger. It mostly depends on the exact type of battery fitted on the device you are trying to charge. If you find the heat is excessive, you better avoid charging that device with the wireless charger.
What are the benefits of wireless charging?
The main advantage of using a wireless charger is the ease with which you can remove the phone from charging, use it and then put it back to charge. There is no cord plugged into the device. If you are receiving an incoming call when connected to a wired charger, you will struggle to remove the cord and start speaking. With wireless charging, that is not the case. You simply pick up the phone and talk. The phone will automatically resume charging when you place it back on the charging pad.
Conclusion
These are the top best wireless chargers for iPhone X. Most of the chargers mentioned here are available in affordable ranges. So you can afford them easily to accessorize your highly expensive iPhone X. The cable attached to wired chargers does not really last for long and that is one of the primary reasons why you must invest in a wireless charger. When you buy iPhone X, it comes laced with the most advanced features. There is no point in entertaining the idea of using a cable to charge it. Wireless chargers have helped one get rid of many of the problems and inconveniences attached to a cable or wired device. Even if you own more than one iPhone, you do not need to have multiple cables when you have a wireless charger.