The key to advertising today is in creating professionally managed social media accounts on the most popular
The key to advertising today is in creating professionally managed social media accounts on the most popular applications. These include Twitter, Facebook, Instagram, LinkedIn, and YouTube. If you have a brand that you wish to build, then your best bet is in keeping it relevant.
With the many social media platforms available today, it is a chore in itself just to keep your accounts updated with the latest content pertaining to your brand. That is why it is important to invest in social media management tools for your iPhone. Below are the best social media management apps for iPhone.
See also: Best AI chatbot apps for iOS
Best social media management apps for iPhone
Hookle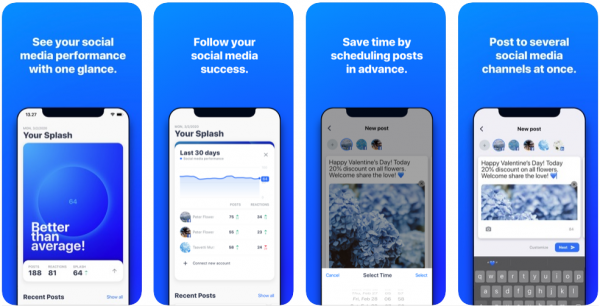 The developers of Hookle created this app with small businesses in mind. It was meant to assist these businesses to make time for both their business and their social media promotions through Facebook, LinkedIn, Twitter and Google My Business. And although the developers were originally for android, they realized later that they would cater to both iPhone and Android.
With Hookle, you are able to manage all your social media accounts from the app. That is scheduling posts to be published at a later date. You are also able to keep track of your social media reach and influence by using their unique Social Splash feature.
Likeable Hub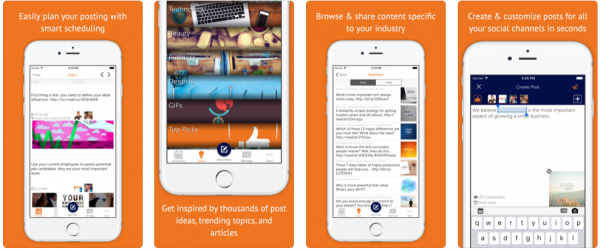 The Likeable Hub app is available on both your mobile phone and desktop. It allows you to post on multiple accounts including Facebook and LinkedIn.
The app also shares ideas and a newsfeed of current affairs, effectively providing you with content to share with your followers. You don't have to come up with the posts by yourself. You get industry-specific ideas depending on what your page is about. It could be about dentistry, media broadcasting, dry-cleaning or farming. At a fee, the app can schedule, curate and create content relevant to what your social media account is about.
And lastly, through the app, you can reply to the comments in your different accounts without having to log into the actual app, be it Facebook or Instagram. This keeps you from getting distracted with other people's posts.
Tailwind
This management app has a limit on the number of posts that you can make in the free version, so if it's a fit for you and you wish to keep using it, you will need to subscribe through a payment package. As for the featured offers, it is the most compatible with Pinterest as it allows the user to cross-post between Pinterest and Instagram, unlike other apps.
Another feature offered on Tailwind is that it has a folder of previously used hashtags titled 'Saved Hashtags' such that you don't have to type afresh if you wish to recycle a particular hashtag. You can also put said hashtag in the first comment rather than in the main body if that is your preference.
MeetEdgar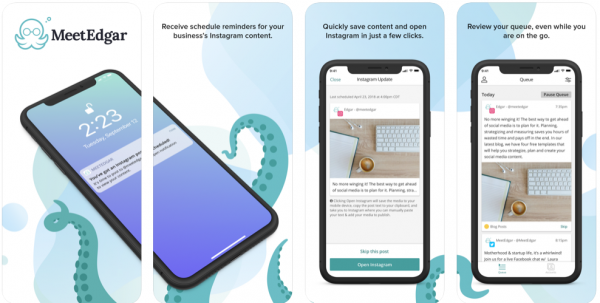 CEO and Founder Laura Roeder said that MeetEdgar was "created by a small business for a small business." As a businesswoman herself, she came up with the app in order to give the business owner time to focus on running the business and leave the social media management to the app, which she named 'Edgar'.
So, once you download the app, you start by setting up the accounts that you want Edgar to post to. The compatible ones are Facebook, Twitter, and LinkedIn.
The app also has a library where stored information can be shared and re-shared over and over again. For instance, when you're running a promotion that you want to keep in people's minds, Edgar does all the grunt work for you by reposting.
Smart Post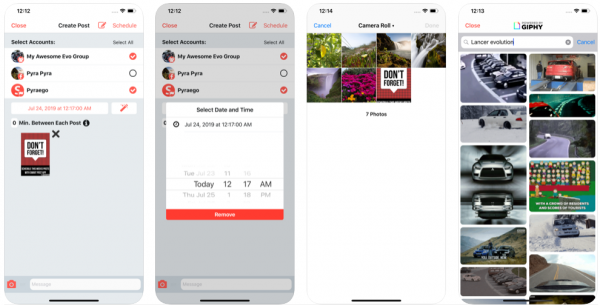 Smart post offers a free trial package that facilitates limitless social media accounts. This is great for social media agencies that represent multiple clients. Smart post caters to Facebook, Twitter, and LinkedIn and allows you to simultaneously post in all the accounts with the click of a button. There's also the option of scheduling the posts for a later date if you don't want to do it on the spot.
You can line up a list of a maximum of 50 posts in a day with the option to recycle and reuse posts from your history. The creators of Smart Post also allow you to check your previous posts from as far back as a month.
---