Selfies may have been there before cell phone cameras but they were not as popular. Twenty years ago, you had
Selfies may have been there before cell phone cameras but they were not as popular. Twenty years ago, you had to stop strangers and give them the responsibility of taking carefully-calculated clicks on your analog camera lest your camera ran out of the film.
Then with the emergence of the cellphone cameras, there came the phenomenon of selfies, which rendered second parties useless when it came to taking photos. You no longer had to stop strangers and ask them to become photographers.
Now, we have app developers coming up with ways of making sure that these selfies are, for lack of a better word, perfect. They have come up with editing apps. Some of the selfie editing apps for iOS users and their features will be discussed below.
See also: Best gift giving apps for iOS
Best Selfie Editing apps for iOS
Snapseed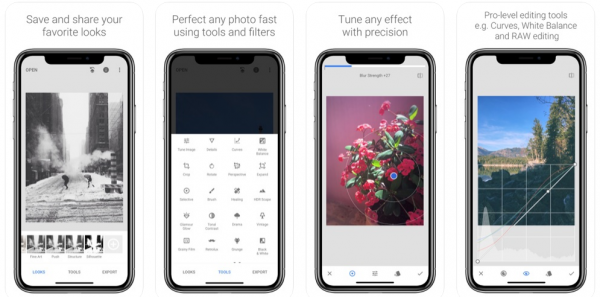 This app is free on the app store and more than that, it has no ads which can be quite annoying.
Log onto the app and retrieve your photo from the gallery. Under Tools, you can tune the image to add some color and consequently some life into it. This is just one of the many tweaks you can make with the endless options.
As you go about your editing, you can alternate between the 'Before' and 'After' of the image, helping you to compare and follow on your progress. Unlike most apps, it doesn't just edit whole pictures, you can choose specific areas of the picture that you want to work on.
Fabby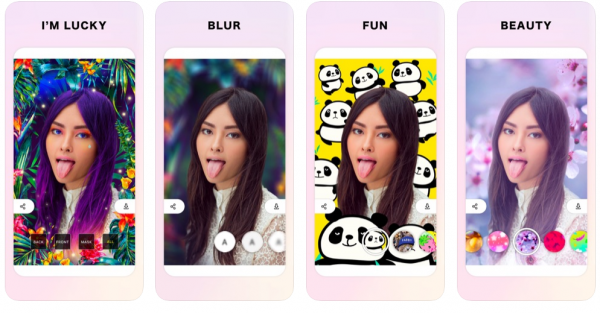 This app offers some background music as well as moving backgrounds for your selfies. Having a bad hair day? Worry not; Fabby takes care of this challenge by letting you choose from a selection of hairstyles as well as make-over effects if you didn't have time to powder your nose.
It performs the role of airbrushing by giving you clear skin, a perfect smile, and sparkling eyes thanks to its selfies-saving feature of digital beautification.
At the end of the day, this app does the wonder of transforming your simple phone selfies into professionally edited works of art. Fabby has the unique option of offering both photo and video beautifications.
Lensical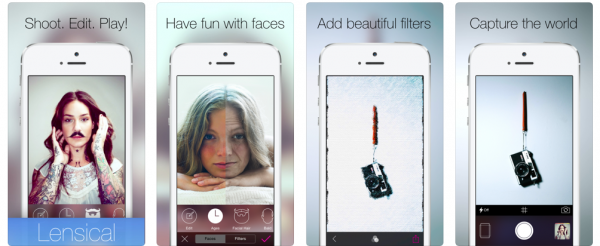 This is a free app within the App Store. It facilitates your phone in putting filters on your photos. Filters have the function of altering the appearance of a photo by changing the shades of the photo; you can preview the filters by tapping on each of them before settling on one.
You can also tap on the Faces icon for other options. What that means is that if you're taking a portrait or selfie of yourself, you can add the age filter. Under this option, you can add facial hair such as mustaches, beards or do away with it all and give the face a bald head.
And when you are done with the modifications, you can share the photo on Instagram, Twitter or Facebook.
Facetune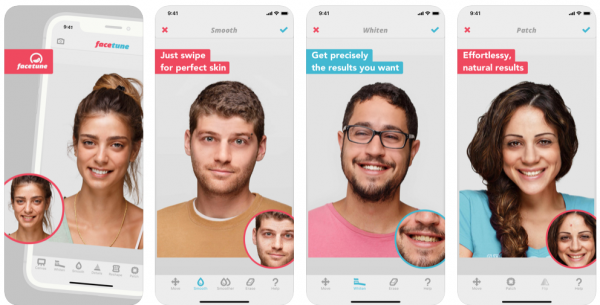 This app allows you to subtly enhance your natural features. You can apply some virtual make up to your face, you can make your teeth sparkle as well as re-align the shape of your face. It's what you would ask a plastic surgeon to do if you were to go under the knife. And after making the necessary modifications, you can upload the photos to your social media pages.
The app is not free and goes for $3.99 on the App Store.
Photo Lab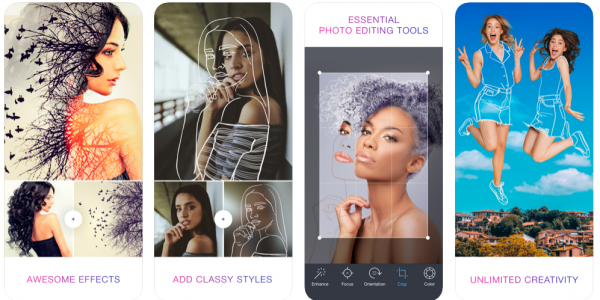 This app can add an artistic feel to your photos, making your photos looking like hand-drawn artwork, unlike photos.
Photo Lab in its editing stage also offers beautiful picture frames, there's an option of editing your face on the front of a magazine cover which, let's face it, most of us will never get to experience as well as the option of adding a variety of headgear including tiaras for those ladies who may wish to feel like a princess.
---