Our hectic schedule, lifestyle and individual relationships usually lead to stress and anxiety.  One of the
Our hectic schedule, lifestyle and individual relationships usually lead to stress and anxiety.  One of the best ways to relieve our stressful mind and reduce sleeplessness and other emotional disorders is to meditate. Meditation has the power to uplift your mood and erase all types of negativity in you. You no longer have to be a part of a community to learn meditation. There are several apps that offer detailed guides on meditation to both beginners and experts. Here is a list of best meditation apps for iPhone.
See also: Nintendo Switch Tips And Tricks
List of Best Meditation Apps for iPhone
Calm – Meditation and Sleep Stories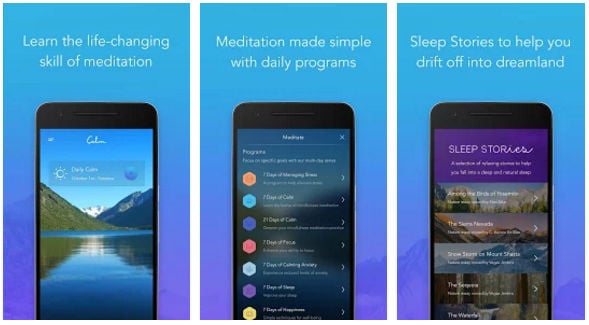 If you are experiencing sleep problems or want to meditate for other reasons, then Calm will guide you through this process. There are millions who are already benefiting from this app. Besides guided meditation, there are breathing programs, sleep stories and relaxing music. Some of the best mental health experts and psychologists have recommended this app as it is prominently helpful in de-stressing. Sessions for meditation are available for lengths between 3 and 25 minutes. So, you can pick a long meditation schedule while you are at home or pick the smallest one when you take a quick break in the office. Some topics included are happiness, deep sleep, gratitude, self-esteem, body scan, walking meditation, forgiveness, stress management and many more. There are more than 30 sounds and images from nature which you can use while meditating.
Download Calm – Meditation and Sleep Stories
Insight Timer – Meditation App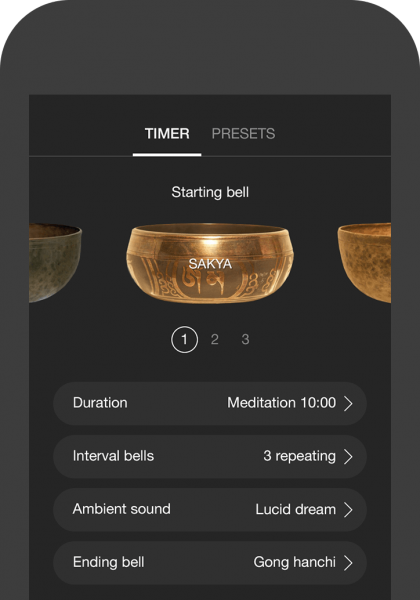 This is one of the most demanded meditation apps for iPhone. There is a lot of free content that this app offers to its users. It helps you to deal with stress and anxiety and lets you connect with mediators across the world and discuss your insights. You get help in sleep and also recover from bad habits and other addictions. There are more than 8,000 guided meditations and over 1,000 tracks designed especially for concentration and reflection. There are 500 various topics covered and several meditation teachers who you can follow to achieve your meditation target. It is also integrated with Apple Health so you can track your physical health. There are different ways through which you can keep a track on your progress in meditation. Paid subscribers get a couple of more features that are really useful. These include an offline mode, fast forward and rewind, repeat mode and pick-up right from where you left off.
Download Insight Timer – Meditation App
Simple Habit – Meditation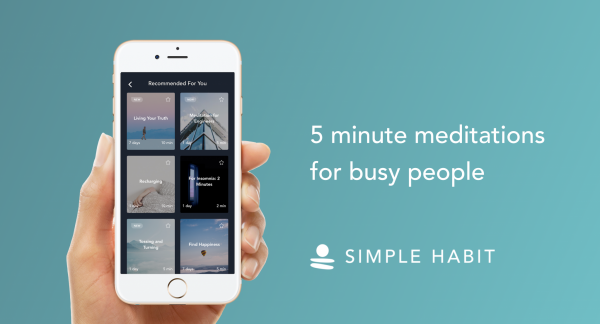 You can now de-stress yourself in five minutes with the Simple Habit app. Relax, breathe easily, improve your focus and sleep better. Bringing positivity in your life keeps you happy and optimistic in all the decisions that you take or events that come by your life. Simple Habit helps you become mindful and tackle all the challenges in your life in a calm and relaxed way. Guided meditation covers many topics such as depression, sleep, anxiety, work-stress etc. You can get unlimited access by paying monthly or yearly subscription and get the offline feature so you can meditate anytime.
Download Simple Habit – Meditation
10% Happier: Meditation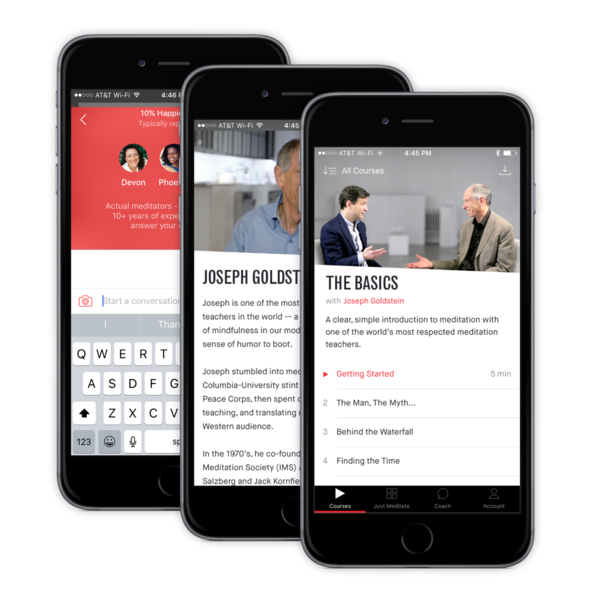 This is one of the best meditation apps for iPhone. You get free access to introductory courses and mindful meditations. The videos are simple and made specifically for the beginners. Guided meditations for walking and sleep-time will help you deal with stress and anxiety. You will never run out of meditation topics and new content is uploaded continuously. Mindful activities are simple and apply in areas such as eating, work, and personal relationships. You also get free access to a meditation coach who will guide you through the process of meditation. Human coaches add a personal touch to the meditation guides that you listen to. Paid subscribers get access to offline mode. The app has been recognized by New York Times. New meditation is uploaded fortnightly or weekly.
Download 10% Happier: Meditation
Breethe Meditation Guided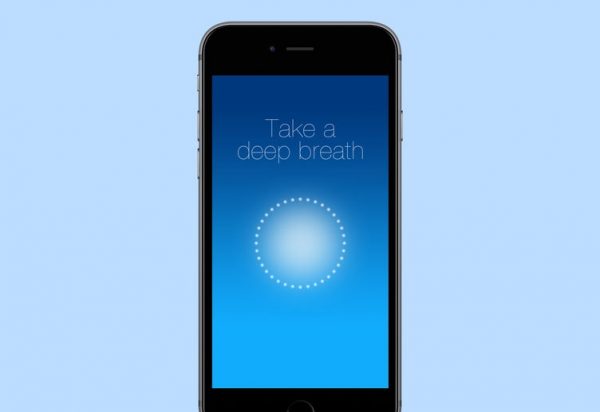 Breethe is also an easy to use app that offers various mindfulness meditations, healing, loving kindness and many others. Short tracks help you in breathing, improve your focus and help you with positive thinking. There are some very useful things such as reminders, saving tracks as your favorites for quick access, adjusting the level of music, etc. The sleep meditations are quite unique. You can fall asleep in no time and recover from any sleep disorders in a blink of an eye. Besides the regular meditation topics, you also get special meditations which include finding love, attracting abundance, dealing with anxiety and so on. There is a premium version as well.
Download Breethe – Meditation Guided
Stop, Breathe & Think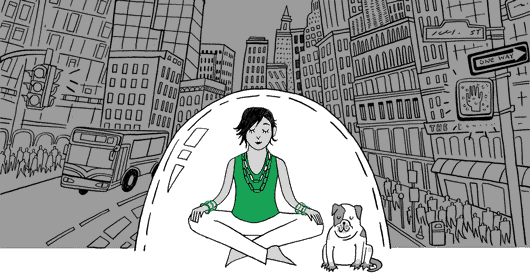 This is another award-winning app which has been helping its users to overcome their emotional tussles. There are over 30 free meditations, acupressure and breathing activities. You can time your meditation with different sounds and chimes and track your emotions before and after the meditation. You can check the tracker daily, weekly, total time that you have given for meditation etc. Meditation through this app lets you manage your reactions and emotions, helps you in approaching people and deal with different situations and deepens your conscience on your emotions and thoughts. Premium users can unlock more activities for you including 60 more meditations and other features. This is a wonderful app and among the top meditation apps for iPhone.
Download Stop, Breathe & Think
Take a Break! – Meditations for Stress Relief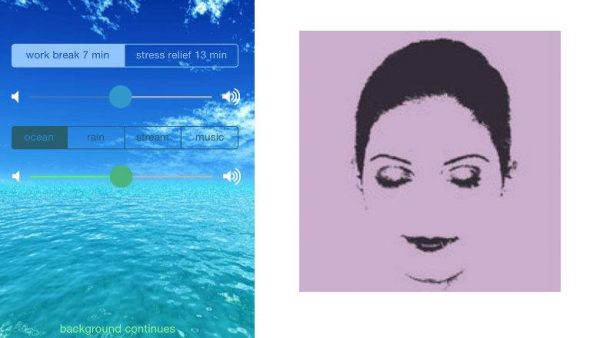 You never have to worry about stress anymore when you have to Take a Break! This app features voice-enabled step-by-step guide that helps you relax with ease. There are two apps audios which you can choose from – one is the stress relief meditation audio which has a session of 13 minutes and the other one is the work break relaxation that lasts for 7 minutes. You can have music or sounds from nature running in the background or you can select to listen to the guide without any sounds or music. You can also just listen to the music or nature sounds alone – they are quite refreshing and soothing. There are instructions mentioned which will help you follow the guide easily. The meditation instructors have more than 30 years of experience in this field which they share with you.
Download Take a Break! – Meditations for Stress Relief
Relax Meditation: Mindfulness, Sleep Sounds, Noise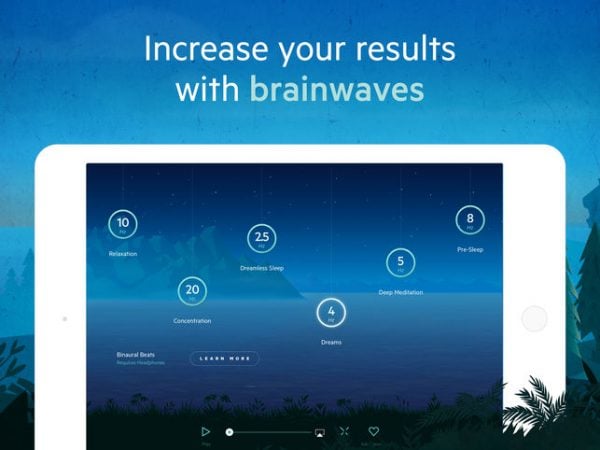 You can improve your physical and emotional health through this app that helps you uplift your mood and shows you the path of happiness by having a positive attitude towards life. The Relax Meditation app will help you overcome the negativities and become more thoughtful. It will help you in dealing with different situations and hurdles that you come across in your life. With the app, you can improve your productivity, sleep peacefully, make better relationships, be happy and contended always, increase your focus and understand yourself deeply. The app makes mindfulness so simple that one can understand it in just 10 minutes. The program has been designed in a way that all age groups can follow it easily. Special meditation programs cover topics like creativity, success, relationships, self-esteem and more. If you are looking for instant emotional relief then resort to the S.O.S sessions. Over 50 free sounds wait to soothe your mind. You can create a custom melody for yourself too.
Download Relax Meditation: Mindfulness, Sleep Sounds, Noise
Meditation Studio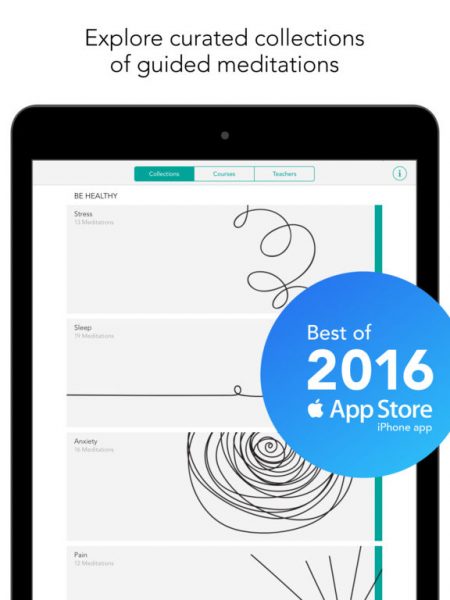 Forbes, TIME and Apple have recognised this app to be one of the best meditation apps for iPhone. From boosting your confidence to bringing you out of depression this meditation app can be used even by the kids. There are many important courses that are covered in this app which include changing habits, sleep basics, starter series, uncovering happiness, mindful work and many more. You can also create an unguided meditation with start, internal and end sounds. There are many tracks to select from which you can have as your background music. You can add guided and unguided meditation sessions in your favourite library and play them even when you don't the internet connection. You can also schedule your meditation time and keep a track on how you have been progressing through meditation.
The Mindfulness App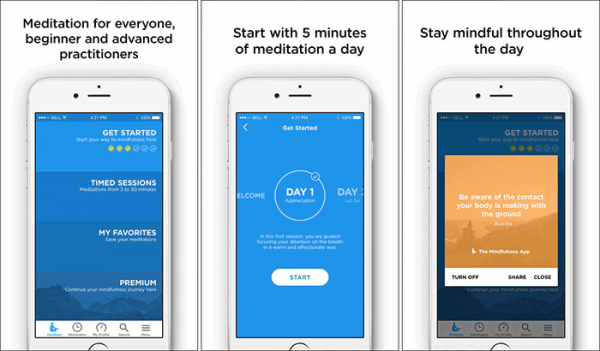 Meditators all over the world love this app and use it routinely to heal themselves. The beginners can make use of the 5-day guide where they are introduced to mindfulness. There are sessions for meditation which last between 3 and 30 minutes. You can also customize your sessions with a guided introduction. Tools such as mindful notices and reminders for meditation help you be thoughtful throughout the day. You can also keep a track of your meditation path. Premium users get access to additional meditations that have been made by some of the best meditators. Premium subscribers get unlimited access to courses and meditation topics on relationships, calm etc. The content is updated regularly so you can get new ways to meditate. There are sessions from influential teachers that will never let you get bored and you will soon become a pro in meditating.
These are the top best meditation apps for iPhone to download.
Read also- Top Best Meditation Apps For Android
---