Mobilebezz is supported by its audience. We may get a commission from retail offers
Apple iPad is the next best thing you can get to a laptop or a computer because it can handle high-end games,
Table of Content
Apple iPad is the next best thing you can get to a laptop or a computer because it can handle high-end games, is a great choice for binge-watching Netflix series, and ideal to send e-mails, check messages. When you pair your new iPad with the best iPad accessories including productive cases, chargers for people on the move and additional accessories like Bluetooth keyboards, etc. it becomes the best portable device that you could own! Here's a handpicked collection of the best iPad accessories you should own to get a complete experience.
See also: Top best iPad Pro cases and covers
Best iPad Accessories Best iPads Cases for Safety and Productivity
The Toughest and Safe iPad Case
Zugu Case 9.7-inch iPad 2018/2017 Models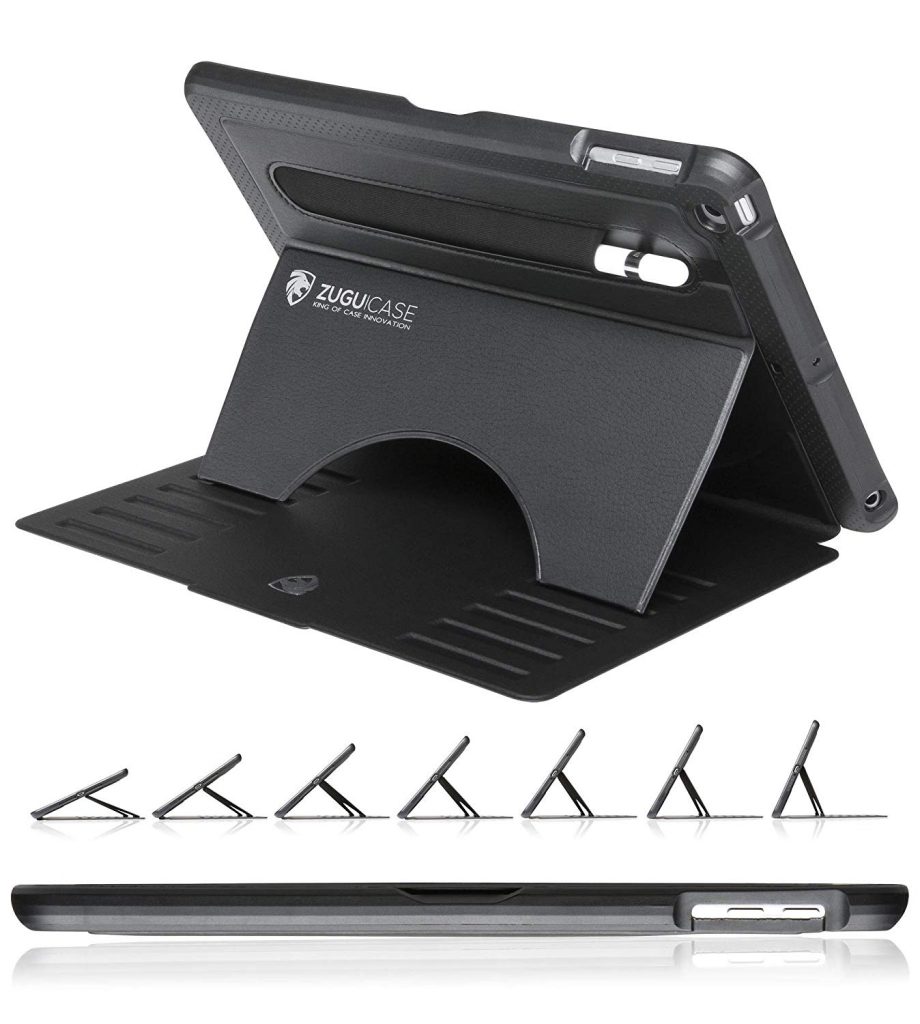 Right from the first look, you can easily make out the fact that the Zugu case is designed to be a rugged and durable accessory for your iPad. If you own the latest 2017 or 2018 models, it should fit well and there is also the iPad Air 1 that fits into this. The hard shell on the outside ensures even if you accidentally drop your tablet from a height of five feet, it will remain intact, which shows the reliability of this product.
The backside of the case is made of a hard, plastic shell and it comes with an integrated stand. A lot of users rely on their iPads for media consumption and the convenient stand makes it easier to make video calls or watch movies while you do other things. The stand can be adjusted in various positions to watch videos or to type in a near-flat angle if needed. The case is also available in attractive, multiple colors including red, blue and purple so that you can choose the one that you like the most.
The magnetic area on the lid will wake up the display as soon as you open the case. It keeps your Apple iPad 9.7-inch model always ready to be used. The product comes with a one-year warranty period. You have to ensure the compatibility of your model to get a great fit. The case wouldn't work with a 10.5-inch iPad Air model released in 2019 but will perfectly fit all models from the past two years. It has all the slots required to let you easily access the ports and there is even a dedicated slipcase for you to keep your Apple Pencil if you own one or plan to purchase it.
What Makes the Zugu Case the Best?
It is sturdy, built to last long and can easily protect your 9.7-inch iPad even from a 5-feet drop.
The integrated stand is very handy as it can be placed in different angles to suit different occasions.
Recommended For:
People who own the iPad 9.7-inch models (2018 and 2019) with a need to have a sturdy yet useful case. The Zugu case fits perfectly and closes crisply as it comes with a magnetic lid. Also included is a pouch for your stylus. The case is made of premium materials that justify the price tag.
See it on Amazon
Multiple Color Options for the New 10.5-inch iPad Air
Ztotop Case for iPad Air 10.5-inch Premium Leather Finish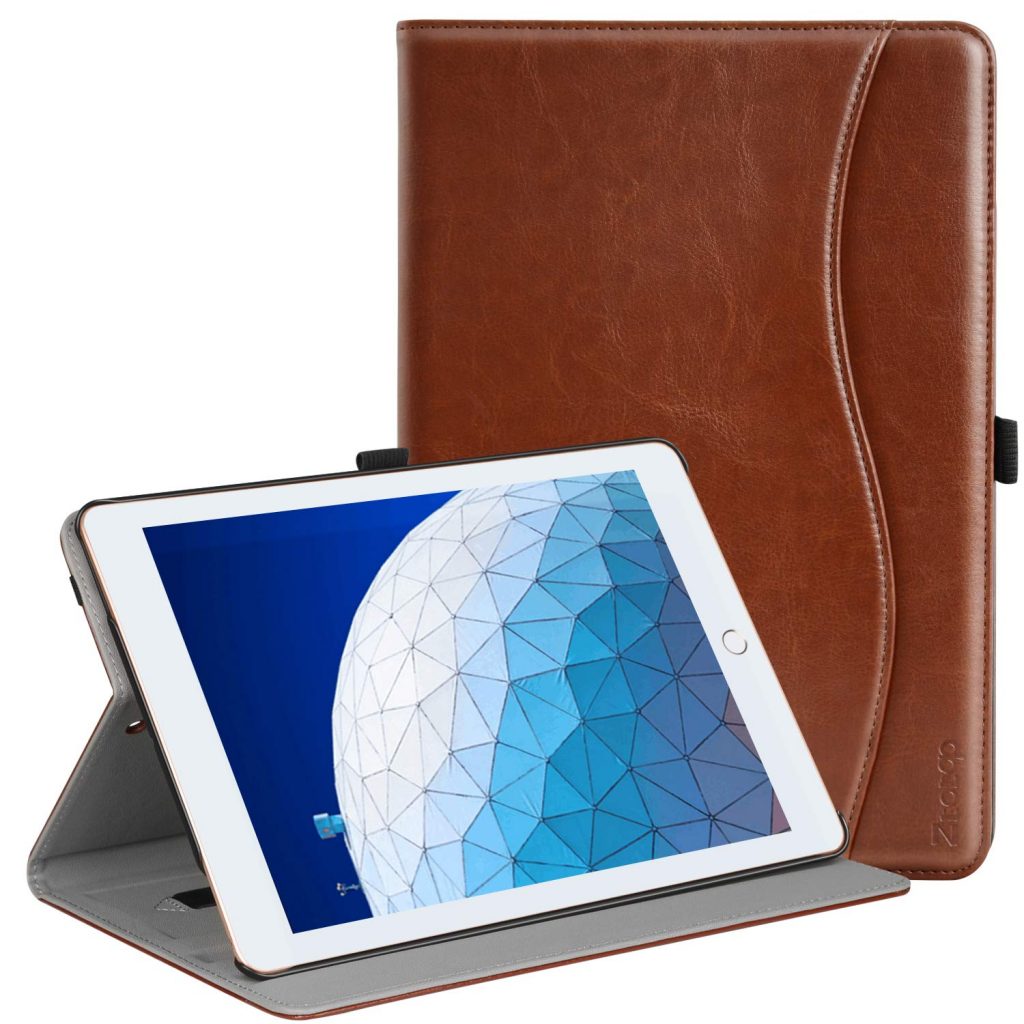 Before purchasing your new case, you should always check for the model number mentioned on the back of your iPad to make sure the case would fit perfectly. The Ztotop case is primarily designed for the iPad Air 10.5-inch released in 2019 and it is also compatible with the iPad Pro 10.5-inch model released back in 2017. The case looks premium as it is made using leather material and feels good to hold when you are browsing the web, watching videos or typing out e-mails.
The larger iPad offers more screen real estate to work with and this case will fit it just perfectly. The soft material makes the iPad feel good in your hands and it also comes with a leather hand strap. The strap will let you hold it for long hours without any strain on your hands. It also has a dedicated pencil holder in case you plan to buy the stylus or already own one. The pocket on the inside can be used to hold business cards or other such items so that you can retrieve them easily.
The magnetic smart cover which Apple made so popular is now available on all cases. It will automatically wake up your iPad when you open the cover and it will be ready to use. The cover can be folded into different angles allowing you to watch videos comfortably or type messages very conveniently. There are plenty of other models and designs too, coming in colors such as denim black, blue, red, and pink. They are made of varied materials from which you can choose your pick.
What Makes the Ztotop Case for iPad Air 10.5-inch Great?
The iPad case has been specifically designed for new models and also includes convenient features for holding your pen or cards.
The leather material feels awesome in the hands and is very comfortable to hold.
Recommended For:
If you own the newest iPad Air or the older version with the 10.5-inch display, you will be hard-pressed to find another case that is as good as this one. The leather material, choice of colors and the convenient extra pouches make it an all-rounder iPad case.
See it on Amazon
A Beautiful Case for the Larger iPad Pros Out There
Ztotop Case for iPad Pro 12.9-inch 2018 Model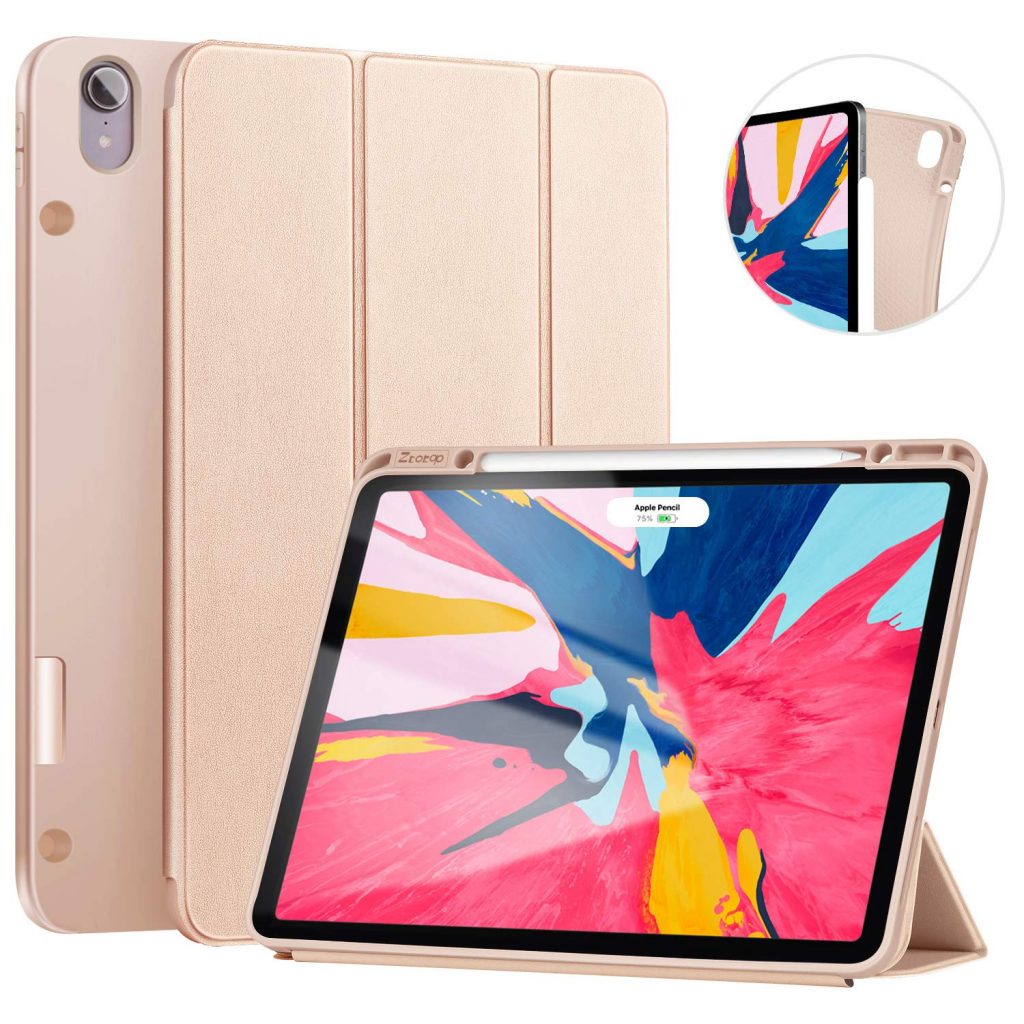 Not everyone will quickly go for the iPad Pro because they are more expensive and have an exceptionally large display to make use of. However, if you own one or are planning to buy one, make sure to pair it up with the right case because this Pro model is all about productivity. The Pro model is best experienced with the Ztotop case designed for the iPad Pro 12.9-inch 2018 model. The case is pretty rugged but at the same time has a very appealing and stylish look on the outside.
The case is made using a premium PU exterior layer which protects your iPad against any accidental drops. The inside is layered with TPU material which is soft and protects the back of the device from any accidental scratches. One thing that this case assures and delivers is excellent protection when you take your iPad Pro out to college or office every day. The dedicated slot for your Apple pencil helps increase productivity as you don't have to carry it separately.
Similar to most other cases, this one is equipped with a magnetic strip that automatically wakes up your iPad each time you open the lid. An air cushion inside also takes care of the excessive heat in case the Pro gets hot during graphics-intensive tasks or gaming. The case fits perfectly around this large iPad and it also comes with a different angled stand that allows you to place the large tablet in a convenient position based on your activity.
What Makes the Ztotop Case for the iPad Pro 12.9-inch 2018 Edition a Great Fit?
The case has been specifically made to fit the iPad Pro model released in 2018.
It is made using tough materials that protect the inside as well as the outside from accidental drops.
The feel of the material is great and it is available in different colors including navy blue, purple, rose-gold, and dark green
Recommended For:
The Ztotop Case has received some rave reviews and fits the iPad Pro perfectly. It is sturdy, has colorful options available, and the flexible case can also hold the pencil in a dedicated holder area allowing professionals who use it extensively, easy access to the pen at all times.
See it on Amazon
A Stylish Case Which Protects and Promotes Productivity
ProCase iPad 9.7 Stand Folio Case for 2017/2018 Models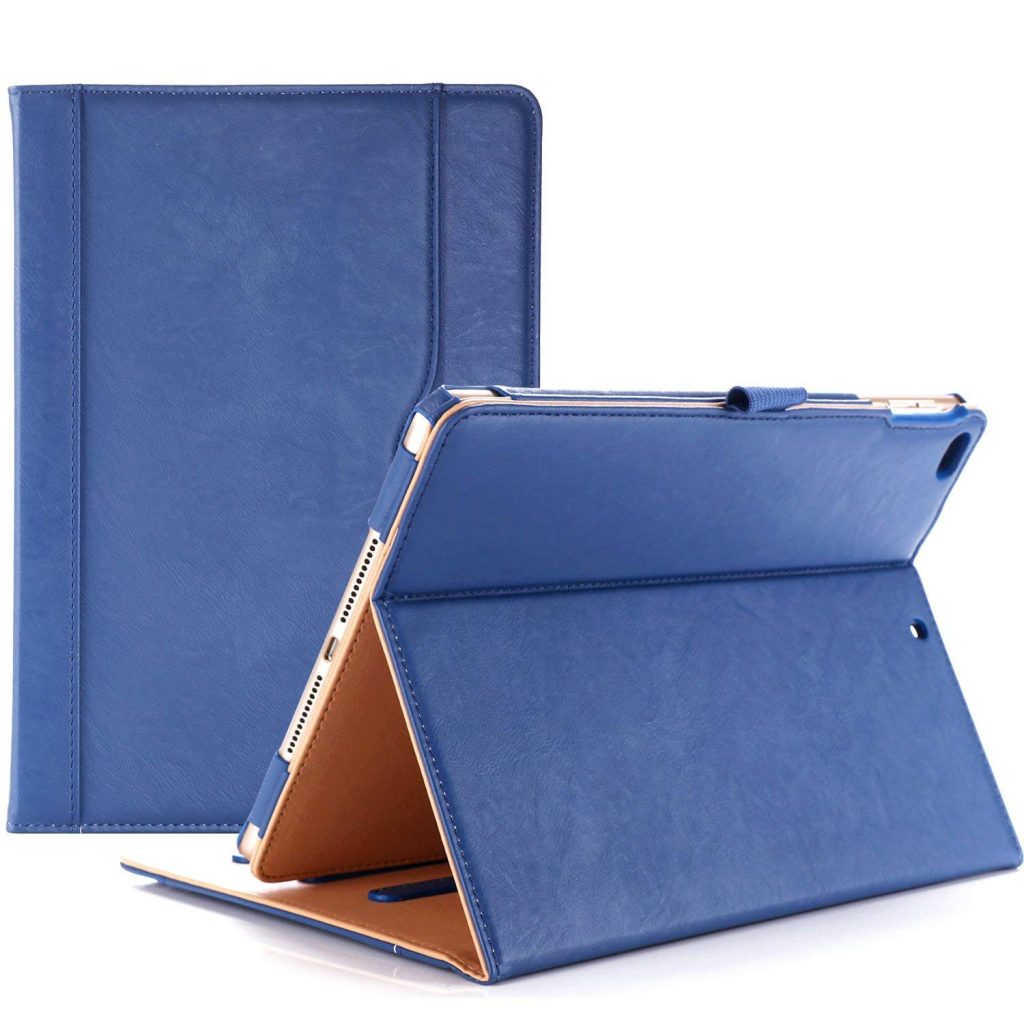 The ProCase is quite impressive in terms of design and it is available in multiple colors including Navy Blue, Leather Black, Brown, Grey, Red, and many others. While you can choose the color that best fits your taste, the material, and quality of the case remain the same throughout the collection. The manufacturer even offers some unique designs with floral patterns, checkerboard, and colorful circles to spice up your iPad.
The case is made for iPad 9.7-inch model released in 2018 and 2017 while it also fits older iPad Air models that have the same display size and cutouts. In terms of protection and ease of use, the case is made using high-quality leather material which provides a very comfortable grip on the outside. The interior is soft and ensures your iPad stays free from any accidental scratches. The magnetic cover as found in any other case wakes up the iPad as soon as you open it and puts it down to sleep when closed, saving battery.
The ProCase also doubles up as a productive carry case for cards allowing you to keep your cards inside it. There is a dedicated folder for the Apple Pencil or any kind of stylus you might want to pair up with your product. The standard iPad is one of the most popular products out there because the newer versions are much expensive and this old iPad also has all the ports as well as a home button. If you are opting for a different model but the same screen size as 9.7-inches, you will still be able to use it with this case.
What Makes the ProCase Stand Folio a Great Choice for iPad?
The leather exterior of the case is very handy and comfortable to hold.
There are plenty of color choices available for this case model that lets you add some flavor to your device.
It has an additional cardholder making it more useful.
Recommended For:
If you love a comfortable and stylish case, the ProCase should be on the top of the list. The case has a nice leather exterior which feels extremely good and comfortable to hold especially when using it for long hours. When you need to keep a stylus in the case, you can do so easily in the provided holder.
See it on Amazon
Best iPad Accessories – Keyboards for Professionals and Students
A Compact Keyboard Designed for Easy Travel and Use
Omoton Ultra-Slim Bluetooth Keyboard for iPad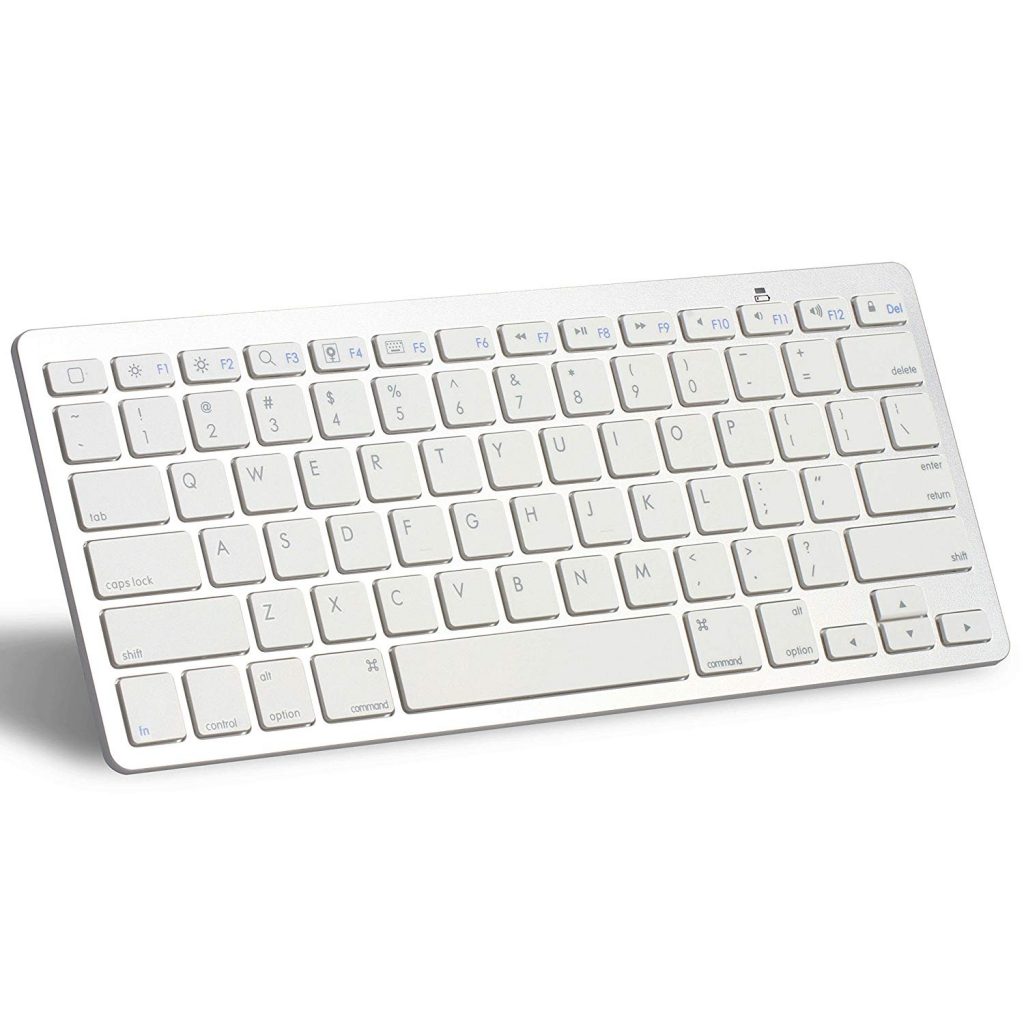 The advantage of going for a Bluetooth keyboard or any other keyboard for that matter is that you can easily use it with a wide range of devices. The Omoton ultra-slim Bluetooth keyboard works seamlessly with every iPad model including the Air, Mini and the latest versions released in 2018 and 2019. The BT keyboard can be comfortably used without any cables and is hassle-free as you can take it to the office, for travel or to college, whatever your usage scenario is.
The Bluetooth technology used in the keyboard is the latest version making it compatible with all devices and not just the iPads. You can even use it with the iPhone XS Max if you want more productivity out of your smartphone. While the overall footprint of the keyboard is quite compact, it has still been designed in such a way that the QWERTY layout is easy to use. Surprisingly, the manufacturer has managed to implement volume and brightness controls on this thin keyboard making it all the more convenient to use.
When opting for the Omoton ultra-slim keyboard, you can expect it to be easy-to-use and suitable for all user groups. The battery life is pretty impressive as it can last an entire month. When not in use, the keyboard will automatically enter a sleep mode to save power. All you need is 2 AAA batteries and you should be good to go for weeks. It can be carried in a pouch or bag. The product comes with a 1-year warranty.
What Makes the Omoton Ultra-Slim Bluetooth Keyboard a Great Pick?
The keyboard is compact and easy to use even on the go.
You can rely on battery life that lasts an entire month.
It has volume and brightness buttons to adjust these features easily.
Recommended For:
All kinds of users who are on the move or require a compact keyboard for their iPad.This product has a great battery life, a cool design, and can be stored in any bag without much difficulty. Its Bluetooth capabilities are good too as it works with a wide range of iPad models and even other devices such as the iPhone XS Max, etc.
See it on Amazon
Backlit Keyboard Designed to be Used in Varied Lighting Conditions
Arteck HB030B Bluetooth Keyboard with 7-Color Backlit Design
The Arteck HB030B is a unique product in many ways because compact, Bluetooth keyboards usually do not come with backlights. The keyboard not only has seven different colors to choose from but is also designed to be compact and easy to use with your iPad models. Whether you have purchased the newly launched iPad or have an older version, this will be perfectly compatible and is easy to connect.
The keyboard is not only about backlights which some people may or may not like but it also comes with a rechargeable battery. The feature allows you to carry the keyboard anywhere, be it college, office or on trips and you can recharge it in case the charge gets drained out. Moreover, the charge can last six months if your usage per day is approximately two hours of typing and browsing the internet.
With a compact design, you can easily pair up the Arteck HB030B keyboard with your iPad and carry it everywhere in your backpack. The backlighting makes it easier to use the keys even in pitch black conditions and the included lithium-ion battery ensures it works continuously despite having a bright light shining at all times. You can also choose the brightness level to keep it under optimum reading conditions and an auto-sleep feature which helps with better battery management in the long run.
What Makes the Arteck HB030B Bluetooth Keyboard Excellent?
The build quality is excellent and it looks great when you switch off the lights to use the keyboard in an office environment.
The choice of colors makes it appealing to users.
Battery life is excellent at nearly six months and it can be recharged.
Recommended For:
This keyboard is a cool choice for people who love colors. Ideal for those who need to work in the dark on their favorite iPad. It is equipped with a rechargeable battery and the moderate pricing makes it an easy pick for anyone looking for a good quality keyboard that works.
See it on Amazon
An all-Purpose iPad Keyboard with Compact Design
Logitech Bluetooth Multi-Device K480 Keyboard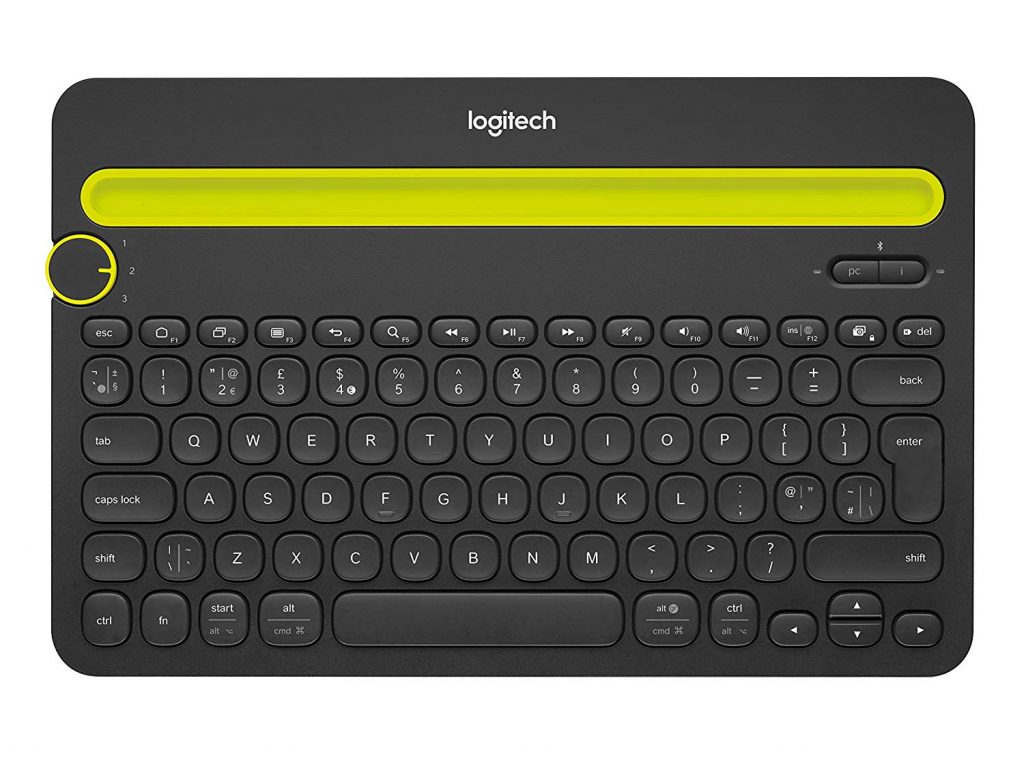 Logitech is a brand that excels at bringing out good quality keyboards and mouse among other accessories. If you are looking for a reliable and compact keyboard from one of the best brands, the Logitech K480 multi-device Bluetooth keyboard is an excellent pick. The first thing that impressed us is its build quality which is kind of expected from such a reputed brand. The grey color combined with the yellowish tone on the keyboard ridge makes it all the more appealing.
The keyboard is indeed universal as the marketing materials call it because you can easily use it with a wide range of iPads including the 9.7-inch model and the iPad Pro by placing it in a different direction. There is always the option to make use of the iPad case stand to give you a comfortable view while connected to this Bluetooth keyboard. Another added advantage is that it has dedicated buttons that allow you to connect the keyboard to multiple iPads, other tablets or even PCs while being able to seamlessly switch between them.
The Bluetooth range is pretty good as it connects easily up to 33 feet/10 meters and the easy switch button lets you go back and forth between three different devices. There is no need to manually pair the keyboard multiple times to use different devices that are placed on your work table. The rubber-like finish feels good in the hand and even though the product is compact, the keyboard hardly causes any hand strain and you can use it comfortably for extended hours.
What Makes the Logitech K480 Keyboard an Ideal Solution?
The compact design is useful as you can carry it anywhere.
The keyboard can be connected with three different devices at the same time and you can switch between them using the dedicated button.
Compact keys that don't strain hands when typing continuously.
Recommended For:
Logitech K480 has a nice, stylish, compact finish, and the keyboard will suit many different professional usage scenarios. Users who type a lot and have multiple devices like iPads, smartphones, and computers to connect with, should find this multi-purpose quality keyboard from a trusted brand very useful.
See it on Amazon 
A Keyboard Embedded into a Case for Improved Usage
Yekbee iPad Keyboard Case for New Models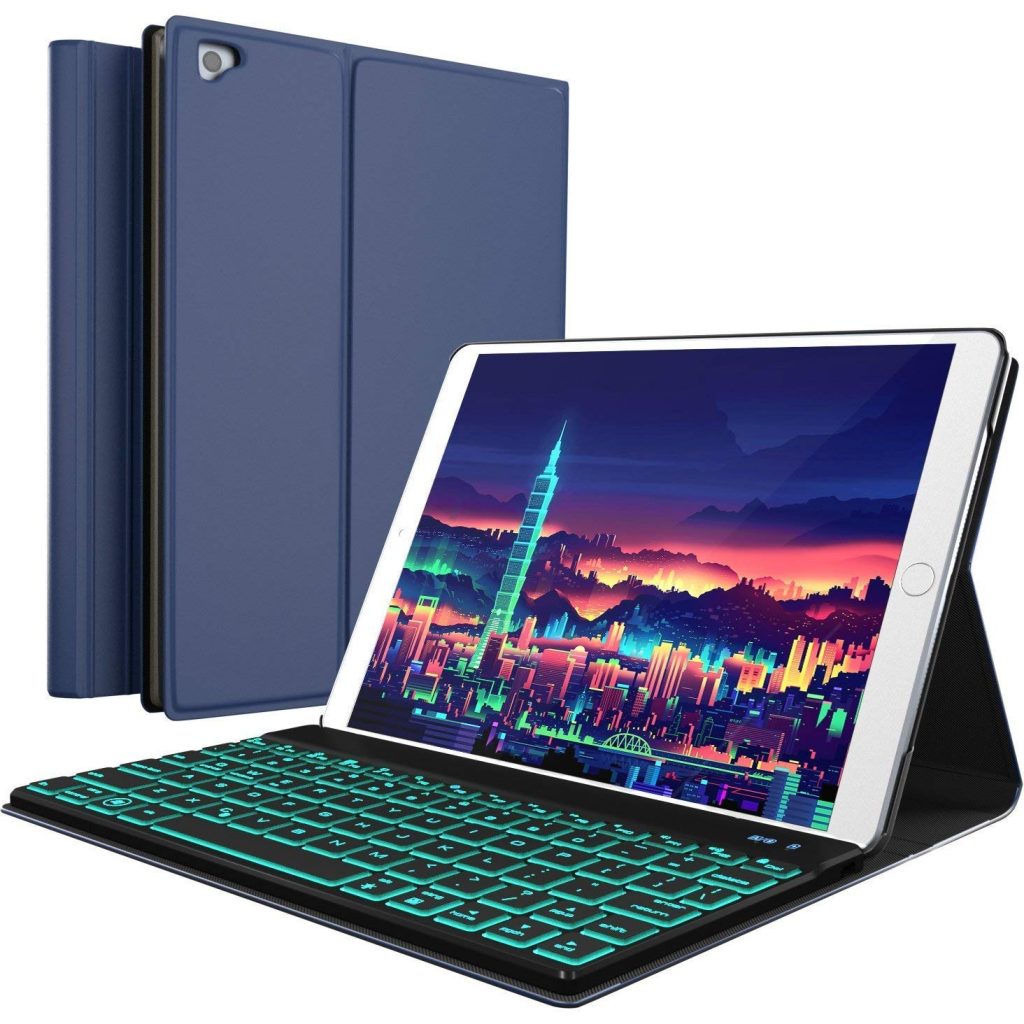 The iPad keyboard case designed by Yekbee has a premium finish to it. While you do have the color options including black and pink, the blue variant was our top pick. The keyboard is attached to the case and when you spend the $40 for the product, it includes everything bundled into one compact package. Considering the large size of the iPad Pro and the 10.7-inch models, you may not find too many variants that will suit the product.
However, the iPad 9.7-inch models released in 2018 and 2017 are the most favored ones among retailers and consumers. There are dozens of keyboards and cases available for this particular size providing you plenty of choices to choose from. The keyboard can be adjusted while the case stand is fully adjustable to nearly any angle that you need to use it from comfortably. The keyboard is backlit which is another unique feature and there are about seven different colored lights to brighten up the mood.
The Yekbee case typically converts your iPad into a laptop but the convenience is that you can always remove the case or just flip it open so as to use it in tablet mode. The color choice is excellent as the blue looks very premium and posh. The same goes for other color choices as well if you would prefer them over this one. The case protects the iPad as well as the keyboard as it is made using hard ABS plastic material while a leather exterior enhances comfort levels while gripping your tablet.
What Makes the Yekbee iPad Keyboard Case a Cool Choice?
The keyboard is merged into the case so that it is easy to carry around and improves the overall usability of the combo.
Easy to use in the dark, thanks to the backlit keyboard with the choice of seven different colors.
It provides great protection with a hard case yet feels good in the hands because of the leather material used on the outside.
Recommended For:
For those who use the keyboard a lot with their iPads, the keyboard by Yekbee is the perfect all-round solution. The keyboard case provides multiple angles to view content. It feels good to hold and provides good protection to your iPad from accidental drops.
See it on Amazon
Convert Your iPad into a Mac with this Desktop Stand
Lamicall iPad Desktop Stand for iPad Pro 9.7-inch, Air, iPad Mini, and 10.5-inch iPad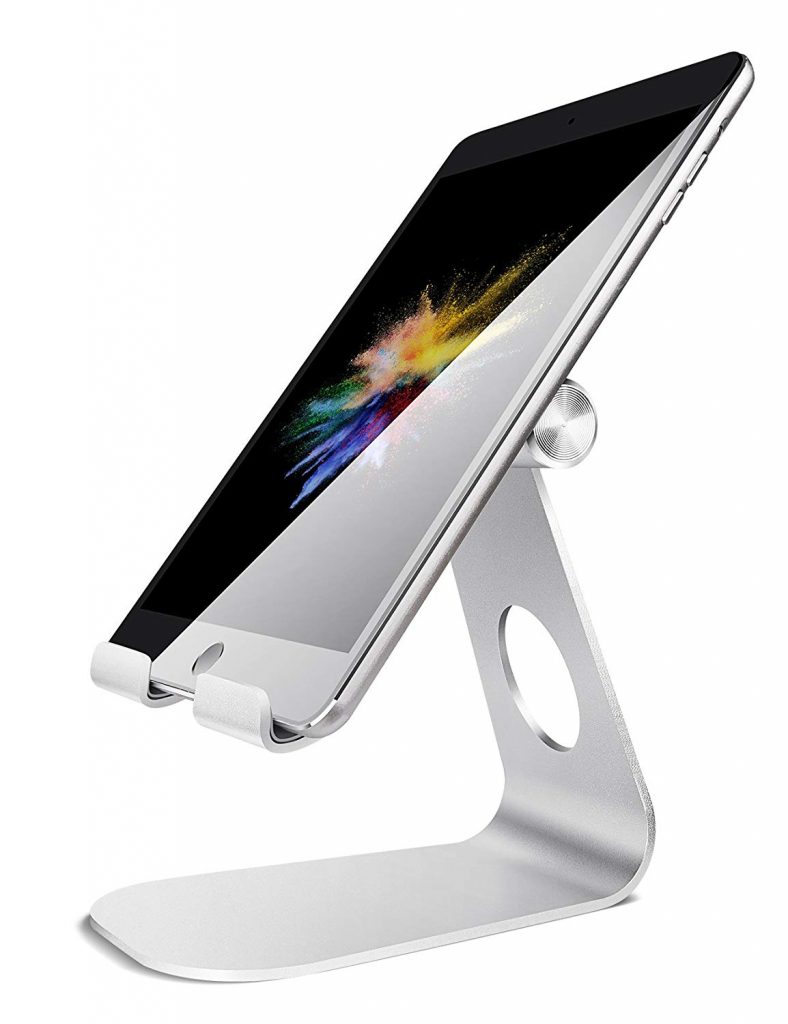 At first look, this stand could fool you into thinking that it is a Mac that has been set up. The stand is designed in such a way that it can hold your iPad in an upright, desktop-like position so that you can comfortably view the screen and type content. The stand fits perfectly in an office environment where you can leave it as it is but can take the iPad home once work hours are over.
The hinge on the stand is fully adjustable to the most convenient position. You can also effortlessly switch the iPad between portrait and landscape viewing modes based on the need of the hour. The metal case is sturdy to feel and adds reliability while the feet area is covered by a rubber material for maximum grip on all kinds of surfaces. Be it watching movies, working with a Bluetooth keyboard, or gaming using a BT controller, you can do them all when your iPad is comfortably placed on this stand.
To make use of this stand, make sure the thickness of your tablet is around 0.71 inches. The stand, while it might resemble a Mac, is also compatible with other tablets like the Google Nexus and Samsung products. Being a multi-purpose solution, it allows you to use it in the office or at home for work or entertainment. The stand is made using aluminum-titanium (Al-Ti) alloy and is quite sturdy even though it weighs very little.
What Makes the Lamicall iPad Desktop Stand Worthy?
The metallic finish of the stand looks great and is an ideal desktop solution for your iPad – whether at the office or home.
The stand fits a wide range of iPad sizes and can also be used with other devices.
Recommended For:
People who like to use their iPad tablet as a monitor to complete work, watch movies or make it more productive by adding it to a Bluetooth keyboard will find this stand very handy.
See it on Amazon
An iPad Stand Made for Uneven Surfaces
Nbryte Tablift iPad Stand for Bed and Other Surfaces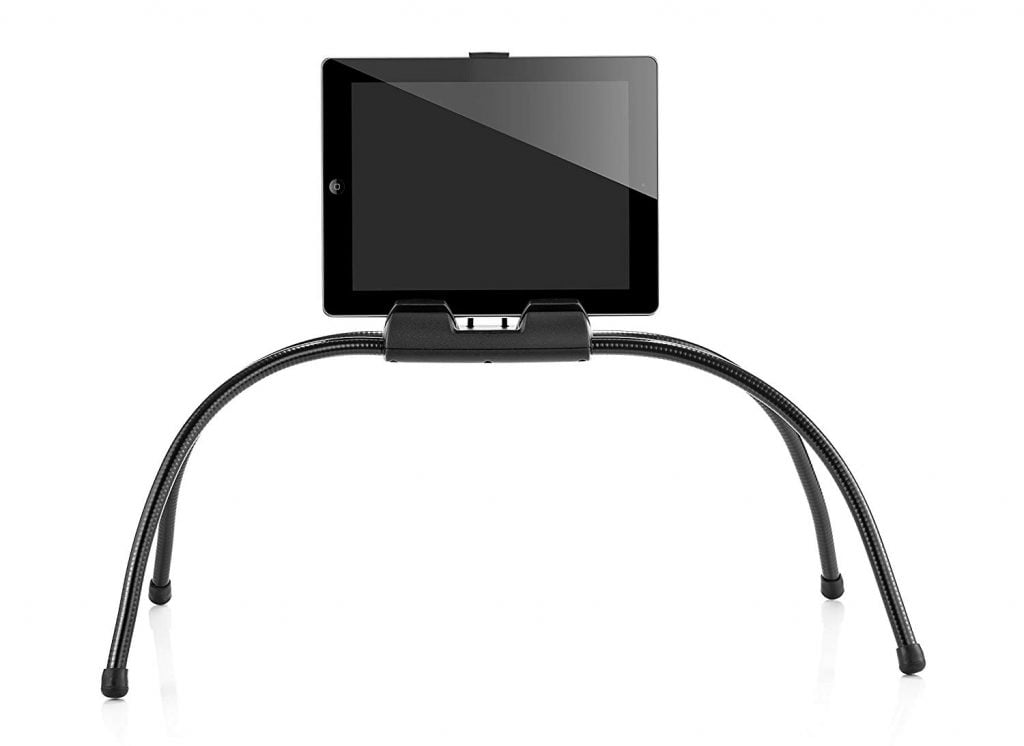 Every time you use your iPad or any laptop for that matter while relaxing on your bed or sofa, you might find it difficult to place, balance and view. The uneven surface often makes it difficult to keep the tablet in place so that you can watch a movie, go through spreadsheets or simply browse through a couple of photographs. The NbryteTablift iPad stand is perfect for all sizes of iPads but make sure you have a hard case or covering on your larger ones like the iPad Pro to balance the weight.
The stand has a completely versatile tentacle-like stand that you can place in any desired position. It makes it easier to balance the product on different surfaces such as the bed or the sofa where the surface is always uneven. The universal tablet stand works great with the 9.7-inch iPad of all generations and can also be used with the iPad Mini. The slot size is 10 mm wide and is designed to cover the bezels instead of the display. However, if you purchased the bezel-less models of 2018, you should probably be ready to compromise on some screen space to use your iPad stand.
The flexible stand can also be folded completely so that you can store the product in any available space. The stand can also be carried in your backpack if you are traveling and like to watch a movie in your hotel room. It can be used on the couch, bed or even when you are relaxing by the poolside where you need a stand to keep your large iPad in place. The strong steel materials and the build quality of this product are excellent which justifies the price tag.
What Makes the Nbryte Tablift iPad Tablet a Convenient Option?
Excellent product which you can use with confidence for any of your iPads and tablets. Superior quality build.
The stands are fully adjustable so that you can find the perfect position on any uneven surface such as your bed or sofa.
Fully and easily foldable allowing you to store the stand conveniently and even carry it in your backpack.
Recommended For:
Frequent travelers and those who love to relax in the bed while watching a movie on their iPads.Flexible stand and easy to use. It's also made of durable materials and feels good in the hand apart from being versatile to support iPads of different sizes.
See it on Amazon
The Stylus You Need
Apple Pencil for iPads (All Compatible Models)

Apple-designed the Apple Pencil for their iPads and the product continues to excel with every new model that is released. Apple even made the pencil compatible with older models which got re-released in 2018 with a revised price tag. While many assume that the stylus is only for those who draw a lot on their tablet or take notes regularly, it can come in quite handy even for simple office use. Adding this to your best iPad accessories list will only improve your productivity at work or leisure while adding to the fun factor.
With the help of the stylus, you can simply draw circles to denote the parts that need to be changed. You can also write notes which the others can take note of and it saves a lot of time spent in sending e-mails back and forth. Besides, the pencil is pretty nifty in terms of design and similar to all other Apple products which work seamlessly with your iPad. If you own the larger versions such as the iPad Pro, this is a must-have accessory considering its overall usefulness, even though the product costs nearly $100.
The Apple Pencil is compatible with iPad Air 3rd generation model which is possibly the oldest one around. It works with iPad Mini 5th generation and the newly released iPad 6th generation. The larger iPads which have improved display sizes of 10.5-inch or the even larger 12.9-inch will turn out easier and a lot more fun to use by using a dedicated stylus. When buying this pencil, make sure you opt for a case that has a slot to store it so that you can easily retrieve the pencil and use it instead of storing it somewhere else.
What Makes the Apple Pencil the Best?
There are plenty of third-party stylus models available for the iPad but this official Apple Pencil surpasses in terms of precision and build quality.
It feels good in the hand and you can comfortably hold it to draw or take notes instead of using the on-screen keyboard.
Compatible with a wide range of iPad, iPad Mini, and iPad Pro models.
Recommended For:
Artists and people who draw layouts need to pick up this Apple Pencil to make the most out of their iPad models. It also works great for office goers and students, who would want to take notes, send instructions or just wiggle some cartoons during their leisure hours!
See it on Amazon
Large Battery Backup for your iPad for Travel and Emergencies
Anker PowerCore Portable Charger with 20100 mAh External Battery Backup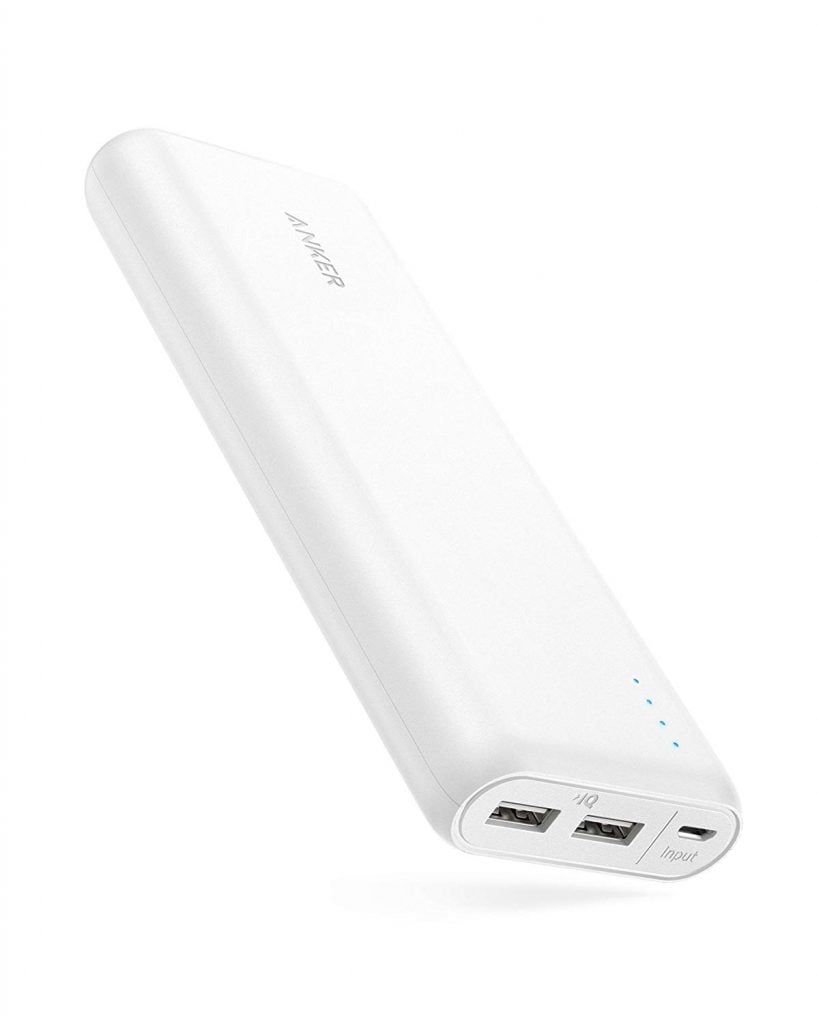 Anker is a popular brand that makes some of the best products and if you haven't heard of it so far, you can confidently purchase this product. The battery backup named Powercore from Anker has a really large storage capacity measured at 20100 mAh which is excellent for charging something as large as the iPad or the iPad Pro. While it packs in such high power, the manufacturer has managed to keep its weight at just 12.5oz
The battery is powered by PowerIQ and Voltage Boost technologies which allow you to bring your devices back to life in the shortest possible time. The battery cells are made by LG ensuring better confidence in the product you own. When traveling to different locations and considering the amount of flight time involved, going for a branded and reliable product with assured warranty period gets you the best experience overall.
While the product includes just a micro USB cable, you can always use the Apple-compatible cables you already own to charge your iPad with a USB port on the other end. The white version should comfortably suit your iPad Mini, iPad Pro or iPad 9.7-inch model designs unless you want to go all colorful with the red or blue versions. The lightning from Anker is also sold separately in case you want to purchase it and stay powered up during long travel. Two ports are available making it easier for you to charge your phone and iPad at the same time. This one is easily among the best iPad accessories you could buy.
What Makes the Anker PowerCore Portable Charger an Essential iPad Accessory?        
The battery pack is quite powerful and can comfortably recharge your iPad to full power almost twice on a single charge.
Anker is a reputed brand and uses good battery cells that provide durability to the battery pack.
The battery pack is available in multiple colors and supports a bunch of quick-charging technologies.
Recommended For:
Users who travel a lot and who suddenly find they have no access to a power port can make use of the Anker Powercore to keep their iPad models charged full at all times. The battery gives you the power to enjoy entertainment and do work on the go without having to worry about a drained-out iPad.
See it on Amazon
Bottomline
The best iPad accessories, when bundled together, can significantly amplify your experience with your iPad model. With a powerful battery backup, a protective case, stand, and stylus, you can do a lot more with your iPad or Tablet. It's the ideal way to enjoy your entertainment while getting your work done at the same time.
---